Upper Deck Grandeur Coin Collection Checklist and Details
When you click on links to various merchants on this site, like eBay, and make a purchase, this can result in this site earning a commission.
In the collectibles world, the gap between trading cards and other types of memorabilia is not as broad as one might think. There are often similar concepts between genres and it all boils down to the root idea of an item having some sort of value – whether it is intrinsic or monetary.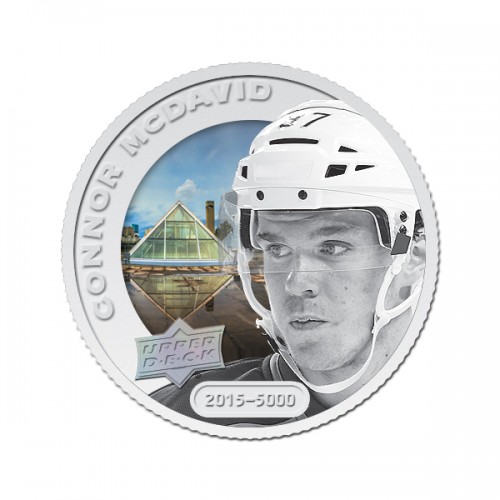 In the case of the just-unveiled Upper Deck Grandeur Coin Collection, the traditional trading card hobbyist definitely gets something new from a familiar company that is branching out in order to attract a new audience that may not always be hockey card collectors but they still love the game and just happen to enjoy collecting coins as well.
"We're always looking for something new and different where we can apply what we're good at," Upper Deck's President, Jason Masherah, told Beckett Hockey. "It came to us that we could do something really cool and powerful in the coin industry. And the coin industry, if you look at it, is very similar to the trading card industry in a lot of different ways."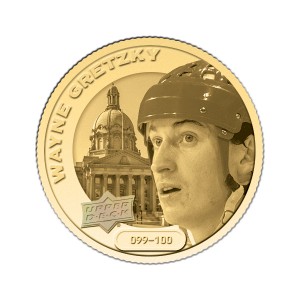 The Upper Deck Grandeur Coin Collection was officially unveiled on Tuesday evening at the Hockey Hall of Fame and those in attendance got a first-hand look at the coins. With 20 different current and retired players featured, the basic coins are one ounce of 99.9 percent pure silver and are distributed via blind packaging through Upper Deck's e-Pack website or through CIBC banking center locations in Canada. CIBC will also have a webpage set up for online sales as well.
There are three different varieties available for the individually numbered silver coins – colored (/5,000), high-relief silver (/1,000), and silver frosted (/500). As an additional chase, there are 1/4 ounce 24-karat gold minted coins that are limited to 100 copies each. The coins are pure precious metal and not plated. Additionally, they are legal tender in the Cook Islands.
"That was actually very important to us to make sure that they have numismatic values somewhere in the world because there is a section of collectors that will only collect if it is currency."
With Upper Deck Grandeur Coin Collection being available via e-Pack, there is also the possibility that collectors can trade with each other.
"Absolutely," he said. "They will be able to trade them with everything else in the system, so they could theoretically trade trading cards for the coins."
Masherah was also asked about the possibility of the coins being transferred to Check Out My Cards like e-Pack users can do with the cards they pull.
"COMC is not able to accept coins at this point. You'll be able to ship them out of our system and take possession of them, like any of our other products, but you won't be able to ship them over to COMC. We're hoping that functionality will be added on their end in the near future."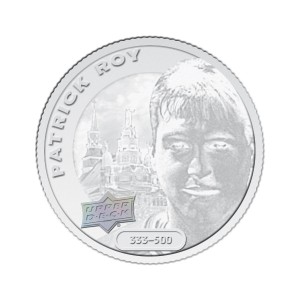 It should be noted that due to the size of the coins, no autographed versions will be produced and there are no cards in the package with them.
"We're really targeting multiple segments of consumers in the way we're doing this, but we really want to try to be as true to the coin genre as we possibly can," noted Masherah. "We see this as a completely separate and distinct market and product for us."
When asked if there was the possibility that Grandeur coins could be integrated into a trading card release in the future, Masherah offered a small bit of hope for collectors that want to see the two concepts eventually come together.
"There's always the potential. I think the beauty of working for Upper Deck is that we're always thinking about unique avenues and unique collectibles and things of that nature. It's not in our near future plans, but anything is possible at some point."
What does Masherah expect the market reaction to be to Upper Deck Grandeur Coin Collection?
"I think it is going to be very mixed. Obviously, in any genre and any industry, you have the traditionalists. They are used to things being done a certain way. I think for the people who really get it, and look, we see a large trend worldwide of blind bag and blind packaged items. Whether it's Loot Crate or people doing a blind box of clothing every month, there is this tendency to go to this blind model.
"The thing that gets me really excited about this for coins is that right now, if you want a gold coin, you're going to have to pay $1,300.00 for it. There is no way to get around it. Here, we're giving the collector the chance to get a really limited piece – a gold version of the coin – for the same price that they would get just a standard silver coin. We have hockey players here that are highly collectible. The value proposition is absolutely insane and I think once people understand that, once they see all of these limited editions packaged together, I think they'll really get the value proposition and adapt to it. A lot of the ways some of these limited variations that some of these coins are distributed are show editions, they're case incentives, they're distributed in a lot of different ways that don't always make their way to the end consumer. Here, we're providing a way for the end consumer to have access to these items, which I think is a better experience."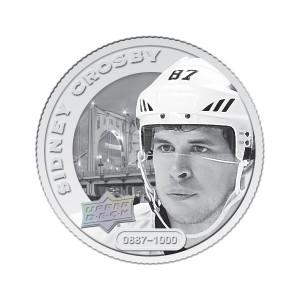 A project two years in the making, Upper Deck started minting the coins before current NHL season started.
"The most interesting piece to me is the fact that just trying to revise the printing process and get it right to what we were trying to execute is why it took so long to get these to market," said Masherah. "We've been working on these for darn near two years and when you see the coins, the player images are very striking. They're very detailed. Every coin has the trademark Upper Deck anti-counterfeit hologram on it and every coin is serial-numbered. To get to the quality that we expect at Upper Deck and to have all the elements that we expect was a very difficult process. We're really excited to bring these to the market and we're excited to show them to everybody for the first time because it has been a painful process to get it where we wanted it."
Collectors will notice that the coins do feature landmarks local to the respective player's NHL team in the background – something that makes them feel like traditional coins. It should be noted that the coins are licensed by the NHLPA and the individual retired players, but there is an absence of NHL licensing.
"For us, one of things we wanted to do with this first coin launch was to make them look as much like a traditional coin as possible. That really meant head shots and the question is, if you're going to do a head shot, how else can you incorporate a cool element – especially when we came up with the idea to do just a splash of color. That's where the landmarks came from and that was 100 percent Grant (Sandground) and what he does. The design is incredible and the landmarks work really well. Landmarks are something traditional to coins, so it fits. We tried to take as traditional a view of this as we possibly could while adapting this new delivery system of how the coins are being packaged."
Masherah also revealed why the company chose to work with CIBC.
"We had been in discussions with CIBC for a long time and they are experts in the coin market. If you visit their website or you visit their branches, they have displays and signage. They understand collectible coins and we recognize them as a leader in the industry and we've been collaborating on what makes a successful coin launch. They were actually involved very early in the process. It just makes sense to partner with them because they are so good at what they do."
The Upper Deck Grandeur Coin Collection comes in single sealed blind pack for $100.00 or as a four-pack for $499.00. The four-pack guarantees at least one of the three types rarer coins along with a display that a collectors can use to display all 20 coins in the set.
While future releases are in the discussion and development phase, there is also the possibility that an update set will be created as well.
Upper Deck Grandeur Coin Collection Checklist
Patrice Bergeron, Boston Bruins
Dustin Byfuglien, Winnipeg Jets
Sidney Crosby, Pittsburgh Penguins
Jack Eichel, Buffalo Sabres
Wayne Gretzky, Edmonton Oilers
Jaromir Jagr, Florida Panthers
Patrick Kane, Chicago Blackhawks
Dylan Larkin, Detroit Red Wings
Henrik Lundqvist, New York Rangers
Erik Karlsson, Ottawa Senators
Connor McDavid, Edmonton Oilers
Sean Monahan, Calgary Flames
William Nylander, Toronto Maple Leafs
Alex Ovechkin, Washington Capitals
Carey Price, Montreal Canadiens
Patrick Roy, Montreal Canadiens
Daniel Sedin, Vancouver Canucks
Vladimir Tarasenko, St. Louis Blues
John Tavares, New York Islanders
Jonathan Toews, Chicago Blackhawks
Stephen Laroche can be found on Twitter @Stephen_Laroche.