Upper Deck gives Gretzky collector a big surprise
Most Wayne Gretzky collectors know Jeffrey Griffith.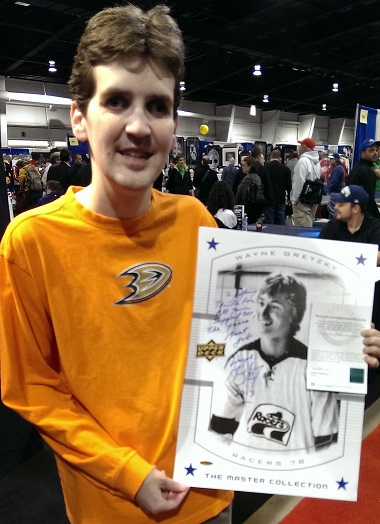 The Anaheim resident is one of the top Gretzky collectors. He literally wrote the book on it – which can be seen at the Hockey Hall of Fame.
Griffith has about 5,200 unique Gretzky cards with about 15,000 total pieces, including doubles.
Upper Deck decided to add one more autograph to Griffith's collection while at the 2013 Sportcard & Memorabilia Expo in Toronto. It was a personalized signed Gretzky oversized card with an inscription that read:
To Jeffrey
Thanks for all your support over the years! Great job.
Wayne Gretzky 2013
Upper Deck surprised Griffith with the autographed card in front of dozens of collectors that were at the Upper Deck booth getting ready for a raffle. Griffith thought he was there to meet someone because that's what Upper Deck officials told him.
Instead, he got a real surprise with the crowd cheering for him.
"This is really exciting," Griffith, 27, said. "Anytime you get a Gretzky autograph, it's fantastic. To get one personalized, it's awesome."
Griffith started his Gretzky collection when he was just 9 years old, according to his book Gretzky Cards. A friend of the family that worked at The Pond (now known as The Honda Center) got him a signed puck from Wayne Gretzky.
It was the start of an amazing passion that led to Griffith's book that he published in 2008. The book contains pictures of cards and write-ups about each one.
"Everyone is always asking him Gretzky questions," Jeffery's father Mike said. "So he put it into a book."
All the pictures in the book are from Griffith's own collection, including rare 1-of-1 cards and a nameplate collection spelling out his favorite player's entire last name.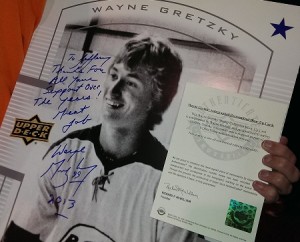 "I got into hockey in the mid-90s and in southern California, he is a big name," Griffith said. "Even though I am Ducks fan, we can all appreciate Gretzky. First, I knew him as a big name, but as I learned more you see the significance of not just his team but to Duck fans. They wouldn't have a team if it wasn't for him."
Griffith had the opportunity to present his book to Gretzky several years ago. He said Gretzky casually flipped through it, but paused when he reached the Upper Deck section. That's when Gretzky turned the pages more slowly and even showed it to a friend standing nearby. According to Mike Griffith, Gretzky even emailed asking for a few more books weeks later.
"At signings you get about four seconds with him," Griffith said. "This was a lot longer."
Griffith's newest Upper Deck piece will get prime placement in his collection. The oversized card features the Gretzky Master Collection U.S. design, which stood out right away to Griffith.
"I didn't expect this at all," he said while staring at the blow-up card. "This is a beautiful signature too."