Upper Deck creates special Jorge Alves Young Guns card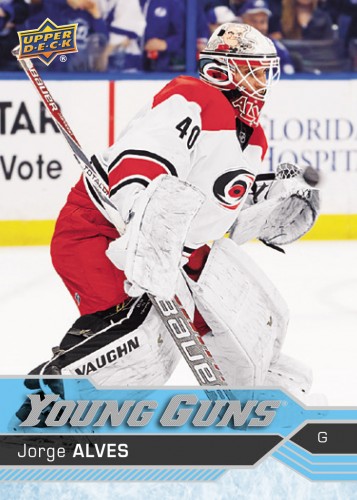 By Stephen Laroche | Beckett Hockey Editor
Once in a while, a professional hockey team needs to have an emergency backup goalie on the bench when an established netminder is injured. For many of these players, it is a thrill of a lifetime just to be on the edge of stepping into the net and in the case of Carolina Hurricanes equipment manager Jorge Alves, it was a dream come true.
As the Hurricanes faced the Tampa Bay Lightning on December 31, they were down 3-1 with less than eight seconds left. Alves was told to get out on the ice in relief of starter Cam Ward and played the rest of the game.
While one would expect to see most players in a situation like this automatically become eligible to receive a trading card, this was a different case entirely. The main reason that Alves was not included in the Young Guns subset in 2016-17 Upper Deck Series Two is because he is not a member of the National Hockey League Players' Association. However, since the company felt that it was still important to pay tribute to his moment on ice, they signed him to an individual deal.
As a result, hockey card collectors in North Carolina will have a chance to get a special Young Guns card of Alves as a gift with purchase at select local card stores during the month of February. Not numbered as part of the regular set, it also does not have foil on the front to differentiate it further from Young Guns cards that can be found in packs. A list of participating stores can be found on Upper Deck's blog.
"To have an Upper Deck card would just be the icing on the cake," Alves said in an interview with Upper Deck that can be found in its entirety on the company's official blog. "The cherry on top if you will. I first started collecting cards when I was a kid and just remember the excitement of opening a pack and not knowing who might be in it. I think it also taught me negotiation skills when it came to making trades with friends. I just remember it being so much fun and now that my kids are getting old enough they too will enjoy that experience. I still have my cards from back then and now that I will have an official rookie card, I hope that my kids will add me to their stack of favorite player cards once I pass on my collection."
The second card planned for Alves has a bit of a larger potential audience as it will be part of an upcoming series of 2016-17 Upper Deck Compendium, which is exclusive to Upper Deck e-Pack.
Stephen Laroche is the editor of Beckett Hockey, Beckett Basketball, and Beckett Sports Card Monthly magazines. Have a comment, question or idea? Send an e-mail to him at slaroche@beckett.com or follow him on Twitter @Stephen_Laroche.