Upper Deck creates rare Precious Metal Gems for employees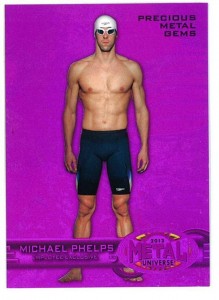 By Susan Lulgjuraj | Beckett Sports Card Monthly Editor
Several collectors noticed interesting cards showing up on eBay – purple Precious Metal Gems.
Turns out these cards were made for Upper Deck employees, according to the company's blog. These cards were given away to show appreciation to the employees.
As a thank you for all of their hard work and dedication to the company, the executive team had secretly created a special series of unique Upper Deck employee cards. Employees received a selection of these cards this week and now have the tough decision of whether to keep the cards or sell them.
Looks as though some have decided to sell these cards with several buy-it-now listings at $1,000 or more (click here to see the auctions
)
These cards are individually numbered to 125.
A Tiger Woods Purple PMG is currently at $152.50 with two days left.
While Upper Deck's blog states these cards are pink, eBay sellers have all gone with purple.
Here's a complete list from the UD blog:
Precious Metal Gems Pink
Hulk Hogan (E-HH)
Mike Tyson (E-MT)
Oscar De La Hoya (E-OH)
Rory McIlroy (E-RM)
Tiger Woods (E-TW)
Michael Phelps (E-MP)
Quad Spokesman Fabrics – Employee Exclusive
Michael Jordan/LeBron James/Tiger Woods/Wayne Gretzky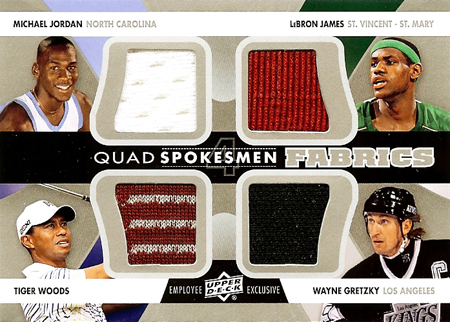 Susan Lulgjuraj is an editor at Beckett Media. You can email her here with questions, comments or ideas. Follow her on Twitter here. Follow Beckett Media on Facebook and Twitter.