Upper Deck creates Heroic Inspirations trading card for cancer survivor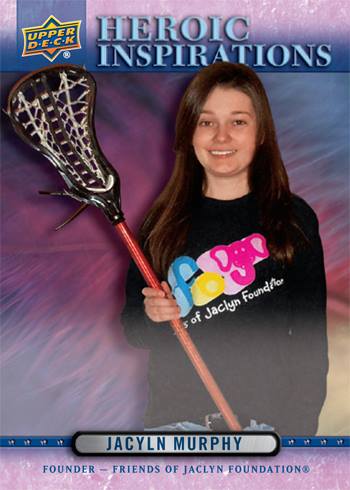 By Susan Lulgjuraj | Beckett Sports Card Monthly Editor
Upper Deck has been making trading cards of everyday people. They don't need to be a celebrity, throw a ball well or skate the ice with blazing speed. Instead, Upper Deck is honoring others for dealing with harrowing situations or the way they give back to their communities.
The latest to get a "Heroic Inspirations" trading card from Upper Deck is Jaclyn Murphy.
In 2004, when she was 9 years old, Jaclyn was diagnosed with malignant brain tumor and given a 30 percent chance of survival. During her treatments, she became friends with members of the Northwestern lacrosse team, a perfect match since Jaclyn loved the sport.
Jaclyn inspired the team while they had a positive impact on her life. Northwestern went on to win its first lacrosse national title that year.
The family realized – with the urging of their daughter – they could help children in a similar way and in 2005, the Friends of Jaclyn Foundation was created to improve the quality of life for children with brain tumors by pairing them with college and high school athletic teams.
"I don't think Jaclyn ever dreamed she would be on an Upper Deck trading card, so she was shocked to receive such an honor," said Denis Murphy, president of the Friends of Jaclyn Foundation. "We are thrilled to have the opportunity to work with Upper Deck on this initiative. This is an amazing opportunity for kids and an experience that can only improve the quality of life for brave youngsters in the organization. We are excited to hear who Upper Deck announces as the first child from our organization to receive their very own Upper Deck rookie card."
Upper Deck created larger versions of the card that Jaclyn will sign and use for charity. It will produce standard cards that will be donated to Friends of Jaclyn and used for charitable purposes. Upper Deck plans to create trading cards for other kids in the Friends of Jaclyn program as well.
For more information on the charity, visit Friends of Jaclyn Foundation.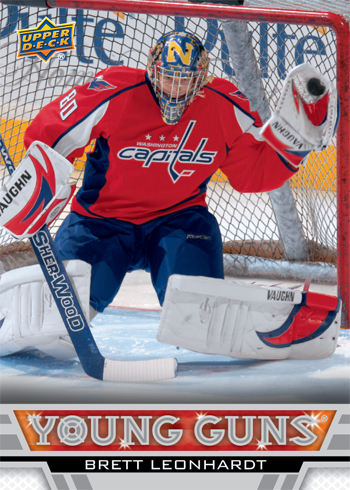 Upper Deck recently created a Young Guns Rookie Card for Brett Leonhardt, the Washington Capitals video coach who has also been the emergency backup goalie twice.
"Words can't describe the surprise I was given when one of our players along with head coach Adam Oates presented to me the Upper Deck Young Guns blow-up cards before our team meeting with my image on them," Leonhardt told Upper Deck. "As an avid card collector my entire life, this was truly a dream come true. My father, brother and I attended many card-collecting expos and spent countless hours through our youth collecting hockey cards and completing sets. You really created a highlight in my life by putting this together and I don't know how to thank you enough!"
Susan Lulgjuraj is an editor at Beckett Media. You can email her here with questions, comments or ideas. Follow her on Twitter here. Follow Beckett Media on Facebook and Twitter.