Upper Deck Creates Heroic Inspirations Card for Goalie Josh Harding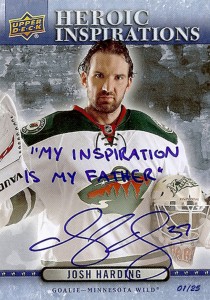 By Stephen Laroche | Beckett Hockey Editor
Today marks the release of 2014-15 O-Pee-Chee from Upper Deck and the annual collector favorite will see the company's Heroic Inspirations campaign gets a new twist with the insertion of a special inscribed and autographed card from Minnesota Wild goaltender Josh Harding.
After being diagnosed with Multiple Sclerosis in November, 2012, Harding had to briefly step away from the game and made a triumphant return to the ice against the Dallas Stars on January 20, 2013 as he turned back all 24 shots to earn his seventh career shutout. Due to his remarkable comeback, he was awarded the Bill Masterton Trophy, which is annually give to a player that demonstrates perseverance, sportsmanship and dedication to hockey. In 2013-14, he registered the best save percentage and goals-against average in the league despite missing a large chunk of action due to health issues.
Naturally, he has become a true inspiration for not just hockey fans, but also the MS community. Upper Deck was moved to pay tribute to his courage in the face of adversity and made the decision to create a "Heroic Inspirations" trading card that Harding has autographed and inscribed.
Upper Deck has noted that the goal of the card serves the dual purpose of giving those suffering from MS hope and to also raise awareness for the goaltender's charity; Harding's Hope. To help kick off the campaign, Upper Deck has inserted 25 of these cards into packs of the 2014-15 O-Pee-Chee.
Harding included his signature and an inscription on these cards, "My inspiration is my father." He has signed and inscribed other versions of the card with some of his other inspirations as well. These additional cards will be available through a donation to the charity via their website at the start of the 2014-15 season.
"I'm excited for Upper Deck to join my team to raise awareness for Multiple Sclerosis and to raise funds for people living with MS," said Harding. "The more I learn about MS, the more I realize how important it is to have a team. The point of adding inscriptions to the cards is to share that you cannot fight MS alone, you need to look for inspiration from your team. I'm hopeful that by sharing some of my inspirations on these new Upper Deck cards, I can help others stay positive and find inspiration."
"Not only is Josh Harding an incredible player, he has transcended the game by performing at a high level while being challenged by symptoms of the disease," said Jason Masherah, president of Upper Deck. "Harding serves as an inspiration and people marvel at his accomplishments. We hope that hockey fans and fans of Josh's story will want to collect his autographed and inscribed 'Heroic Inspirations' cards. He truly is an inspiration who has an incredible story of courage, hope and perseverance to share."
Upper Deck has produced other "Heroic Inspirations" cards in the past for other inspirational athletes. Harding's card is the first in the series that features both an autograph from the athlete and an inscription.
Stephen Laroche is the editor of Beckett Hockey and Beckett Basketball magazines. Have a comment, question or idea? Send an e-mail to him at SLaroche@beckett.com. Follow him on Twitter @Stephen_Laroche.