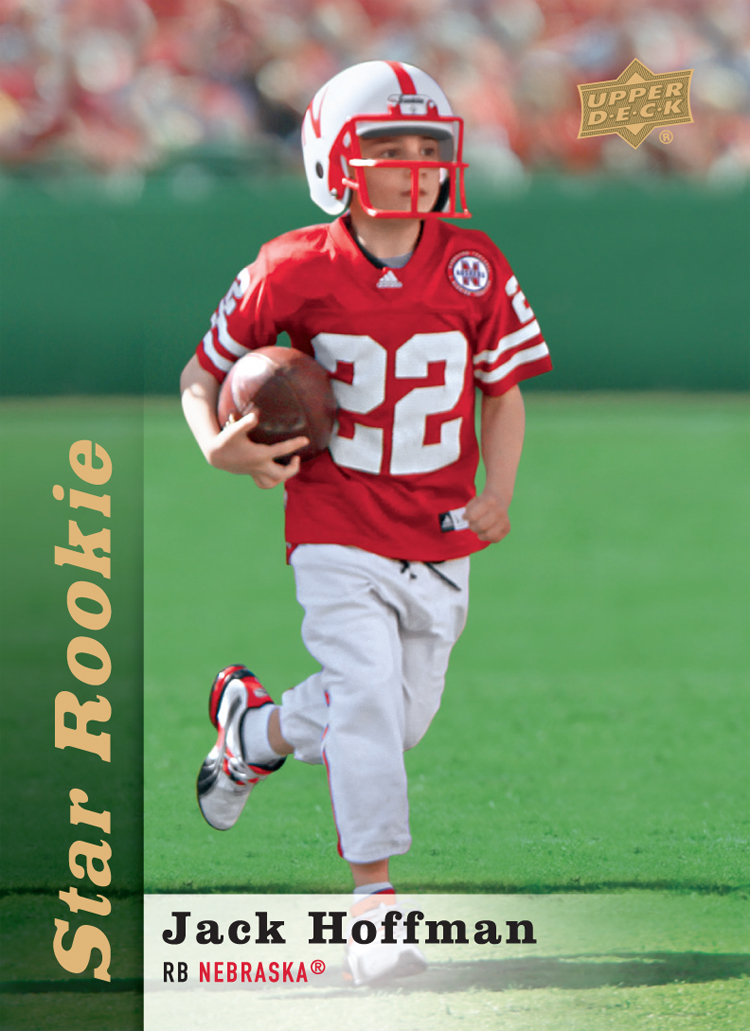 By Susan Lulgjuraj | Beckett Football Editor
Jack Hoffman has been part of the Nebraska football family  since last season – and he's getting his first trading card.
The 7-year-old is battling pediatric brain cancer and grabbed attention earlier this month when he ran for a 69-yard touchdown in Nebraska's spring game.
Upper Deck is going to create a "Rookie Card" for Hoffman, the company announced Tuesday. The cards won't appear in packs, but will be blown up and signed by Hoffman and used for charitable purposes.
"Jack is the type of inspirational athlete who absolutely deserves an Upper Deck rookie card," said Chris Carlin, Upper Deck's sports marketing manager. "Upper Deck does not want to risk Jack's amateur status with the NCAA so the card we created will not be part of a mainstream trading card release. Jack had a larger than life moment on the field that day for Nebraska, which is why Upper Deck is creating a limited number of promotional blow-up rookie cards for Jack to sign and use for charitable purposes. Upper Deck is proud to play a small role increasing awareness in Jack's cause and we are excited to be a part of 'Team Jack!'"
So many are part of Team Jack already with nearly 45,000 Facebook fans on his page.
"We are humbled that a prestigious sports card company like Upper Deck would take such an interest in our son Jack," said Andy Hoffman, Jack's father. "We are so thankful for their interest in joining our family in the fight against pediatric brain cancer. With their help, we will be able to keep moving the ball forward by getting this devastating disease elevated onto the national agenda."
Upper Deck will announce how fans can bid on these cards later.
Update: Upper Deck will create a 5-inch by 7-inch trading card of Hoffman and donate them to the Hoffman family, who in turn said they will use them for charitable purposes.
The cards will feature Hoffman's statistics and information on the Team Jack Foundation. The back will also be written by the 7-year-old himself.
To order the Upper Deck cards, visit the Team Jack Foundation store. The cards will be available starting May 15 and will cost $10 each.
Susan Lulgjuraj is an editor of Beckett Football. You can email her here with questions, comments or ideas. Follow her on Twitter here. Follow Beckett Media on Facebook and Twitter.