Upper Deck continues expired redemption raffle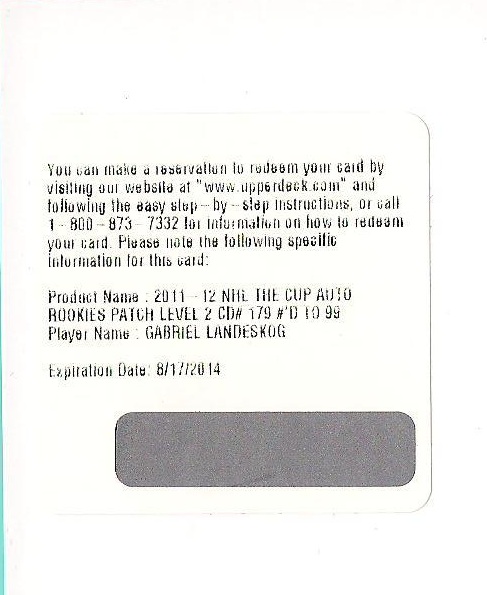 By Susan Lulgjuraj | Beckett Sports Card Monthly Editor
No one wants to pull a redemption out of a pack of cards. Even worse is when you pull an expired one.
Ugh.
Upper Deck has experimented with ways to help collectors with these. It isn't eliminating redemptions in products, that's unrealistic for card companies that want hits with the best names in its products.
Instead, UD will continue running a raffle program it started at the 2012 National Sports Collectors Convention, but for Upper Deck redemptions only. The redemption card must also be for an autographed card or signed memorabilia item.
The 2012 Sportcard & Memorabilia Expo in Canada (also known as the Fall Expo) will host the next redemption giveaway. Upper Deck will hold a raffle for those who have entered their expired, unscratched redemptions on Saturday, Nov., 10 at 5 p.m.
Upper Deck has 100 prizes to give away such as autograph card from Michael Jordan, Sidney Crosby and Christian Ponder.
Unlike at the National, collectors do not have to attend to win.
Those who would like to enter should mail up to five unscratched, expired redemptions to:
The Upper Deck Company
Attn. The Upper Deck Expired Redemption Raffle Program
2251 Rutherford Road
Carlsbad, CA 92008
Write your name, address, phone number and email on the front of the card.
Cards must be received by Oct. 31, to be considered for the Fall Expo.
For those that miss this deadline, Upper Deck is offering the program at least twice more in 2013, at the 2013 Las Vegas Industry Summit in March and 2013 National Sports Collectors Convention in Chicago in August.
For more rules about Upper Deck's redemption raffle giveaway, visit its website.
Susan Lulgjuraj is the editor of Beckett Sports Card Monthly. You can email her here with questions, comments or ideas. Follow her on Twitter here.