Upper Deck Confirms Chris Osgood Error Card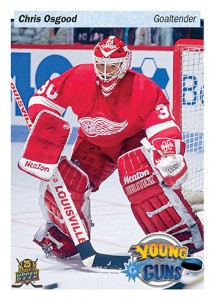 By Stephen Laroche | Beckett Hockey Editor
With National Hockey Card Day taking place throughout the United States tomorrow, collectors will be busting plenty of special promotional packs containing 25th Anniversary Retro Young Guns – but there will be one card that will look a bit strange to anyone that remembers watching Chris Osgood during his days with the Detroit Red Wings.
A post on Upper Deck's blog has stated how this error card came about and noted their plans to satisfy any collectors who would like a corrected version.
"We became aware during the production process that the card of Chris Osgood featured an incorrect photo that was mislabeled with our photo vendor. In reality the player depicted is Tim Cheveldae. We were too far along in the production process to pull those cards from the packout and get a corrected Osgood card in, but we did create a corrected version of the Osgood Young Guns Tribute rookie card that is available now."
How can a collector that pulls this card receive a new card? Find out after the jump.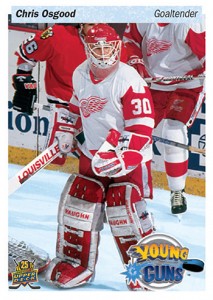 If a collector is looking to exchange their card and receive the correct edition, they need to contact Upper Deck's Quality Assurance Team via email at qa@upperdeck.com and the company will respond with further details.
By reaching out to the hobby beforehand to confirm the error and offering a replacement, Upper Deck is certainly paying proper tribute to Osgood and it will be interesting to see how many of either version end up on the secondary market in the coming weeks.
Are you planning to exchange this card if you pull one? Let us know in the comments section below.
Stephen Laroche is the editor of Beckett Hockey and Beckett Basketball magazines. Have a comment, question or idea? Send an e-mail to him at SLaroche@beckett.com. Follow him on Twitter @Stephen_Laroche.