Upper Deck commemorates Bru-win with 31-'cahd' set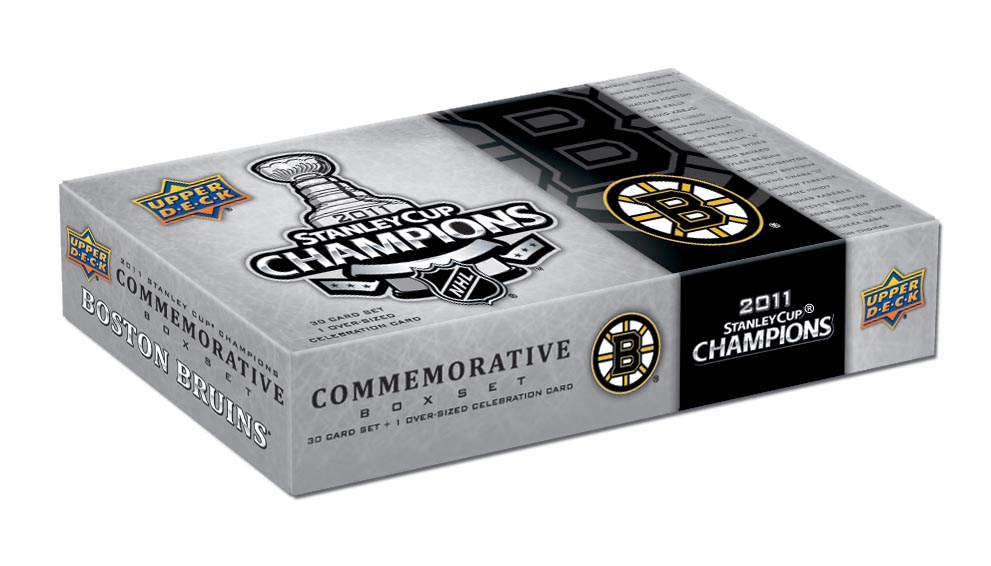 By Andrew Tolentino | Hockey Editor
Long before the Boston Bruins hoisted the Stanley Cup on Wednesday night, Upper Deck had plans to pay respect to the winning fans and franchise by way of cardboard.
Now that several bearded Bruins are doing basically whatever the heck they want to do with Lord Stanley's multifunctional trophy, the card maker has officially announced production plans for a commemorative box set.
"To commemorate Boston's exciting win, we've put together this stunning 31-card collection that hockey fans, especially Bruins fans will simply go crazy for," noted Josh Zusman, Upper Deck's hockey brand manager.
The 31-"cahd" Beantown tribute includes:
25 cards from top players (Patrice Bergeron, Brad Marchand, Tim Thomas and Tyler Seguin, to name a few)
Five Season Highlights cards featuring memorable moments from the 2010-11 NHL season

"The Bruins rally from two games down to beat Montreal in the opening round of the playoffs"
"Avenging last season's playoff collapse against Philadelphia with a sweep of the Flyers"
"Chara's first career hat trick (1/17/11) against Carolina "
"Thomas leads the league in GAA (Goals Against Average) and saves percentage"
"Seguin's four-point effort in Game 2 of the Conference Finals against Tampa Bay ties the series at 1-1"

One 3.5″ x 8″ commemorative card – featuring the Bruins basking in their achievement and Tim Thomas hoisting the Stanley Cup.
The commemorative set is stickered with a $19.99 price tag and Upper Deck is now accepting pre-orders at Upperdeckstore.com.