Upper Deck Brings Gretzky To Private Expo Function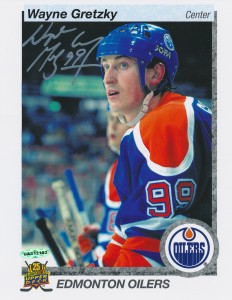 By Stephen Laroche | Beckett Hockey Editor
Throughout this year, Upper Deck has been celebrating its 25th anniversary in fine fashion and the company has gone to great lengths to ensure that collectors have been a part of the festivities. During their recent visit to the 48th Sportcard & Memorabilia Expo in Toronto, they held a small private function which served to thank some of their supporters in a memorable way – by bringing them a rare chance to meet and interact with the legendary Wayne Gretzky.
For nearly a quarter of a century, the man known as "The Great One" has been a spokesperson for Upper Deck and a true constant throughout their run to date. When they decided to enter the hockey card market for the 1990-91 season, his endorsement gave their brand a major edge in a suddenly crowded market and collectors still love pulling his cards today.
Following the end of business at the Expo on Saturday, a small group of around 100 people made their way down to the Hockey Hall of Fame and were treated to a once-in-a-lifetime opportunity to tour the facility after hours and enjoy a meal where Gretzky was introduced to the crowd by former St. Louis Blues player and emcee Kelly Chase.
The discussion between Gretzky and Chase covered a variety of topics and the broadcaster was not afraid to ask some challenging questions that the guest of honor handled with his usual diplomacy and grace. Each table was also allowed to pose a question and Gretzky was happy to answer them for the crowd.
"One guy at my table asked him how he got the nickname "The White Tornado." That was something I had never heard of," noted Ken Richardson of Pastime Sports & Games. "I thought it was really cool to hear things that you necessarily hadn't heard before. It's usually generic questions that, if you've been around hockey for a while,  you've heard the question and the answer so many times, it's boring… What I thought was most amazing as how humble he seemed whenever someone was trying to ask him a question or trying to give him praise. It was like he always deflected it off to somebody else… He didn't want to take a lot of credit for anything, which seems to be a change from a lot of people these days."
Also among the group of guests that evening was longtime Gretzky collector Jeffrey Griffith and his father, Michael. The pair had initially not planned to attend the Expo until their invitation arrived and they quickly changed their plans in order to be a part of the event.
"I was shocked Gretzky was going to be there," said Jeffrey. "In the official invitation Upper Deck sent out, he was listed. At 25th Anniversary event at The National, Shaquille O'Neal was a surprise guest, but they promoted Gretzky for this one somewhat privately, which just magnifies the uniqueness of the event."
Once the question and answer session was finished, guests were brought up by table to have their picture taken with Gretzky and another guest of honor – the Stanley Cup. Gretzky's father, Walter, was also in attendance and many in the crowd were happy to meet him as well. At the conclusion of the evening, each attendee was presented with a folder containing a photo of their moment with "The Great One" along with a signed blowup of youtful Gretzky featuring the design of the 1990-91 Upper Deck Hockey set.
For a Gretzky supercollector like Griffith, this was not the first time meeting his idol. He was asked if this experience ever gets old and he was honest about his latest interaction with the hockey legend.
"No, it doesn't," he laughed. "When I have met him, they have all been in radically different environments. I have done a few induction ceremonies at the Hall of Fame, but I've never been to a private party – let alone with him! I think anytime there is a chance to meet a legend in any field is unique and exciting."
After heading back to his store in Langley, British Columbia, Richardson took a moment to reflect on the opportunity.
"I thought it was fantastic," he said. "I didn't know exactly what to expect when I got there. I thought they did a hell of a job… The fact that so few people were getting invited certainly made you feel appreciated for the efforts that you put in throughout the year."
Special thanks to Jeffrey Griffith for providing the images used in this article.
Stephen Laroche is the editor of Beckett Hockey and Beckett Basketball magazines. Have a comment, question or idea? Send an e-mail to him at SLaroche@beckett.com. Follow him on Twitter @Stephen_Laroche.