Upper Deck Bounty program to start with 2016-17 SP Authentic Hockey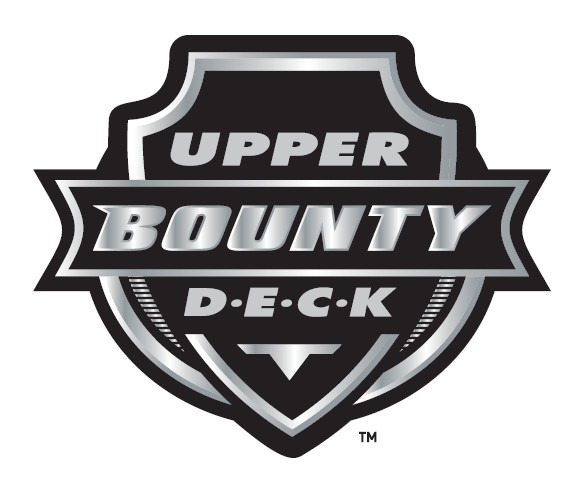 By Stephen Laroche | Beckett Hockey Editor
Upper Deck recently took a long look at the growing impact of online group breaks and other influencing factors on collecting and the impact they were having on the secondary market values of cards and the long-term impact they were having on the practice of building sets. In response, the company has developed a new idea dubbed the Upper Deck Bounty Program which they hope will bring some fun back to the hobby.
"We feel that for this hobby to continue to grow in a healthy fashion for the next 10, 20, 30, 40 years, that for our consumers, whatever we can do as a manufacturer to impact or influence their collecting habits so that they practice what we consider to be healthy collecting habits, which is the opposite of rip-and-flip – actually building sets, working on collections, trading cards – all of this kind of stuff that happened in the 80s and 90s, we have kind of seen that eroding and that's why we want to push this program," said Upper Deck's product development guru Grant Sandground.
The genesis for the Upper Deck Bounty Program began at the 2016 Industry Summit and Sandground explained how it evolved to a tangible concept.
"At that time, our e-Pack was pretty new and it was pretty controversial. It remains controversial to this day, I get that. It was a hot topic that had a lot of brick & mortar shop owners very concerned that we were trying to cut them out and go directly to the consumer. We had challenged some of the folks at that event to talk about what we could do for e-Pack to help shops. That was a difficult challenge and I sat there myself for weeks afterward and didn't come up with any great answers.
"In the course of the year after that event, a light went on for a group of us. Internally, we learn stuff from e-Pack every day. We are learning how people are reacting and one of the things we learned is the impact of achievement cards on how people buy cards of e-Pack, trade cards on e-Pack, how they interact with product and interact with each other. Essentially for the collector, they are getting rewarded for building sets, basically, and achieving goals. It has worked extremely well. A light went on and we thought, why aren't we doing this for brick & mortar?"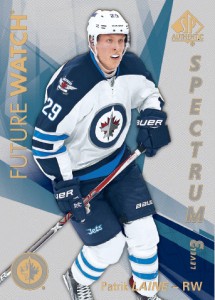 2016-17 SP Authentic, which releases on May 17, is the first product that will be part of an ongoing continuous program called the Upper Deck Bounty Program.
While there was some controversy over 2016-17 SP Authentic being solicited as having just two autographs per box instead of three, there was a new set-within-a-set offered inside packs called Spectrum F/X.
"Every box of SPA is going to have a combination of four autographs or Spectrum F/X cards, with a minimum of two autographs. There are going to be boxes with two autos and two Spectrum F/X or three autos and one Spectrum F/X. We felt that Spectrum F/X was a very important part of this product because that is the set that has the bounty attached to it."
How does someone breaking packs end up collecting the bounty? Each Spectrum F/X card has an area to scratch off on the back which has a code that can be entered into the Upper Deck Bounty website (www.upperdeckbounty.com) which opened on May 3 and will be used for all future products featuring the program. Collecting all 99 cards that are found in packs will earn a collector card #100 for free – and it is a big one in Calder Trophy favorite Auston Matthews.
The first 40 cards in the set are mostly veterans with a few legends mixed in and come once in every 18 packs. From there, three levels of Future Watch rookies make up the balance. There are 30 Level One rookies (1:36), cards 71 through 90 make up Level Two (1:90), and the last nine cards from Level Three are the toughest to find (1:360).
As a special reward for those that are among the first 50 to build a set of 99 Spectrum F/X cards and enter their codes into the website, they will receive an even greater achievement in the form of a 100-card gold version of the set in addition to their regular Matthews card. They can then choose to have the cards shipped to them for free or transfer them to their Check Out My Cards account. It is advisable that a collector gets all 99 cards before scratching the back to reveal the code. Also, there will be a counter on the website indicating how many gold sets remain.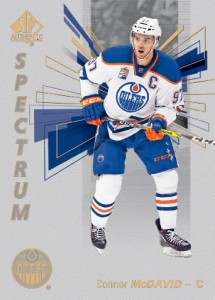 "There are some difficult decisions for people to make to get the bounty, but we wanted the bounty to have some serious implications – sort of like when you went to get an upgraded Connor McDavid Young Guns card, you had to burn through five of them to get that silver foil one."
What does the future hold for the Upper Deck Bounty Program? There will be at least one major feature added in the coming months that will appeal to those who love to trade.
"By the second release, we're hoping to have trading up," said Upper Deck Hockey Brand Manager Boomer Godsill. "Right now, you won't be able to trade code amongst other collectors to build sets. In the future, we'll be working on the ability to trade these cards."
Stephen Laroche is the editor of Beckett Hockey, Beckett Basketball, and Beckett Sports Card Monthly magazines. Have a comment, question or idea? Send an e-mail to him at slaroche@beckett.com or follow him on Twitter @Stephen_Laroche.