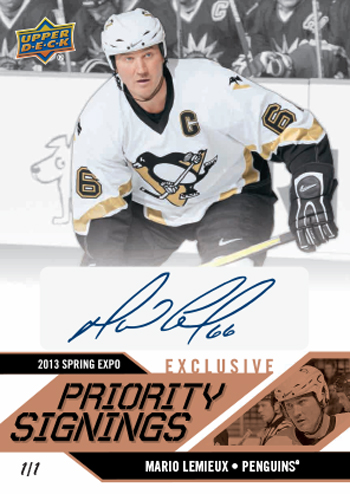 By Susan Lulgjuraj | Beckett Hockey Editor
When is it time to start talking hockey's double rookie class?
Now, seems like a good time. Upper Deck released its plans for the Spring Expo in Toronto (May 3-5) and its highlighting next season's cards
Upper Deck will give away free chances to win signed memorabilia from members of the 2013-14 NHL double rookie class. Collectors at the Sportcard & Memorabilia Expo simply have to show up at the Upper Deck booth to get a raffle ticket. The giveaways will take place Friday at 8 p.m. and Saturday at 5 p.m.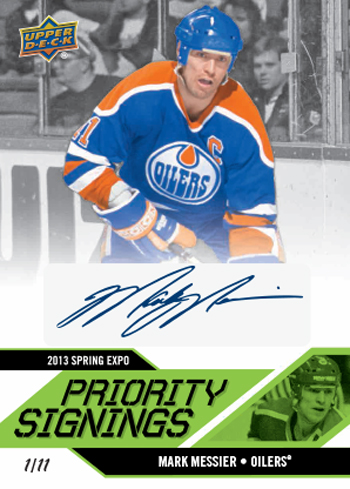 Priority Signings wrapper redemption
As usual, UD is having a wrapper redemption program for its Priority Signings. Fans that purchase a hobby box of 2012-13 Artifacts, 2012-13 Upper Deck Series 1, 2012-13 NHL Black Diamond or a mini box of 2012-13 Fleer Retro from a Certified Diamond Dealer at the show will get a voucher. Bring that voucher along with the wrappers to the Upper Deck booth and get a Priority Signings autograph free.
All the copies of the autographs will be numbered to 35 or fewer.
The Priority Signings redemption will take place during these hours only:
Friday – 5 p.m.to 7 p.m.
Saturday – 10 a.m. to Noon
Sunday – 11 a.m. to 1 p.m.
Instant redemptions will be included in the Priority Signings packs for Upper Deck Authenticated memorabilia of rookies who will appear in 2013-14 NHL products such as Tyson Barrie, Jaden Schwartz and Charlie Coyle.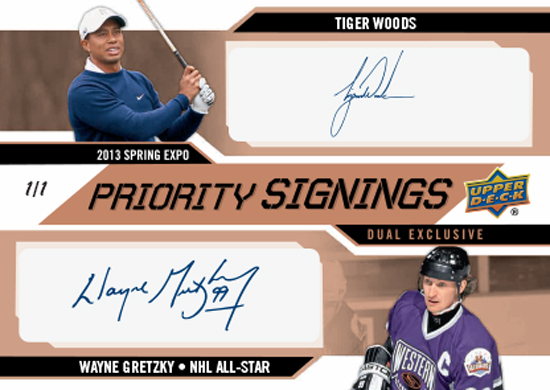 Case breaker promotion
The case breaker promotion is also back. To participate, open one eight-count case of 2012-13 SP Game-Used or a six-count base of 2012-13 NHL Fleer Retro that was purchased at the show from a Certified Diamond Dealer (don't forget your voucher).
Turn in the voucher and wrappers from the case and get two Priority Signings autographs and an instant redemption for an exclusive Priority Signings single or dual signed card or for an autographed memorabilia item of an NHL draft pick.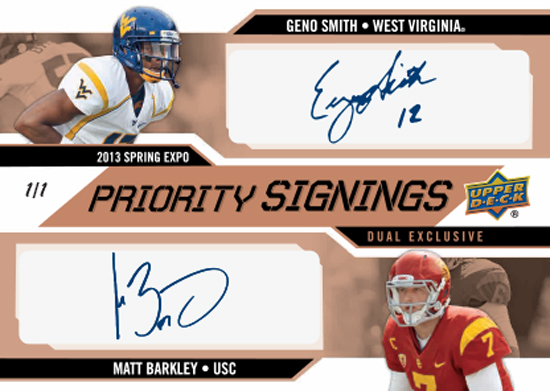 Football case breaks
But it's not all hockey for UD.
The company is having a special case breaker promotion for football fans. The first five people to open a case of 2013 Upper Deck Football will receive one of these five available prizes:
Two (2) mini boxes of 2012 Fleer Retro Football
One (1) Priority Signings Exclusives Autograph One-of-One card of Matt Barkley
One (1) Priority Signings Exclusives Autograph One-of-One card of Geno Smith
One (1) Priority Signings Exclusives Autograph One-of-One dual card of Matt Barkley and Geno Smith
Bubble Hockey
Upper Deck will be playing some games at its corporate booth and so can collectors. Those in attendance can sign up for bubble hockey tournaments and winners can get an autographed puck from members of the next season's double rookie cards.
Tournament times:
Friday: 4 p.m., 8:30 p.m.
Saturday: 1 p.m., 4 p.m.
Sunday: 2 p.m.
Susan Lulgjuraj is an editor of Beckett Hockey. You can email her here with questions, comments or ideas. Follow her on Twitter here. Follow Beckett Media on Facebook and Twitter.