Upper Deck includes QB redemption in 2012 Football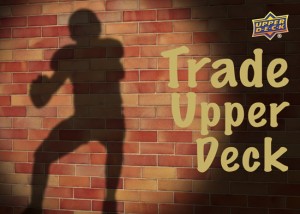 By Susan Lulgjuraj | Contributing Editor
With Upper Deck releasing its flagship football set before the NFL Draft, collectors might be worried about not getting cards of the hottest draft picks.
But the company has found a way to fix that problem by including "Trade Upper Deck" cards in 2012 Upper Deck Football.
The cards come in two versions: gold and silver.
Each will be good for a first-round rookie quarterback card. The gold is for an autograph version and the silver is for an unsigned card. An Upper Deck official said the cards are tough to pull, but didn't give exact odds on the run. Upper Deck said they will not release run count on the cards.
Upper Deck has done this in the past. Most notable was for the 1992-93 basketball season when a "NBA Draft" card was included in their basketball set, which was redeemable for a Shaquille O'Neal card.
At the time, Classic owned the rights to create Shaq cards exclusively during his first year. Companies had to find ways to get collectors Shaq in their product once the Classic deal ran out. The Upper Deck card didn't say exactly who the card was for, but it was redeemable for the overall number one pick from the 1992 draft.
So, who do you think will be this year's version of the rookie redemption? Or perhaps it could be several quarterbacks slated to go in the first round?
Susan Lulgjuraj is a contributing editor for Beckett Media. You can email Susan here. Follow her on Twitter here.