Upper Deck announces plans for Toronto Fall Expo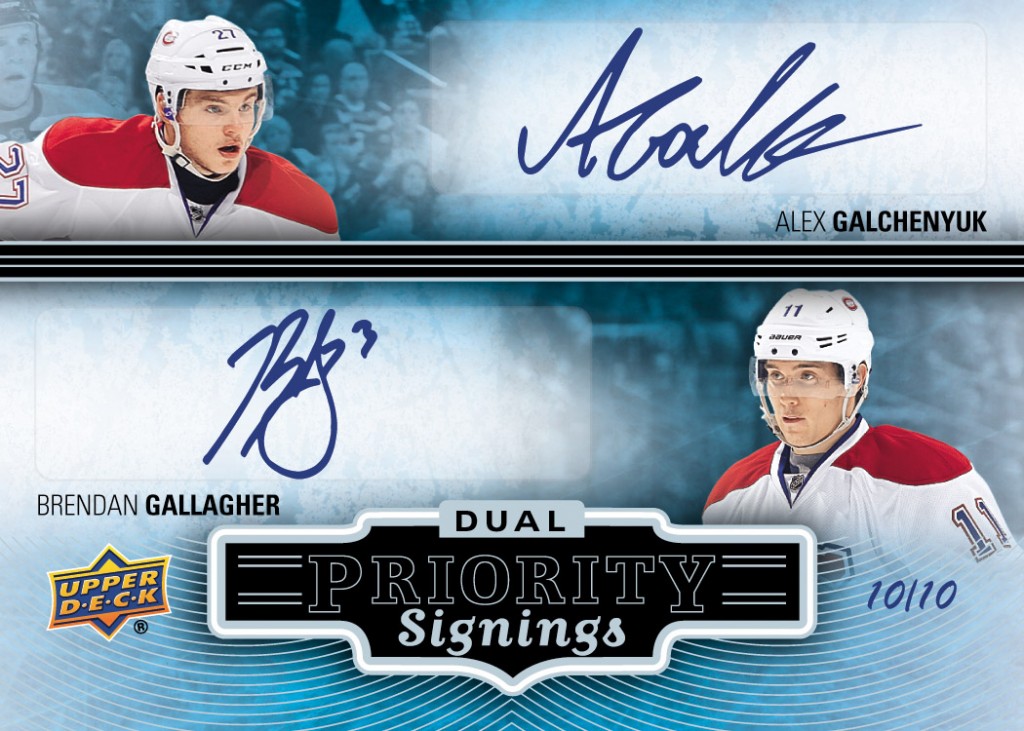 By Susan Lulgjuraj | Beckett Hockey Editor
Upper Deck has announced its plans for the 2013 Sportscard & Memorabilia Expo – that's the Fall Expo for the rest of you.
Exclusive Priority Signings are back with a new design. Collectors can get autographs of players such as Alex Galchenyuk, Brendan Gallagher, Patrick Roy, Sidney Crosby, Alex Ovechkin and more on these cards only found at the Expo.
To get one autograph card, you have to buy a box of 2013-14 Artifact, 2013-14 Upper Deck Series 1 or a mini box of 2013-14 UD Trilogy from a Certified Diamond Dealer at the show where you get a voucher. Bring the voucher and unopened box to the Upper Deck booth. One box per person per day.
Upper Deck is also bringing the Case Breaker promotion back with different levels.
MVP Level: Buy one sealed case of 2013-14 Upper Deck Series 1 and get two 2013-14 NHL Upper Deck Priority Signings Autograph cards or a UDA Double Rookie Class memorabilia instant redemption, and a bonus instant redemption item from the MVP level. This is limited to 25 people.
The Case Breaker Priority Signing cards include John Tavares, Phil Kessel, Steven Stamkos, UDA Memorabilia Item, Martin St. Louis and Rick Nash.
Hall-of-Fame Level: Purchase one sealed case of 2012-13 NHL Fleer Retro or 2013-14 NHL Trilogy and receive two 2013-14 NHL Upper Deck Priority Signings Autograph card or a UDA Double Rookie Class memorabilia instant redemption, and a bonus instant redemption item from the Hall-of-Fame level.
The Hall-of-Fame level includes some of the top signers such as Guy Lafleur, Ovechkin, Wayne Gretzky, Crosby, Steve Yzerman and more.
Collectors who open two boxes of 2013-14 O-Pee-Chee at the Upper Deck booth will get a free Upper Deck toque or an Upper Deck Young Guns t-shirt.
Other activities include a Spelling Bee on players' last names, a Bubble Hockey Tournament, free raffle and an Expired Redemption Raffle.
To get the full details on Upper Deck's plans, check out its latest blog post with all the information.
---
Priority Signings Checklist
Player Name Card # Team #'d to
UDA Instant Redemption UDA DRC Memorabilia 150
Austin Watson F-AW Predators 75
Beau Bennett F-BB Penguins 75
Boone Jenner F-JB Blue Jackets 75
Christian Thomas F-CT Canadiens 75
Jordan Schroeder F-SC Canucks 75
Mark Pysyk F-MP Sabres 75
Nicklas Jensen F-NJ Canucks 75
Thomas Hickey F-TH Islanders 75
Tom Wilson F-TW Capitals 75
Tyler Toffoli F-TT Kings 75
Zach Redmond F-ZR Jets 75
Jarred Tinordi F-JT Canadiens 45
Mikhail Grigorenko F-MG Sabres 45
Quinton Howden F-QH Panthers 45
Ryan Spooner F-RS Bruins 45
Scott Laughton F-SL Flyers 45
Brendan Gallagher F-BG Canadiens 25
Cory Conacher F-CC Senators 25
Morgan Rielly F-RI Maple Leafs 25
Nathan Beaulieu F-NB Canadiens 25
Nathan MacKinnon F-NM Avalanche 25
Petr Mrazek F-PM Red Wings 25
Ryan Murray F-RM Blue Jackets 25
Sean Monahan F-SM Flames 25
Alex Galchenyuk F-AL Canadiens 15
Dougie Hamilton F-DH Bruins 15
Jonathan Huberdeau F-JH Panthers 15
Justin Schultz F-JS Oilers 15
A. Galchenyuk/B. Gallagher F2-GG Canadiens 10
B. Jenner/R. Murray F2-JM Team Canada 10
D. Hamilton/N. Beaulieu F2-DN Team Canada 10
J. Schultz/T. Hall F2-SH Team Canada 10
L. Robitaille/T. Toffoli F2-RT Kings 10
Susan Lulgjuraj is an editor at Beckett Media. You can email her here with questions, comments or ideas. Follow her on Twitter here. Follow Beckett Media on Facebook and Twitter.