Upper Deck and Hockey Hall of Fame Combine for Cool Summer Promotion
Visiting the Hockey Hall of Fame in Toronto is on the bucket list of most fans as it gives them a chance to look at many of the game's priceless artifacts and potentially have an opportunity to get up close and personal with the Stanley Cup.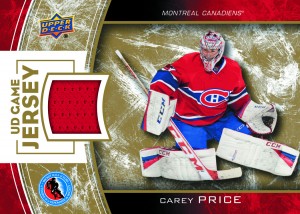 During this summer, however, there is yet another reason to make this pilgrimage as Upper Deck has combined with them during their NHL Team Days to offer up special game-used memorabilia cards featuring many of the best goaltenders in the sport today. There will be one for each team. Naturally, treasures like these will not be available in packs and instead are given out to the first 1,000 paid guests each specific day during the promotion.
The schedule for the giveaway is as follows:
HHOF-JH Jonas Hiller, Anaheim Ducks – July 3, 2014
HHOF-TR Tuukka Rask, Boston Bruins – July 4, 2014
HHOF-MH Matt Hackett, Buffalo Sabres – July 6, 2014
HHOF-KR Karri Ramo, Calgary Flames – July 7, 2014
HHOF-CW Cam Ward, Carolina Hurricanes – July 8, 2014
HHOF-CC Corey Crawford, Chicago Blackhawks – July 9, 2014
HHOF-SV Semyon Varlamov, Colorado Avalanche – July 10, 2014
HHOF-SB Sergei Bobrovsky, Columbus Blue Jackets – July 11, 2014
HHOF-KL Kari Lehtonen, Dallas Stars – July 13, 2014
HHOF-HO Jimmy Howard, Detroit Red Wings – July 14, 2014
HHOF-BS Ben Scrivens, Edmonton Oilers – July 15, 2014
HHOF-RL Roberto Luongo, Florida Panthers – July 16, 2014
HHOF-JQ Jonathan Quick, Los Angeles Kings – July 17, 2014
HHOF-DK Darcy Kuemper, Minnesota Wild – July 25, 2014
HHOF-CP Carey Price, Montreal Canadiens – July 27, 2014
HHOF-PR Pekka Rinne, Nashville Predators – July 28, 2014
HHOF-MB Martin Brodeur, New Jersey Devils – July 29, 2014
HHOF-EN Evgeni Nabokov, New York Islanders – July 30, 2014
HHOF-HL Henrik Lundqvist, New York Rangers – July 31, 2014
HHOF-CA Craig Anderson, Ottawa Senators – August 1, 2014
HHOF-SM Steve Mason, Philadelphia Flyers – August 11, 2014
HHOF-MS Mike Smith, Arizona Coyotes – August 12, 2014
HHOF-MF Marc-Andre Fleury, Pittsburgh Penguins – August 13, 2014
HHOF-AN Antti Niemi, San Jose Sharks – August 14, 2014
HHOF-HA Jaroslav Halak, St. Louis Blues – August 15, 2014
HHOF-BB Ben Bishop, Tampa Bay Lightning – August 17, 2014
HHOF-JB Jonathan Bernier, Toronto Maple Leafs – August 18, 2014
HHOF-EL Eddie Lack, Vancouver Canucks – August 19, 2014
HHOF-BH Braden Holtby, Washington Capitals – August 20, 2014
HHOF-OP Ondrej Pavelec, Winnipeg Jets – August 21, 2014
Collecting a set like this will prove to be quite challenging, but the Hockey Hall of Fame is running a special promotion on their Twitter feed (www.twitter.com/HockeyHallFame) where one lucky fan will win all 30 cards. Each day also features additional bonuses such as additional gifts or autograph signings.  Full details on these events will be posted on the Hockey Hall of Fame's website.