Upper Deck alienates female hockey collectors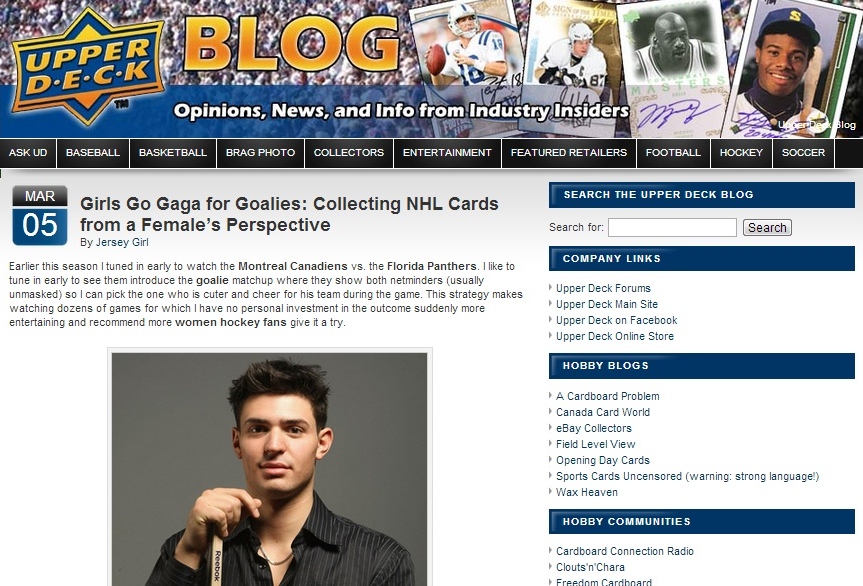 By Susan Lulgjuraj | Beckett Hockey Editor | Commentary/Opinion
Seriously?
I'm still waiting for the punchline. That's how I felt when I read Upper Deck's blog post supposedly written by a female fan. She bases her collecting focuses on a player's looks.
That's all well and good. You're allowed to look at someone and gauge their looks. It's human nature.
But for Upper Deck to endorse this post and write on Twitter "Here's a story for the female @NHL fans out there. How to (sic) #collect NHL cards from a female correspondent," is demeaning, thoughtless and sexist.
Here's an example (up top is a screen grab of the post):
"I like to tune in early to see them introduce the goalie matchup where they show both netminders (usually unmasked) so I can pick the one who is cuter and cheer for his team during the game. This strategy makes watching dozens of games for which I have no personal investment in the outcome suddenly more entertaining and recommend more women hockey fans give it a try."
Seriously, Upper Deck? You thought this would be a good idea to post on your company blog and never once thought you would alienate some of your customers?
I cannot believe that in 2013 I have to actually comment on a post like this. I cannot believe in 2013 after the New York Rangers stupidly put up a post on their site that was degrading toward women, Upper Deck had the gall to move forward with this post.
So let me explain how the female hockey fan works, and collects.
I grew up in New York. I had friends who were hockey fans and rooted for the Rangers. The Islanders were too far away and the Devils were a New Jersey team. Through friendships and the excitement of the 1994 Stanley Cup run, I liked the Rangers.
So, my hockey collection consists of Rangers cards because they are the team I root for.
I also collect Aaron Palushaj cards and NOT because of his looks. His heritage is the same as mine; we have friends in common because our relatives run in the same circle. It's a way to connect to someone that has a commonality.
There are thousands of intelligent, fun female hockey out there. They love to talk about the game, players and strategies. But not in the way Upper Deck has portrayed. These women are hockey fans, no different from men who root for the game.
Seriously, Upper Deck. I'm disgusted … and still waiting for punchline.
Susan Lulgjuraj is an editor of Beckett Hockey. You can email her here with questions, comments or ideas. Follow her on Twitter here. Follow Beckett Media on Facebook.