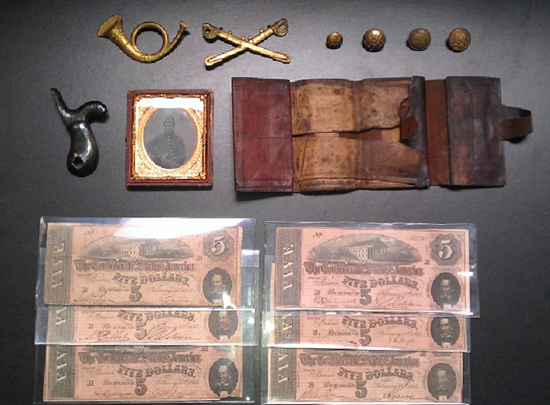 By Susan Lulgjuraj | Beckett Sports Card Monthly Editor
Athletes are usually the focus of the trading cards we collect. Basketball and baseball stars. Football and hockey legends.
Upper Deck is taking a different approach to 2012 Goodwin Champions – which still showcases athletes – by taking a look at America's history. One of the highlights in this year's product are the Museum Relics, but this time with a Civil War theme.
Goodwin Champions released today, and collectors have a chance to obtain relics from the Civil War era. Some of the artifacts are buttons, hat insignias and Confederate currency.
Upper Deck brought in David Miller, a professor at the University of San Diego, who offers courses on the Civil War and Reconstruction, to look at the collection. Miller recently wrote a post about the Civil War collection and the meaning behind some of the pieces.
"As soldiers raised above their garrison in they could have had little inclination of the coveted place their flag would one day hold among treasure hunters," Miller wrote.
That's one of the pieces collectors will have a chance to grab – a piece of a Union flag that was actually flown during a battle.
"This flag bore witness to the very personal experiences of some of the War's participants," Miller said. "In this way, it reflects the common soldier and all complexity of war. At the same time, the flag bears witness to the values for which those men fought, varied as they were. It reminds us that the War    something to everyone who participated."
A concern is cutting up the flag for cards, but Upper Deck's Chris Carlin noted on the blog that the flag was already cut up and torn when it was purchased.
Susan Lulgjuraj is the editor of Beckett Sports Card Monthly magazine. You can email Susan her with ideas, comments and questions. Follow her on Twitter here.