Upcoming Topps Tier One will let you hobnob with elites via massive bat knob set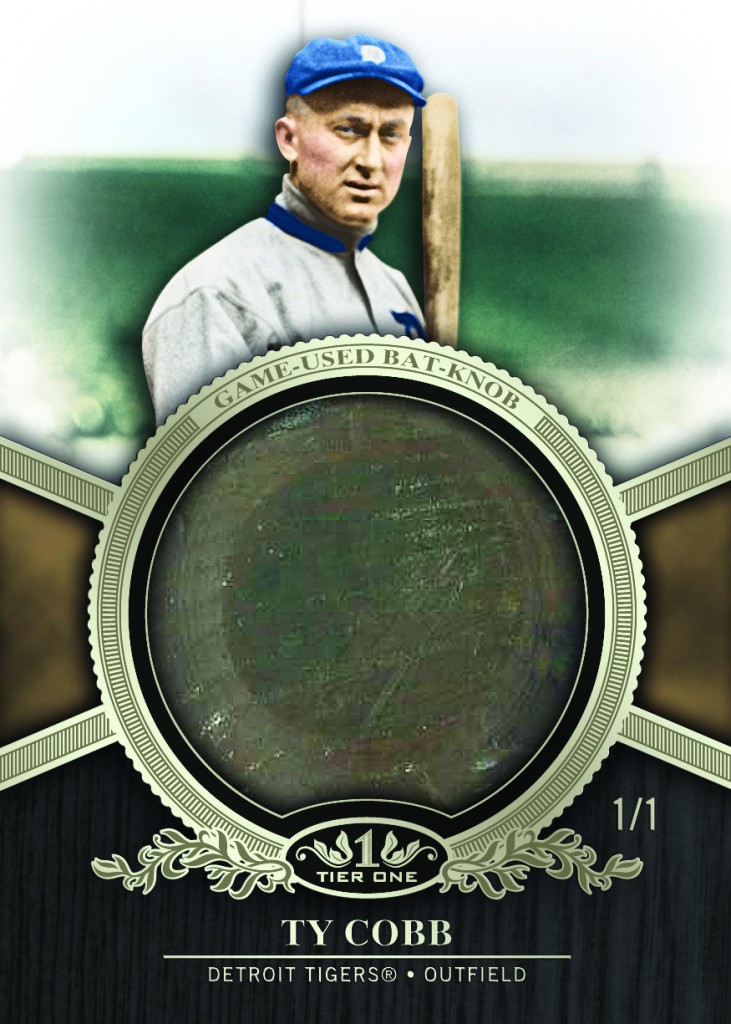 By Chris Olds | Beckett Baseball Editor | Commentary
I've said it before, but I'll say it again — nothing is perhaps more perfectly symbolic of a home run hitter than a game-used baseball bat.
And, unlike cards, jerseys and other pieces of memorabilia, the more beaten and worn out a bat is, the more impressive it is — as long as it remains complete.
For card collectors and game-used cards, bats are not always as impressive. It's not always a love-love relationship. But Topps is intending to change that with its upcoming Tier One release arriving later this month. While bats can yield hundreds, if not thousands, of anonymous-looking wood chips to be placed into cards, the most-special pieces of chopped up gamers are the nameplates — the spot on the barrel where the player's name is burned into the bat — and the bat knob where a player's perhaps most-personalized touches can be seen via numbers, initials or sayings.
In Tier One, there will be a 100-card set of 1/1 knob cards for collectors to chase, including some of the biggest names in the history of the game. It's not an accident, said Topps Vice President Mark Sapir.
"The goal was to add special content, over-deliver value on this release," Sapir said Tuesday night. "To create buzz and excitement in hobby, provide a special chase."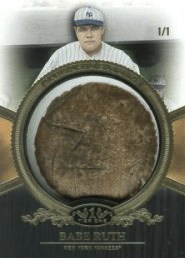 Bat knob cards are not a common thing in the hobby today — even as game-used memorabilia cards are much more commonplace than they were even a decade ago. Today, there are just 629 total bat knob cards in the Beckett.com database. (Click here for a complete checklist and to get an OPG) Many of them are 1/1 cards that few of us ever see.
Topps previously billed this release as "one of the most significant memorabilia inserts ever offered in a product" and the company already is the runaway leader in bat knob cards made previously. There are 491 different Topps knob cards in existence, while the old Donruss/Playoff made the second-highest total with just 92. The remaining companies all have made fewer than 20 knob cards.
Among the legendary bat knobs to be inserted into Tier One will be Babe Ruth, Hank Aaron, Ernie Banks, Frank Robinson, Roberto Clemente, Ty Cobb, Joe DiMaggio, Lou Gehrig, Mickey Mantle, Roger Maris and many more. Oh, and you can find new sluggers, too, such as Albert Pujols, Alex Rodriguez, Jose Bautista, Josh Hamilton, Matt Kemp, Jay Bruce, Carlos Gonzalez and others.
It's an impressive array — largely retired greats — and it will be a pricey one, too. In the cases of some modern sluggers the knob card might outpace the price of a complete game-used bat. (I'm expecting that as I'll fight — and lose — to deep-pocketed Yankees fans online for what will be just the third Nick Swisher bat knob card to ever be released. It will likely surpass what I paid for even the most-expensive of my 10 or so complete game-used bats.)
And with this many game-used bats meeting the saw blades, one has to wonder … what might be in the works for all those nameplates we haven't yet seen that much of in Topps products?
"We have a nice amount of more bats and more nameplates," Sapir said. "We just need to find the right way and right product to include them in. We don't want to just force it. It needs to make sense."
Chris Olds is the editor of Beckett Baseball magazine. Have a comment, question or idea? Send an email to him at colds@beckett.com. Follow him on Twitter by clicking here.
Feast on a massive gallery of the actual Tier One bat knobs below and then take our poll.
—
Loading ...
—