Unreleased 2015 Topps Chrome Carlos Correa, 2016 Gypsy Queen autographs surface online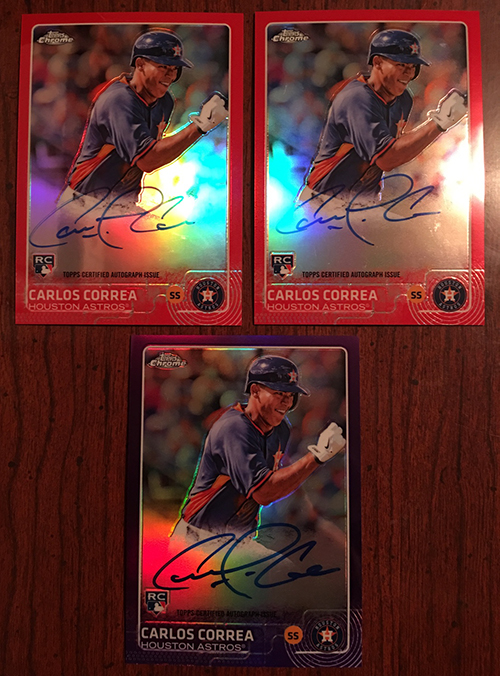 By Ryan Cracknell | Hobby Editor
Update (Feb 19): Topps spokesperson says all Correa autographs in their possession.
Last night three 2015 Topps Chrome Carlos Correa autographs were offered up for sale on the Blowout Cards forums. All three were Refractors, a Purple numbered to 250 and two Reds numbered to 5. Nice cards. The only problem is, they've never been released to the public.
So how did someone end up with not only these three cards but some other autographs from the yet-to-be-released 2016 Topps Gypsy Queen Baseball?
The situation started simply enough. Someone by the user name cardslinger9 was looking to sell some cards of a popular player.
Unless you knew the 2015 Topps Chrome Baseball Rookie Autographs checklist by heart, you may have not noticed anything strange about the initial post. Or, maybe they were the jumbo versions that Topps has for sale on their website.
But they weren't. The numbering doesn't match up and a later picture from the original poster showing the cards alongside a piece of note paper gives the perspective that these were, indeed, traditionally sized cards.
The fact that they exist shouldn't be surprising. A few months ago, Topps posted an image on Instagram of Correa holding a signed 2015 Topps Chrome Baseball Superfractor.
So if there's a Superfractor, the full rainbow of colors is likely. But just because they exist doesn't mean that they've been released.
It didn't take long for some of Blowout's members to catch on and they started doing a little more digging. It was discovered that someone also going by the name of cardslinger9 had an album set up on box.es with live 2016 Topps Gypsy Queen cards. Among them were autographs of Aaron Nola and Jacob deGrom plus and a Mike Piazza autographed patch mini book card. Again, nice cards but the product isn't due out until April.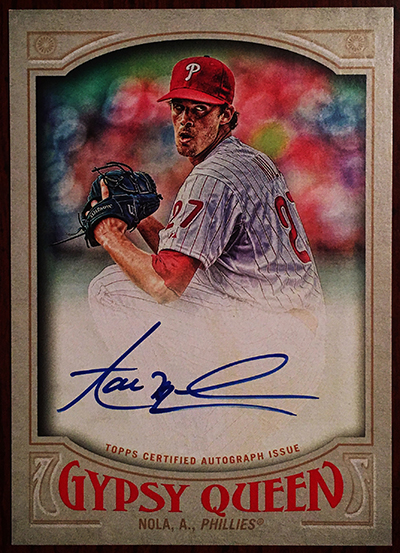 That album and the cardslinger9 account has been removed from the site, but there is currently a cached version from earlier in January that shows several other cards from both recent months and the past. Among them is one of the employee-only 2015 Topps Archives Kris Bryant autographs that were given to select staff in December.
So what's going on here?
These cards look real. There are no signs that they're counterfeit. It's possible but doesn't look likely.
There are several different scenarios that could explain it, but it's hard to find one that's reasonable. Is it a Topps employee taking cards from the company? Is it someone involved with printing or packaging? Maybe they come from somewhere else in the supply chain.
Of course, it also raises questions about the extent of the problem. Is this an isolated situation? At this point, no collectors have missed out on the 2015 Topps Chrome Carlos Correa autographs because they've never been released. But why would this same person have cards that are presumably scheduled for a set a couple of months from now. It's highly unlikely that someone would be pulling that Piazza book card, but even with one less than planned available, it makes it that much harder.
Another possibility is that these cards are part of the planned amount set aside for quality issues and replacements. In that case, there might not be less in packs. But that could lead to problems if a damaged card is sent back and there isn't anything to replace it with.
We have reached out to Topps for comment. We'll be sure to update if we get a response.
Comments? Questions? Contact Ryan Cracknell on Twitter @tradercracks.