Undertaker headlines this year's WrestleMania autograph plaque lineup from WWE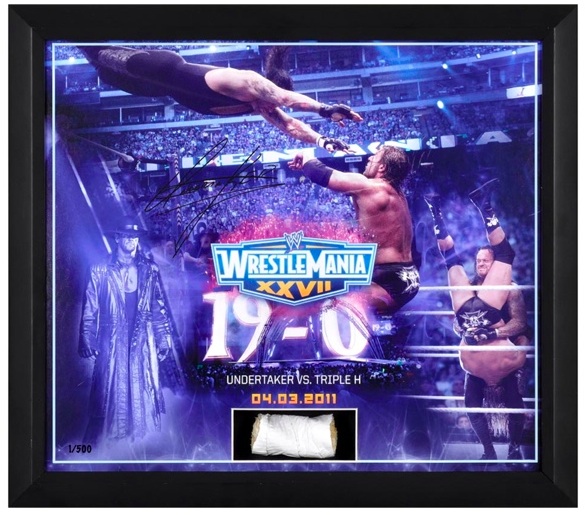 By Chris Olds | BSCM Editor
The arrival of this year's WrestleMania — the Super Bowl of professional wrestling — on DVD means more than just another chance to watch The Undertaker win once again.
It also means the arrival of autographed 'Mania-used memorabilia plaques — aka one of those rare chances to own an autograph from the man who has never lost in 19 matches at the WWE's premiere event.
While Undertaker has only signed two certified autograph cards for card companies though the years — a 1994 Action Packed card and a 2001 Fleer Raw is War Booty card — he has signed a limited number of these plaques through the years, which are sold on WWEShop.com. This year's version, which is 15-by-17 inches and includes a piece of the ring rope from the event, is limited to just 500 copies and is presently available on pre-order for $99.99.
It's not the only plaque commemorating this year's event, which marked the return of The Rock (Dwayne Johnson) to the WWE fold, either.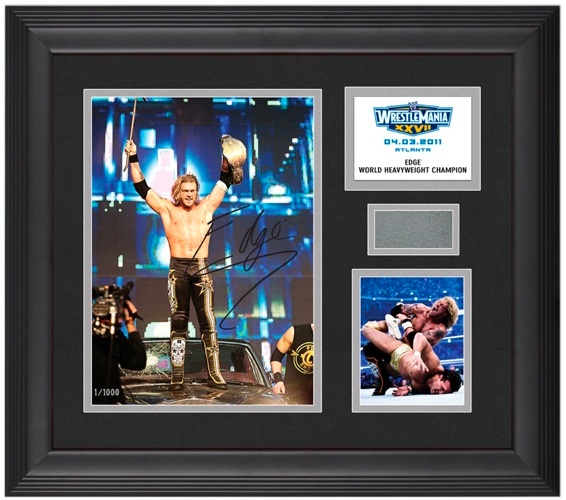 Also available are autographed plaques featuring pieces of used ring mat from the event featuring former WWE Champion The Miz, a piece limited to 1,000 copies, and another, which is limited to half that, featuring former World Heavyweight Champion Edge.
The match was the last in the highly decorated career of Edge, who was forced to retire after the event due to a life-threatening spinal cord issue that has developed after he legitimately broke his neck wrestling nine years ago. He surrendered his championship the day after WrestleMania.
Both The Miz and Edge have regularly signed for WWE trading cards, so they're signatures aren't quite as sought-after as the long-time star, Undertaker, but the plaques are a popular item each year.
Chris Olds is the editor of Beckett Baseball. Have a comment, question or idea? Send an e-mail to him at colds@beckett.com. Follow him on Twitter by clicking here.