Uncle Drew Poster from Mondo Pays Homage to 1990-91 SkyBox
Uncle Drew posters have used bobbleheads as a central theme. Now it's basketball cards acting as inspiration.
A limited edition poster from Mondo for the Pepsi commercial turned feature film starring Kyrie Irving offers up a nod to one of the most recognizable sets from the '90s, 1990-91 SkyBox Basketball.
"Finally, I can share this super rare, super secret #UncleDrew vintage trading card with the world (in poster form). It was passed down to me from my uncle, and it was given to him by Uncle Drew himself after a pick-up game at the YMCA." – @oliverbarrett pic.twitter.com/l03IsNa2lu

— MONDO (@MondoNews) June 26, 2018
The poster was created by Oliver Barrett.
While there has been no official announcement from Mondo, Barrett did mention on his Instagram account that the poster would be available at some point on Friday. According to Collider, the production run for the poster is just 225 copies.
And while there's an Uncle Drew/Kyrie Irving Wheaties box, no cards for the movie have been announced. That said, in 2015, Panini teamed up with Pepsi and the Cleveland Cavaliers for a small set given out as an arena giveaway. So Uncle Drew cards are out there. They're just not the easiest to find.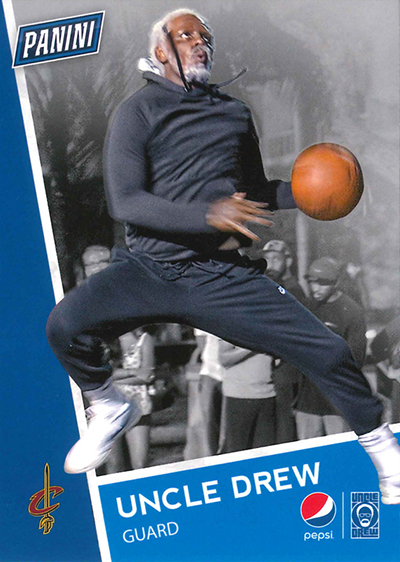 Uncle Drew opens on Friday, June 29. Besides Irving in the lead role, other basketball stars appearing include Shaquille O'Neal, Reggie Miller, Chris Webber, Lisa Leslie and Nate Robinson.