Unauthorized Outlander Season 1 Tim McInnerny Autographs Surface
When you click on links to various merchants on this site, like eBay, and make a purchase, this can result in this site earning a commission.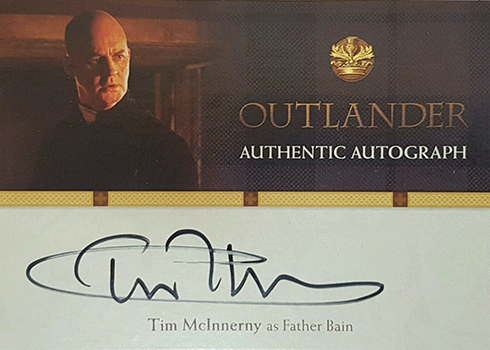 By Ryan Cracknell | Hobby Editor
Dak Prescott, Ezekiel Elliott and Kris Bryant aren't the only autographs on fire in the hobby at the moment. A handful of key signers in the recently released 2016 Cryptozoic Outlander Season 1 are fetching a lot more than you might expect. This is likely the result of the product tapping into an audience of passionate fans who aren't traditionally card collectors.
However, there's one card that's surfaced that's not on the checklist. And it wasn't officially issued by the card maker either.
The signature in question belongs to Tim McInnerny who played Father Bain on the show. Perhaps he's more recognizable for his work on other shows and films like the live-action 101 Dalmations, Notting Hill and a regular spot on Black Adder.
A single UK-based eBay seller has several listings for the card including some with added doodles.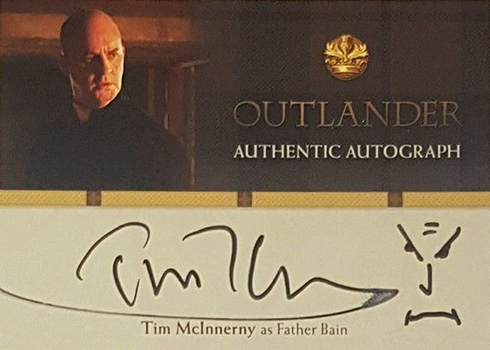 However, according to Cryptozoic's George Nadeau, the cards are unauthorized, "Cryptozoic Entertainment has not released any Tim McInnerny autograph cards. Tim McInnerny autograph cards are not part of our Outlander Trading Cards Season 1 set."
Does that mean the signatures on the cards are fake? Not necessarily.
According to the seller, the cards were acquired in a lot at auction a couple of months back. For whatever reason, they were deemed undeliverable and went unclaimed for an extended period of time. It was only then that they went up for auction, likely part of a bulk lot of miscellaneous items.
The cards themselves do look legit, including the Cryptozoic hologram on the back.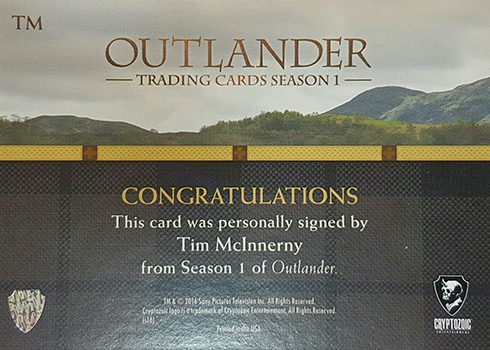 But that doesn't mean the signatures are real. It doesn't mean that they aren't. But because they're not part of the official product, Cryptozoic won't vouch for them like they would their other cards.
Comments? Questions? Contact Ryan Cracknell on Twitter @tradercracks.