Unannounced 3-D Cards Found in 2014-15 O-Pee-Chee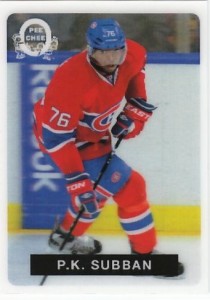 By Stephen Laroche | Beckett Hockey Editor
Some lucky collectors busting packs of 2014-15 O-Pee-Chee have uncovered rare 3-D insert cards that Upper Deck decided to put in as a special unannounced surprise.
For the third year in a row, the O-Pee-Chee brand has featured a special set that was not revealed to the public prior to release and the hobby has reacted to them positively once again.
In 2012-13, there were Deckle Edge inserts that came at incredibly long odds and they were similar to inserts that came in second series O-Pee-Chee packs during the 1970-71 season. Last year, Upper Deck once again dug back into the brand's lush history and made a Glossy set that echoed the one-per-pack inserts from the 1977-78 campaign.
This time, Upper Deck went a little off the grid since there were no similar cards in any original O-Pee-Chee releases, but they were certainly a staple for baseball collectors in the 1970s and 1980s as Kellogg's ran a long and successful 3-D trading card program.
The 2014-15 O-Pee-Chee 3-D collection is made up of 42 different cards and there is a strong assortment of current players and legends. Upper Deck also did not announce the blank back variants for the Retro parallel cards and it is expected that they will be quite limited once again. Insertion ratios were not published for either set.
Stephen Laroche is the editor of Beckett Basketball and Beckett Hockey magazines. Have a comment, question or idea? Send an e-mail to him at basketballeditor@beckett.com. Follow him on Twitter @Stephen_Laroche.