Ultimate Guide to Jeff Bagwell Rookie Cards and More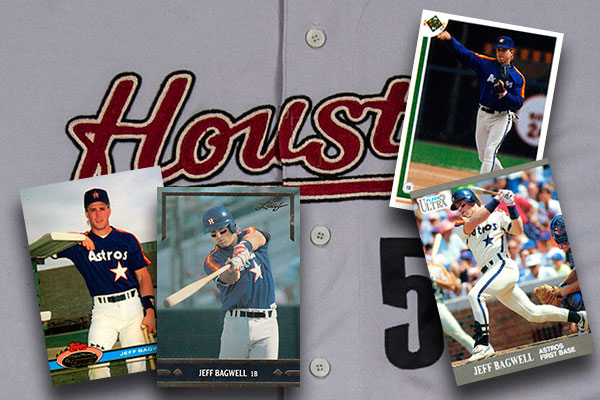 By Ryan Cracknell | Hobby Editor
Sorry, but you're probably not going to get rich off of Jeff Bagwell Rookie Cards. But that doesn't mean you still can't enjoy what's out there.
The slugger came into the league when the hobby was in a very different place. Sure, it came at a time when baseball cards were peaking. They were everywhere. But in order to be everywhere, you need the print runs to match. And when the speculators of the era left the hobby, supply reached much further than demand.
And that's where we stand today. Collectors can build a full run of all nine Jeff Bagwell Rookie Cards for less than it would to treat the family to a fast food lunch.
However, on top of those are several inserts, oddball cards and other early issues that can add a bit more of a challenge. The prices are still not going to be obscene, but it adds another level to building a collection of early Jeff Bagwell cards.
If you're looking for investment potential, high-grade copies of his rarest early cards — not necessarily traditional Rookies — is one route to go. For a lot of collectors who were just starting out when the Astros legend was, graded cards offer some focused nostalgia as well as something more challenging and elusive. But even with that, it's all relative with early '90s cards.
Here's a breakdown off all the Jeff Bagwell Rookie Cards, his other 1991 cards plus his first hobby appearances, which came a few years earlier.
Jeff Bagwell Rookie Cards and More
1991 Astros Mother's Jeff Bagwell #8
Mother's Cookies produced a lot of regional oddball sets over the years. Jeff Bagwell appeared on several of them, but his first came in his rookie season. Standard for the company's sets, the 1991 Astros Mother's Jeff Bagwell uses round corners and minimal design elements on the front. Even with the global reach of the Internet, this isn't the easiest card to find.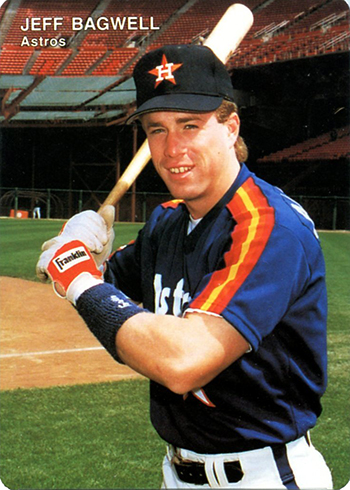 Buy on:
1991 Bowman Jeff Bagwell RC #183
Had Topps decided to move up it more premium overhaul of the Bowman brand by a year, this might be a much bigger card. But, Topps kept the drab look and feel for 1991. And like so many sets that year, the modern hobby still hasn't been able to compensate for the era's massive over-production.
The small gold foil stamp notes Bagwell was MiLB's Eastern League MVP.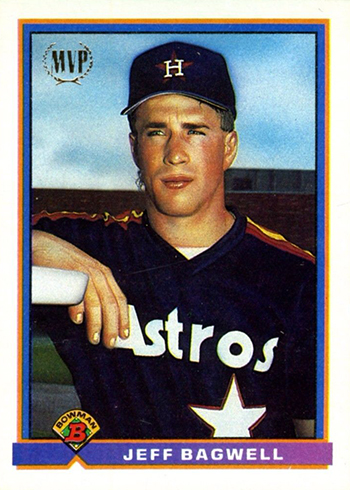 Buy on:
1991 Classic Game Jeff Bagwell #90
1991 Classic took a bit of a different approach to distribution. Although a factory set of sorts, this card came packaged as part of a board game. It joins 1991 Fleer and 1991 Donruss for having some of the brightest borders ever committed to baseball cards.
In case you're wondering about the print run for the 1991 Classic Game Jeff Bagwell, don't. A total of 100,000 sets were produced.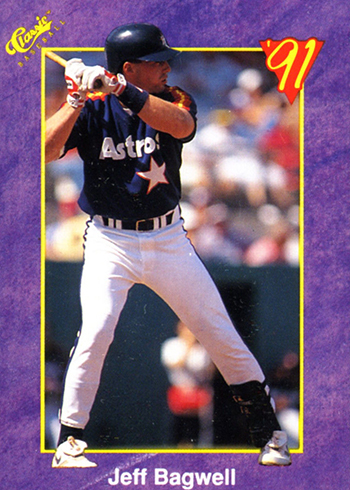 Buy on:
1991 Classic II Jeff Bagwell #T84
1991 Classic Baseball was similar to modern deck building games in that it came with pre-made expansion sets. The 1991 Classic II Jeff Bagwell is one of those. The general layout is similar to the initial release but the photo is different and the border color changed, making them easy to differentiate.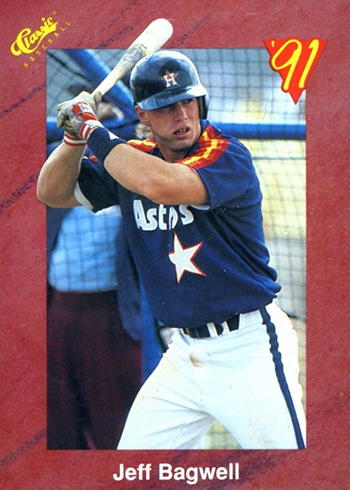 Buy on:
1991 Donruss The Rookies Jeff Bagwell RC #30
After neglecting to include him in 1991 Donruss Series 1 and Series 2, the company made good and put Bagwell in the late-season The Rookies box set. This begs the question, does the red border do the loud design justice or would Bagwell looked better with the blue of Series 1 or Series 2's green?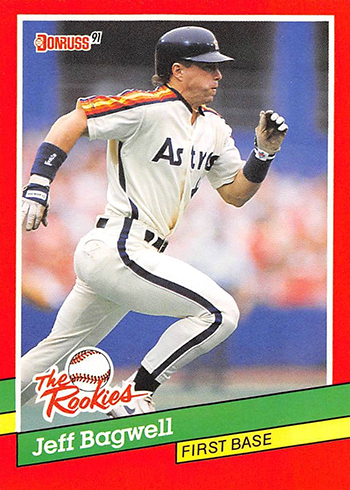 Buy on:
1991 Fleer Update Jeff Bagwell RC #87
Like Donruss, Fleer didn't produce their first MLB Jeff Bagwell card until their end-of-year box set. Some people like the bright yellow of 1991 Fleer Baseball. Others loathe it. Either way, like virtually every Jeff Bagwell Rookie Card, it's cheap.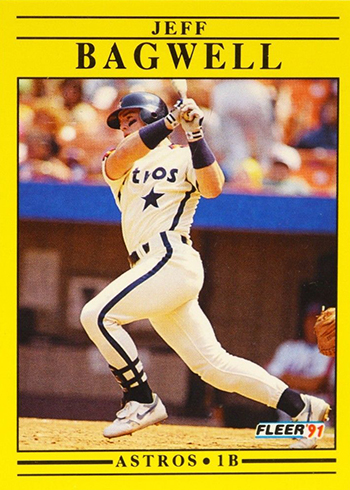 Buy on:
1991 Leaf Gold Rookies Jeff Bagwell #BC14
Inserts were still something of a novelty back in 1991. They were certainly growing, but the floodgates hadn't quite opened. They might not have the same history as the 1991 Donruss Elite Series cards or the hunt for Reggie Jackson autographs in 1990 Upper Deck High Series, but 1991 Gold Leaf Rookies was one of the earlier favorites. Jeff Bagwell's card is found in Series 2 packs. Oddly, this is his only appearance in the product as he isn't in the main 1991 Leaf set.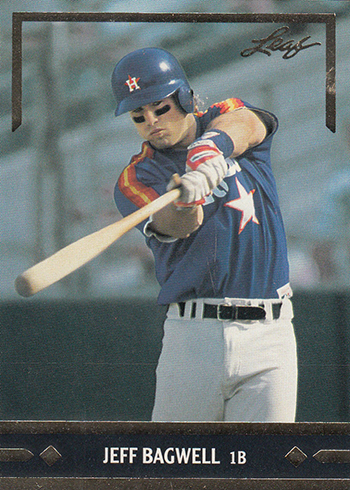 Buy on:
1991 Score Rookie/Traded Jeff Bagwell RC #96T
While it doesn't show much of his face, the 1991 Score Rookie/Traded Jeff Bagwell Rookie Card does showcase his swing and the source of a lot of his power. It's another box set exclusive that can be found with little trouble.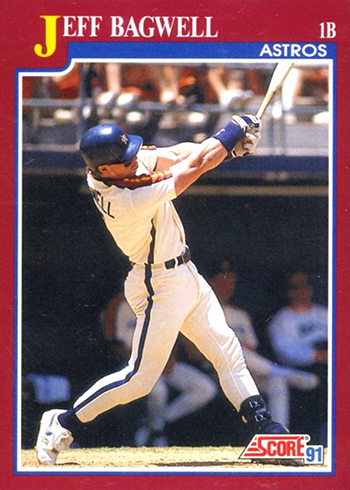 Buy on:
1991 Stadium Club Jeff Bagwell RC #388
1991 Stadium Club Baseball was an important set for the hobby. It brought Topps into premium territory for a mainstream release. From a quality standpoint, few will argue that this is the best Jeff Bagwell Rookie Card. But that doesn't mean it's expensive. 1991 Stadium Club peaked long ago and if there's any investment potential, it'll likely be found in the high-end graded market.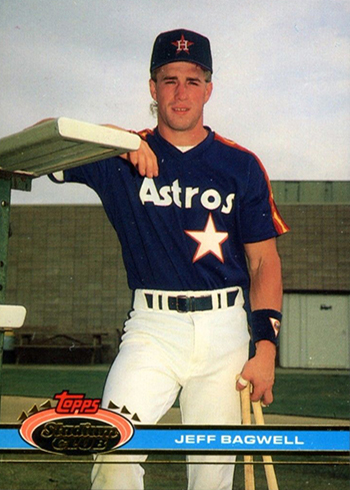 Buy on:
1991 Stadium Club Members Only Jeff Bagwell
When Topps launched Stadium Club back in 1991, it wasn't just a brand name. Collectors could actually join a Stadium Club club. By signing up, you'd get cards in the mail. The full 1991 Stadium Club Members Only set has 50 cards covering baseball, football and hockey. It was sent in three parts with Bagwell headlining the second batch.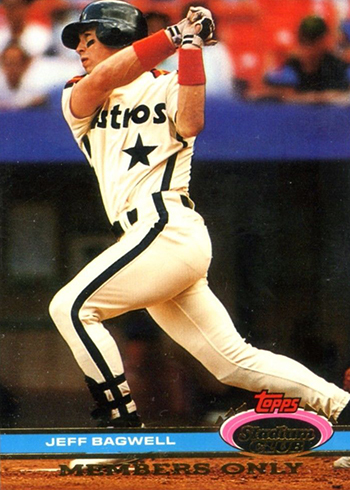 Buy on:
1991 Studio Jeff Bagwell RC #172
1991 Studio Baseball tried to offer a deeper look at the personal side of players. That meant action shots were cast aside for black and white portraits. The concept brought some interesting results in the photography department. Bagwell's is more standard fare, but it's still enough to make this Rookie Card stand out from a visual standpoint.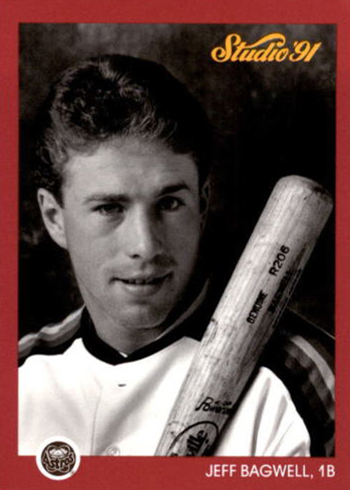 Buy on:
1991 Topps Traded Jeff Bagwell RC #4T
Jeff Bagwell is one of the anchors of the 1991 Topps Traded box set. Like Studio, it's a portrait shot versus action. But instead of an intimate shot, it's more akin a bright flash and an uncomfortable pose.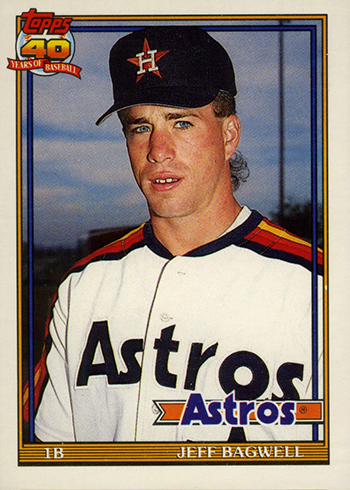 Buy on:
1991 Topps Traded Tiffany Jeff Bagwell #4T
If the regular 1991 Topps Traded Jeff Bagwell Rookie Card doesn't entice you thanks to its low value and its massive "Hands Across America"-style print run, perhaps this might be more appealing. Packaged as part of a limited edition box set, the 1991 Topps Tiffany Jeff Bagwell is a parallel of sorts done with glossy stock.
The print run for 1991 Topps Traded Tiffany is unknown, however it is among the toughest of all the Tiffany releases.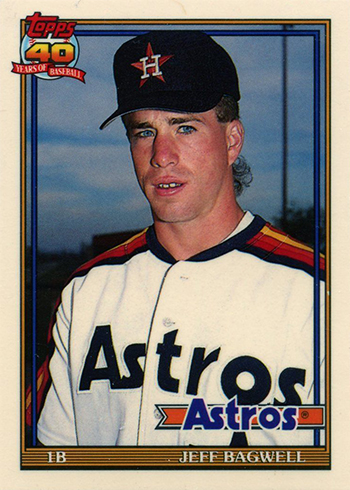 Buy on:
• eBay
1991 Topps Triple Headers Jeff Bagwell/Craig Biggio/Ken Caminiti #N4
Okay, this isn't a card. Still, it's certainly worthy of note for Bagwell fans and collectors. Topps has a history of experimenting with different novelties. More often than not, they became one-time releases. 1991 Topps Triple Headers is one such instance. Each "pack" has some candy along with a ball that has the faces and facsimile signatures of three players.
The 1991 Topps Triple Headers Jeff Bagwell has some additional star power. He's paired with Hall of Famer Craig Biggio and 1996 National League MVP Ken Caminiti.
Today, these aren't easy to find. In fact, it ranks among the toughest hobby-related items from Bagwell's rookie season.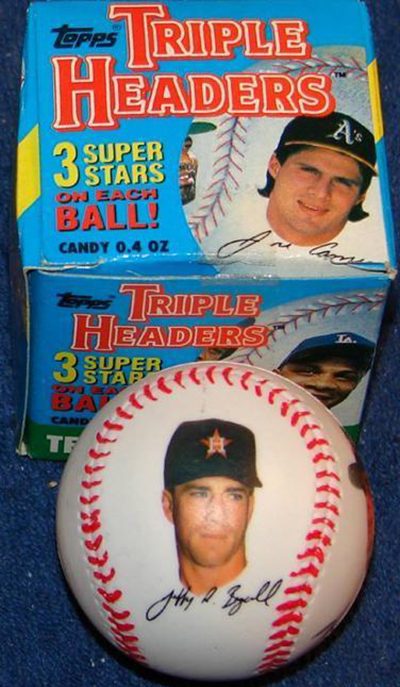 Buy on:
1991 Ultra Update Jeff Bagwell RC #79
By today's standards, 1991 Ultra Baseball doesn't scream premium. But back when Jeff Bagwell was making himself comfortable around MLB pitching, it was a different story. Part of the 1991 Ultra Update box set, it might not cost much now but it's still one of the most popular Jeff Bagwell Rookie Cards.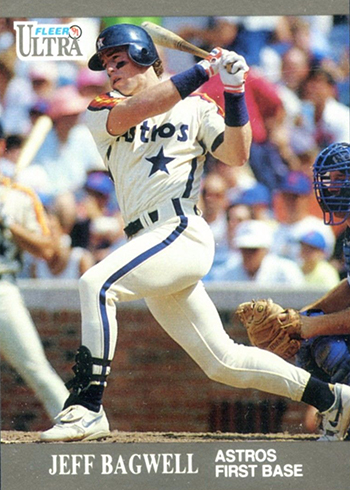 Buy on:
1991 Upper Deck Jeff Bagwell RC #755
Included in High Series packs, the 1991 Upper Deck Jeff Bagwell might be his most recognizable Rookie Card. Because the majority came in box sets, there wasn't the same push when opening packs. And for those that are in packs, the sets either weren't wildly popular or the cost for packs was a lot higher. 1991 Upper Deck had a broad reach. Let's not discount that it's an attractive card as well.
It's also an uncorrected error. The Strikeout and Walk totals on the back are switched around.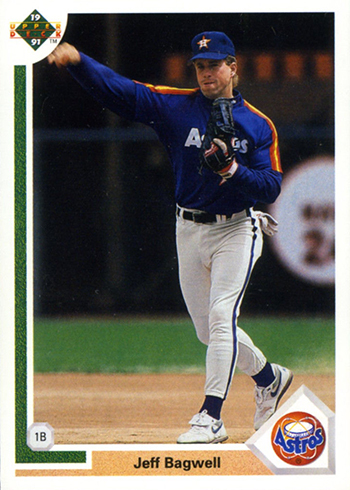 Buy on:
1991 Upper Deck Jeff Bagwell/Luis Gonzalez/Karl Rhodes #702
1990 Upper Deck Baseball had a popular card with three Expos rookies who turned out to be pretty good. Looking to make it a pattern, 1991 Upper Deck High Number features a similar card showcasing a trio of Houston rookie standouts. Bagwell's the biggie, but Gonzalez was pretty good too. As for Karl Rhodes, he adopted the name Tuffy.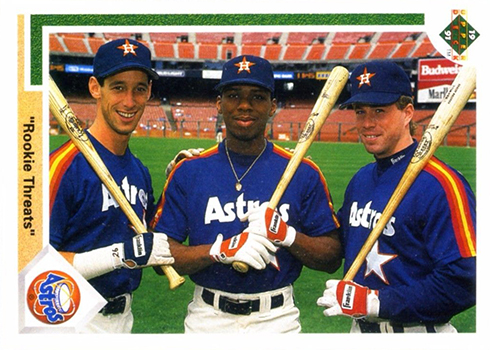 Buy on:
First Jeff Bagwell Cards
Although Jeff Bagwell had minor league cards in several 1990 sets, his first cards came out a couple of years earlier.
1988 Cape Cod Prospects Ballpark #4
The first Jeff Bagwell cards came out before he even turned pro. The 1988 Cape Cod Prospects Ballpark Jeff Bagwell was produced by Fred Suzman, a card dealer and high school teacher at the time. Back in 1988, Suzman told the New York Times that he produced 6,500 of the 30-card sets with teams selling them for $5.95 each. The fact that this card came out three years before Bagwell appeared on a MLB card further adds to its appeal. The thin borders make centering the biggest challenge in finding top-end copies.
And in case you're curious, here's a look at the release Bagwell had to sign to be included in the 1988 Cape Cod Prospects Ballpark set. Because he was an amateur at the time, Bagwell didn't get paid anything.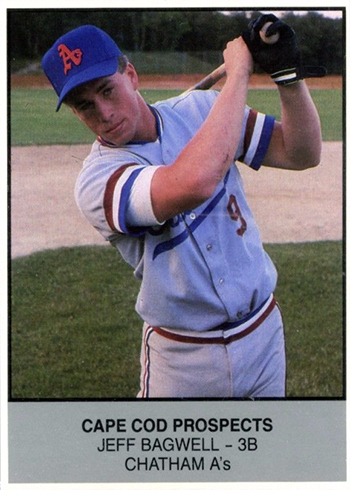 Buy on:
• eBay
1988 Cape Cod Prospects P and L Promotions #57
Bagwell also has a card in the much larger 1988 Cape Cod Prospects P and L Promotions set. Put together by local dealer Leonard Niemi, this set has 186 cards versus just 30 in the Ballpark set. Despite its early and localized release, the 1988 Cape Cod Prospects P and L Promotions Jeff Bagwell isn't overly pricey or difficult to find. It was included in both full factory sets, which originally sold for $29.95 and a Chatam Athletics team set that was $4.95.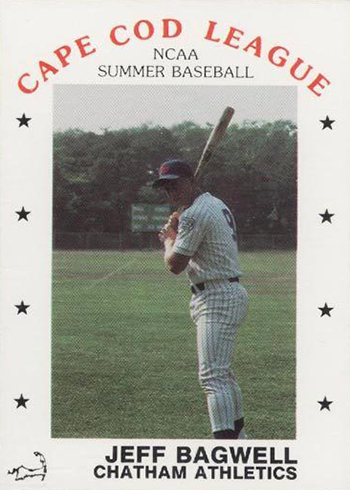 Buy on:
• eBay
Comments? Questions? Contact Ryan Cracknell on Twitter @tradercracks.