Ultimate Don Mattingly Rookie Card Guide
The Don Mattingly Rookie Card lineup is a key part of the story of 1980s baseball cards. The Yankees legend made his Bronx debut at a time where the hobby was building momentum. Donruss and Fleer were hitting their stride, Topps was in the midst of a strong run and the number of non-mainstream sets was rising.
Although Mattingly was a September call-up in 1982, his rookie cards didn't arrive until 1984. That's also when he became a regular in the New York lineup. It was a quick rise to stardom, as he became one of the best hitters in the American League, winning the batting title. An MVP follow-up season in 1985 cemented Mattingly's place as one of baseball's biggest stars, something that transferred over to the hobby.
Mattingly went on to have a strong career, but not quite to the level of his early trajectory. Still, he has remained one of the most beloved players from a generation where baseball cards exploded in popularity.
There are four total Don Mattingly Rookie Cards. In addition to those are a handful of other early releases including stickers and even a button. For those not overly concerned about the top-condition cards, Mattingly's first cards aren't overly expensive. They can get high when professionally graded cards enter the equation, but there's still lots of opportunities for those on tighter budgets.
Here's a look at every Don Mattingly Rookie Card as well as other releases from his first season in the mainstream hobby.
Don Mattingly Rookie Card Checklist and Other Early Cards of Note
1984 Donruss Don Mattingly Rookie Card #248
The 1984 Donruss Don Mattingly Rookie Card goes beyond being simply a great card. When it comes to 1980s baseball cards, it's iconic. It's not hard to find but it's still harder than his other mainstream RCs. 1984 Donruss Baseball arrived with a lower print run than its peers
Buy on: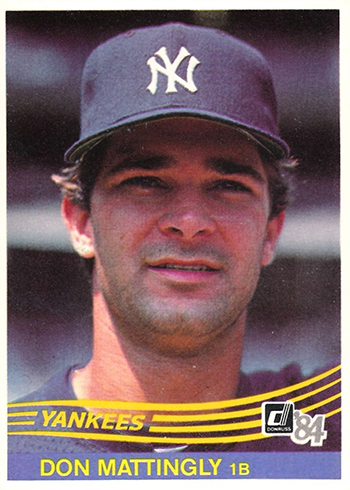 ---
1984 Fleer Don Mattingly Rookie Card #131
The 1984 Fleer Don Mattingly RC is like the kid in class who flies under the radar all year. It's a nice card that has a lot going for it. However, it doesn't draw attention to itself and is ignored compared to its Donruss and Topps counterparts.
Buy on: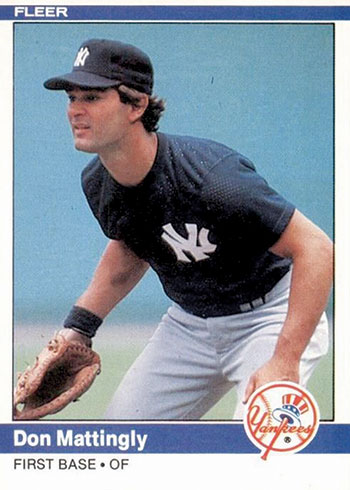 ---
1984 Fun Food Pins Don Mattingly #77
Although the copyright on the back reads 1984, it's believed these wearable pieces actually came out in 1985. So if a button is already stretching it in the Don Mattingly Rookie realm, the whole later release might be a further deal breaker. But it's fun and deserving of some attention.
Buy on: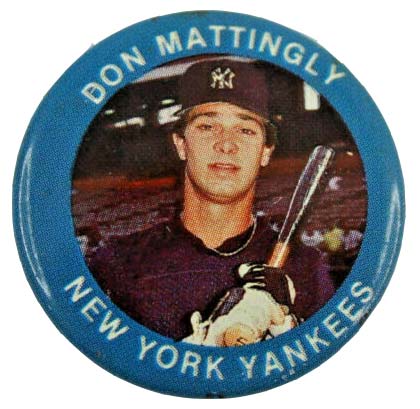 ---
1984 Nestle Don Mattingly #8
Another spin on Mattingly's 1984 Topps Rookie Card, this one is part of a promotion. Collectors could send in five candy wrappers and $4.95 to receive one of six different uncut sheets. Several dealers took to having the sheets cut up to the point where they have become accepted amongst the hobby. All 792 1984 Topps Baseball cards are part of the promotional set. The big difference is logo on the front with Nestle replacing Topps.
Buy on: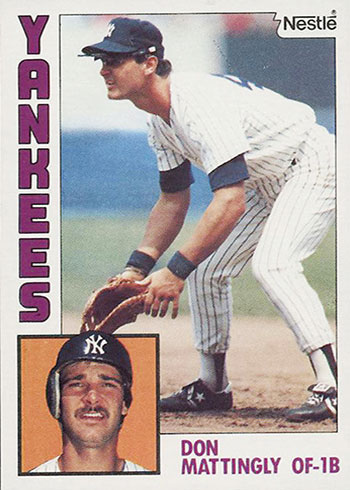 ---
1984 O-Pee-Chee Don Mattingly Rookie Card #8
Stepping a little outside of the mainstream, the 1984 O-Pee-Chee Don Mattingly offers yet another spinoff of his Topps RC. This has all the hallmarks of one of the Canadian counterparts, mainly the bilingual text. Although more rare than the flagship Topps card, it's hard to call this one rare. On the '80s OPC, 1984 leans on the more plentiful side. That said, because it's O-Pee-Chee, finding a top-condition copy is tough. It's standard to find rough edges. Centering can also be an issue. It's probably easier to accept it and take it as part of its charm.
Buy on: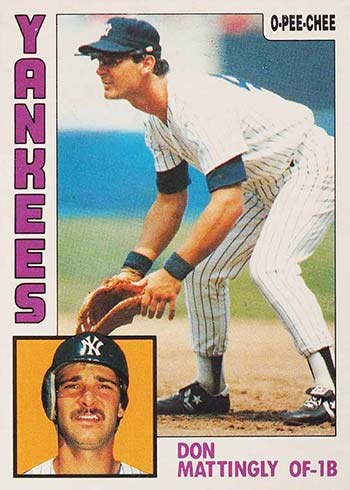 ---
1984 O-Pee-Chee Stickers Don Mattingly #325
When it comes to baseball, stickers are one of the most overlooked corners of the hobby. Mattingly is in O-Pee-Chee's 1984 set, paired alongside Tom Tellmann. Despite being tougher to find than his card, don't expect to pay much of a premium if at all.
Buy on: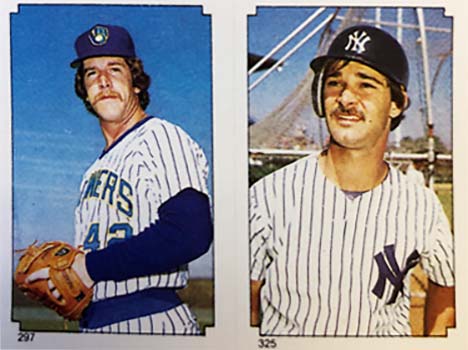 ---
1984 Topps Don Mattingly Rookie Card #8
This one is neck and neck with Donruss as far as being the most iconic Don Mattingly Rookie Card. Donruss certainly has the prestige but the 1984 Topps Don Mattingly RC has the lineage. With the company doing its flagship run every year since 1952, there's plenty of history that comes with the brand's key cards. Thanks in part to a steady flow of reprint inserts and reimagined versions in things like Topps Project 2020, this card has never lost its relevancy.
Buy on: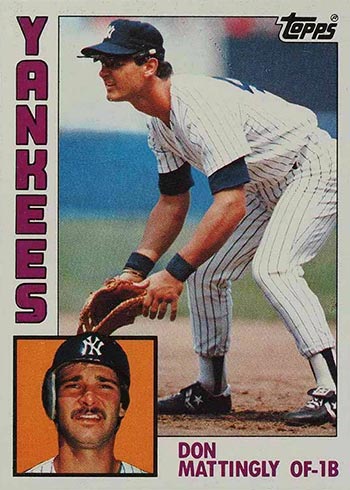 ---
1984 Topps Stickers Don Mattingly #325
Mattingly and Tellmann are together again for their respective Topps stickers. Like O-Pee-Chee, this one falls into the overlooked category. The fronts on both are the same but the backs mention their respective manufacturers.
Buy on: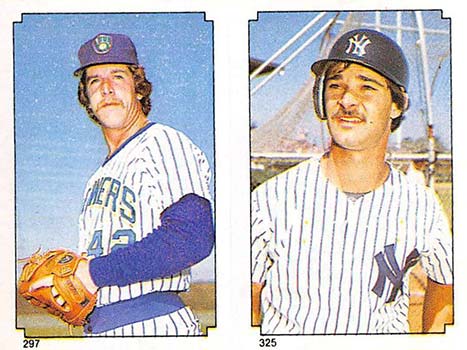 ---
1984 Topps Tiffany Don Mattingly #8
1984 marked the first year for the Topps Tiffany line. Basically a premium version of the regular set, it has glossy stock that makes it slick to touch on the front. The back is also noticeably brighter than the standard Topps Mattingly RC. 1984 Topps Tiffany Baseball is believed to have a production run of 10,000 factory sets. It was not released in pack form.
Buy on: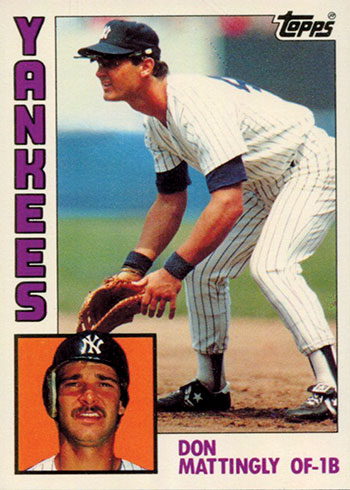 ---
1984 Yankees Photo Album Don Mattingly
This is probably the most obscure first-year Don Mattingly release. Included in a 27-card booklet, it measures 7 7/8″ by 7 7/8″. Given the size and the blank backs, these are similar to printed photos.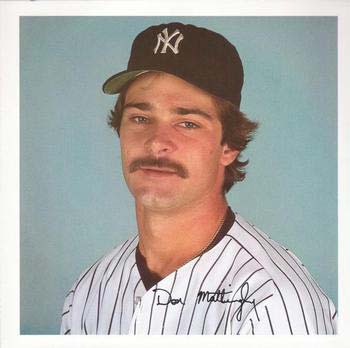 ---
Don Mattingly Minor League Cards
1981 Nashville Sounds Team Issue Don Mattingly
If you're looking for the first Don Mattingly card, you need to go back three years and down to the Double-A Nashville Sounds. Put out by the team, it's a regional release but not one that's exceptionally rare or expensive. The bigger challenge is finding one that's centered.
Buy on: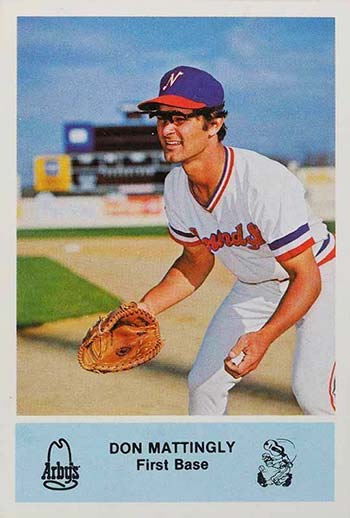 ---
1982 Columbus Clippers Police Don Mattingly
By 1982, Mattingly was getting closer to the majors. This is one of two cards featuring the future star as a member of the Triple-A Columbus Clippers. This one is exceptionally tough to find in top condition.
Buy on: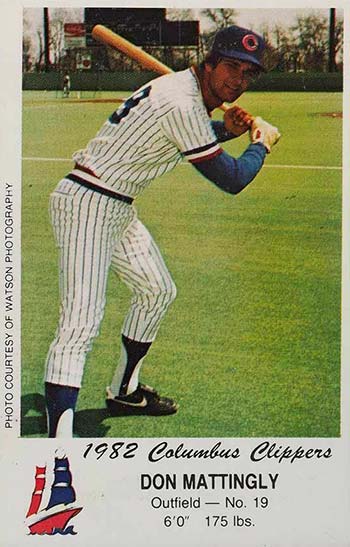 ---
1982 Columbus Clippers TCMA Don Mattingly #21
Mattingly's second 1982 minor league card is part of the TCMA team set. It's not the most exciting design or dynamic photo, but it's still significant simply due to its early release. There is something to be said for such early cards, particularly from an era when baseball card prospecting was in its infancy.
Buy on: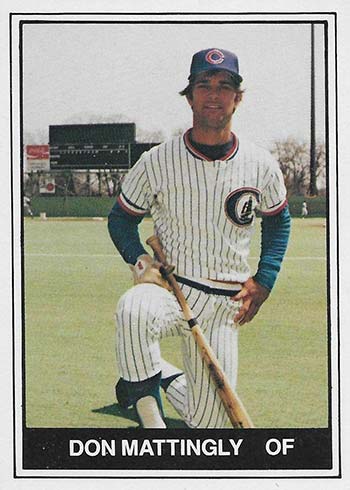 ---