UFC's Jorge Masvidal to Host Break at the 2021 National Sports Collectors Convention
Fighter Jorge Masvidal is going to be at the 2021 National Sports Collectors Convention on Friday, July 30. That day also happens to be the 2021 Panini Select UFC release day. It's no coincidence.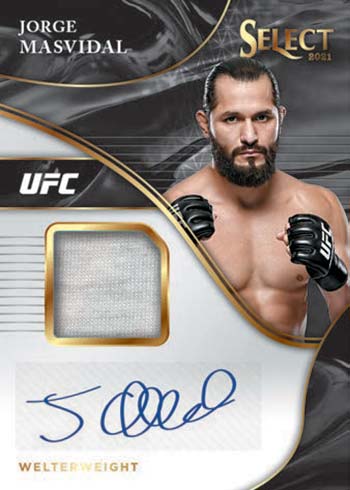 Masvidal, who holds the UFC record for scoring the fastest knockout will be doing a live break of the product with BRKRZ, a new venture that aims to get athletes, entertainers and other celebrities involved with opening product. Masvidal will be livestreaming the Select break across social media including Facebook, YouTube and Instagram. He is on the checklist so there's a chance Masvidal could find some of his own cards.
Former UFC fighter Henry Cejudo will also be on the livestream. He currently co-hosts the Hotboxin' podcast with Mike Tyson. The break will also stream on the Hotboxin' YouTube page.
Beckett Grading will be on hand to grade key cards from the break.
The 2021 Select UFC break will take place at the Panini booth on Friday at 4 PM EST.
BRKRZ isn't limiting its National content to just sports cards. They've also got a break centered around sneakers that will be hosted by Maurah Ruiz, former Miss Global USA.
Tony Loiacono, who produces BRKRZ alongside Malki Kawa, said, ""I want to elevate breaking to the next level and show the world how entertaining it can be."
Part of his vision is to not only feature athletes and celebrities as guests but to broadcast from unique locations like locker rooms and stadiums.