UD offers redemption pick up and raffle at NSCC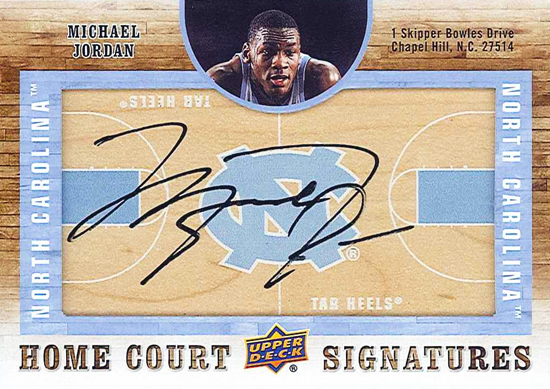 By Susan Lulgjuraj | Contributing Editor
Getting a redemption cards is probably one of the least favorite things of the hobby. Having to hold on to it for months, even years, is even worse. But they are part of the business.
However, maybe collectors can do something about it.
Upper Deck is including a program for redemptions at its booth at the National Sports Collectors Convention from Aug. 2-6 at the Baltimore Convention Center. This isn't the first time UD has offered this service. It started at the 2012 Sports Cards & Collectibles Expo in Toronto.
Collectors can pick up outstanding redemptions at the show or, if the card is not available, have the redemptions exchanged for a comparable card.
In addition, if you have expired redemptions from any major card company, hang on to those too and bring any unscratched, expired redemptions with you to the National on Saturday (more details on this below).
Interested in finally getting your cards? Here's how:
・ Log in to your Upper Deck account and see what outstanding redemptions you have.
・ Figure out the cards you want to receive (status should say "in house) or the cards you want to exchange for something else.
・ Email time2swap@upperdecksports.com with the subject line "2012 NSCC Redemption Program." In the body of the email cut and paste the code and description of the card(s) you would like fulfilled or exchanged. Briefly (UD asks for 30 words or fewer) the type of replacement you want considering team, player, region or brands you are interested in.
After all that is done, you can pick up your redemptions at the National. Have a government issued ID with you. Unfortunately, you cannot pick up any redemptions for friends. Only for yourself.
All requests must be made by July 23 for your order to be fulfilled.
Make sure you follow the rules otherwise UD will not fulfill your request. Also, if you request the cards, make sure you pick them up. Otherwise, you will be banned from the service in the future.
Here are the hours UD will be providing the redemption pick-up service.
Thursday, August 2 – 1:00 p.m. – 6:00 p.m.
Friday, August 3 – 1:00 p.m. – 6:00 p.m.
Saturday, August 4 – 1:00 p.m. – 4:00 p.m.
Getting expired redemptions from a product is frustrating and a hassle. Collectors often argue with card companies because they want their hit even though it's an expired redemption. Sometimes, to no avail.
On Saturday, August 4, Upper Deck is holding a raffle with more than 100 prizes for collectors who bring up to five unscratched, expired redemption cards from any major manufacturer. That's right, it doesn't just need to an expired UD redemption. Bring the cards to the booth before 4 p.m. on Saturday to be entered into the drawing.
Some of the prizes include autograph cards, memorabilia and unopened product.
The raffle begins at 5 p.m. on Saturday and you must be there to claim your prize. The items come from promotional signature stock, items pulled during product review and from expired QA and redemption inventories. Check out the pictures to see some of the prizes.
If you have any questions, check out Upper Deck's blog post about the event.
Susan Lulgjuraj is a contributing editor for Beckett Media. You can email Susan here. Follow her on Twitter here.