2013 UD Infinite Cards Available Exclusively Through Credit Card Program
Collectors may have noticed an interesting card from Upper Deck on the secondary market – UD Infinite.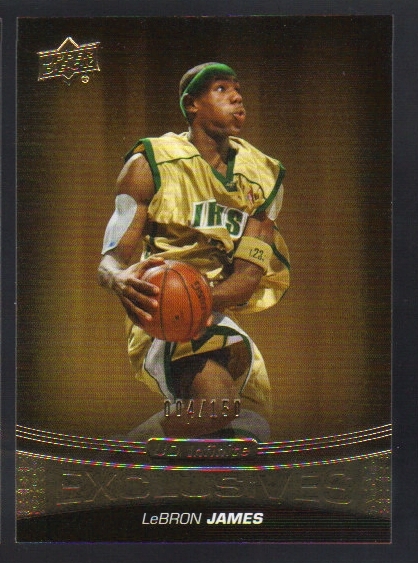 They included cards of Michael Jordan, LeBron James, Tiger Woods and Rory McIlroy. You can't find these in any store.
UD Infinite is only available through Dynamics ePlate, a credit card system with special reward programs. They're not easy to come by. They require consumers to collect a set of 250 digital cards to get one pack.
However, for a limited time, collectors can get a pack much more simply in one of two ways.
If you're attending the Valley Forge Show (Pa.) this weekend or the Chantilly Show (Va.) from Oct. 11-13, Dynamics will be in attendance. If you sign up for a card while at the show, you will get one pack of five cards. Collectors can pick football, basketball or golf packs.
"There are a number of great cards that have been pulled," said Dynamics CEO Jeff Mullen. "The cards are highly limited and very premium."
Dynamics gave out packs of UD Infinite at the National Sports Collectors Convention in August for people who signed up for the credit card. Some of those cards have shown up eBay
.
Autographs have sold for as much as $200 on eBay, including Grant Hill and Chris Paul. Base cards have hit as a high as $100. A Rory McIlroy card sold for $99.99 last month. Many others have sold from about $10 to $50.
"If you're a golf collector, you have a limited selection at what you get for your collection," Mullen said. "This is probably one of the more premium golf cards out there."
The second way to get packs is to apply online. After getting approved and making one transaction, the consumer will get a UD Infinite pack while supplies last.
From there, consumers will get a pack of cards for every 250-card digital set completed, which can be advanced by trading. There are two versions of the credit card consumers can apply for – a no-fee version that will earn a digital card for $10 spent and a fee version that will earn a digital card for every $5 spent.
"This is one of the most used award systems because of how fun it is," Mullen said. "When you make a purchase, you get a digital card pinged to your phone. Before you even hop back in your car, you will have an email that says you have these cards. It's highly interactive, highly engaging. It's very fun."
Many of the programs on the Dynamics ePlate system focuses on collectibles such as Dark Horse Comics, Longaberger baskets and Radical Comics. Even Panini has a program where people can earn points toward Panini merchandise.