Twin Galaxies produces video game trading cards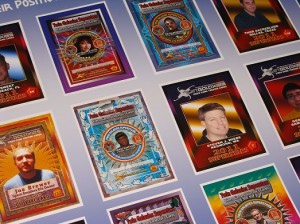 By Susan Lulgjuraj | Contributing Editor
ALLENTOWN, Pa. | Twin Galaxies has been the record keepers of video game history for the last 30 years.
But what good is knowing high scores, world champions and iconic arcade games without a way of sharing that knowledge. The company that holds the video game record books has come out with a trading card set commemorating the history of video games.
"The video game industry is huge," said Twin Galaxies founder Walter Day at the Philly Non-Sports Card Show on April 21. "It's bigger than music and sports. But there has never been a set of trading cards to honor the champions."
Until now.
Twin Galaxies has created more than 200 trading cards featuring important moments in video game history and the people who changed the industry. Day has his own card in the set and even a rare autograph card, which in numbered to around 100.
The idea for a trading card set began two to three years ago. Day and Twin Galaxies CEO Pete Bouvier thought it was time to honor the industry.
"This gives gamers recognition for the hard work they are doing," Bouvier said.
The design of the cards are basic with pictures and names on the front. On the back of the card is a bio and important stats of the person or moment in history.
What makes these unique is people write their own bios and then include the high scores they want. Twin Galaxies verifies all the information before it's sent to the printer.
Currently, Twin Galaxies has Series A, B and C produced with at least two more on the way.
"This is probably something we should have done a long time ago," Day said. "We just had to learn how to do it and get connected to the right people."
Some of the more popular gamers were on site for the Philly Non-Sports Card Show to help promote the new set.
Isaiah "Triforce" Johnson is a Nintendo gaming legend. He wears their clothing and even had a Zelda shield pin on the lapel of his blazer at the show.
"It's about time," said Johnson, 34, a New York City resident. "I don't know why this was not done like 20 years ago. This is a historic part for us gamers. I am glad Twin Galaxies is the one that is doing it. If anyone would know about the history, culture and players contributing to the scene, it would be Twin Galaxies."
Sets could be purchased at TwinGalaxies.com.
Susan Lulgjuraj is a contributing editor for Beckett Media. You can email Susan here. Follow her on Twitter here.