Turkey Red Football an online exclusive for Topps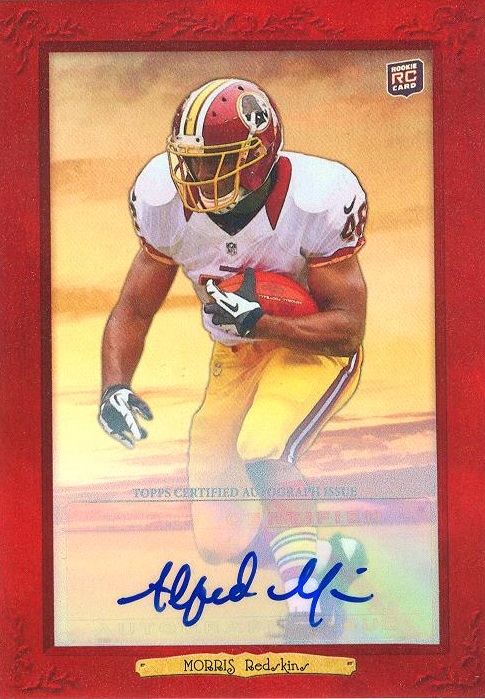 By Susan Lulgjuraj | Beckett Football Editor
Topps is officially bringing Turkey Red back to football.
Turkey Red will be only available from Topps.com with the set up similar to a recent successful sale of Turkey Red Baseball.
Football will go live on Topps.com with a limited print run on April 3 and will ship on April 10. Boxes of 11 cards will run $24.99, which includes nine base cards, one mini and one autograph.
The autograph set of 2012 Topps Turkey Red football will feature players such as Andrew Luck, David Wilson, Alfred Morris and Doug Martin.
Base set will consist of 100 cards of only 2012 rookies. The auto set will also have red parallels numbered to 10.
Susan Lulgjuraj is an editor of Beckett Football. You can email her here with questions, comments or ideas. Follow her on Twitter here. Follow Beckett Media on Facebook and Twitter.
---
BASE CARDS
1 Andrew Luck Indianapolis Colts
2 Joe Adams Carolina Panthers
3 T.Y. Hilton Indianapolis Colts
4 Melvin Ingram San Diego Chargers
5 David DeCastro Pittsburgh Steelers
6 Case Keenum Houston Texans
7 Zach Brown Tennessee Titans
8 Mohamed Sanu Cincinnati Bengals
9 Nick Perry Green Bay Packers
10 David Wilson New York Giants
11 Nick Foles Philadelphia Eagles
12 Brandon Bolden New England Patriots
13 LaVon Brazill Indianapolis Colts
14 Nick Toon New Orleans Saints
15 Quinton Coples New York Jets
16 Brock Osweiler Denver Broncos
17 Stephon Gilmore Buffalo Bills
18 Chris Polk Philadelphia Eagles
19 Jarius Wright Minnesota Vikings
20 Morris Claiborne Dallas Cowboys
21 Lamar Miller Miami Dolphins
22 Ronnie Hillman Denver Broncos
23 Courtney Upshaw Baltimore Ravens
24 Dan Herron Cincinnati Bengals
25 Brian Quick St. Louis Rams
26 LaMichael James San Francisco 49ers
27 Robert Turbin Seattle Seahawks
28 Dwight Bentley Detroit Lions
29 Mychal Kendricks Detroit Lions
30 Brandon Weeden Cleveland Browns
31 Cyrus Gray Kansas City Chiefs
32 Chandler Jones New England Patriots
33 Dwayne Allen Indianapolis Colts
34 Alfred Morris Washington Redskins
35 Travis Benjamin Cleveland Browns
36 Kendall Reyes San Diego Chargers
37 Marvin McNutt Philadelphia Eagles
38 Juron Criner Oakland Raiders
39 Jerel Worthy Green Bay Packers
40 Michael Floyd Arizona Cardinals
41 Chandler Harnish Indianapolis Colts
42 Michael Egnew Miami Dolphins
43 Harrison Smith Minnesota Vikings
44 Whitney Mercilus Houston Texans
45 Jared Crick Houston Texans
46 Dre Kirkpatrick Cincinnati Bengals
47 Jeff Fuller Miami Dolphins
48 Shea McClellin Chicago Bears
49 Brandon Taylor San Diego Chargers
50 Trent Richardson Cleveland Browns
51 Ryan Lindley Arizona Cardinals
52 Matt Kalil Minnesota Vikings
53 Jermaine Kearse Seattle Seahawks
54 T.J. Graham Buffalo Bills
55 Stephen Hill New York Jets
56 Bobby Wagner Seattle Seahawks
57 Dwight Jones Houston Texans
58 Vinny Curry Philadelphia Eagles
59 Coby Fleener Indianapolis Colts
60 Ryan Tannehill Miami Dolphins
61 Michael Brockers St. Louis Rams
62 A.J. Jenkins San Francisco 49ers
63 Kirk Cousins Washington Redskins
64 Ryan Broyles Detroit Lions
65 DeVier Posey Houston Texans
66 Marvin Jones Cincinnati Bengals
67 Andre Branch Jacksonville Jaguars
68 Lavonte David Tampa Bay Buccaneers
69 Rishard Matthews Miami Dolphins
70 Justin Blackmon Jacksonville Jaguars
71 Alshon Jeffery Chicago Bears
72 Josh Gordon Cleveland Browns
73 Isaiah Pead St. Louis Rams
74 Bruce Irvin Seattle Seahawks
75 Luke Kuechly Carolina Panthers
76 Kellen Moore Detroit Lions
77 Fletcher Cox Philadelphia Eagles
78 Chris Rainey Pittsburgh Steelers
79 Bernard Pierce Baltimore Ravens
80 Doug Martin Tampa Bay Buccaneers
81 Dont'a Hightower New England Patriots
82 Vick Ballard Indianapolis Colts
83 Dontari Poe Kansas City Chiefs
84 Trumaine Johnson St. Louis Rams
85 Kendall Wright Tennessee Titans
86 Orson Charles Cincinnati Bengals
87 Devon Still Cincinnati Bengals
88 Derek Wolfe Denver Broncos
89 Rueben Randle New York Giants
90 Mark Barron Tampa Bay Buccaneers
91 Janoris Jenkins St. Louis Rams
92 Greg Childs Minnesota Vikings
93 Keshawn Martin Houston Texans
94 Devon Wylie Kansas City Chiefs
95 Tavon Wilson New England Patriots
96 Jeff Demps New England Patriots
97 Bobby Rainey Baltimore Ravens
98 Chris Givens St. Louis Rams
99 Russell Wilson Seattle Seahawks
100 Robert Griffin III Washington Redskins
AUTOGRAPH CARDS
Andrew Luck Indianapolis Colts
T.Y. Hilton Indianapolis Colts
Melvin Ingram San Diego Chargers
David DeCastro Pittsburgh Steelers
Case Keenum Houston Texans
Mohamed Sanu Cincinnati Bengals
David Wilson New York Giants
Nick Foles Philadelphia Eagles
Nick Toon New Orleans Saints
Quinton Coples New York Jets
Brock Osweiler Denver Broncos
Chris Polk Philadelphia Eagles
Lamar Miller Miami Dolphins
Ronnie Hillman Denver Broncos
Brian Quick St. Louis Rams
Brandon Weeden Cleveland Browns
Cyrus Gray Kansas City Chiefs
Dwayne Allen Indianapolis Colts
Alfred Morris Washington Redskins
Travis Benjamin Cleveland Browns
Marvin McNutt Philadelphia Eagles
Juron Criner Oakland Raiders
Michael Floyd Arizona Cardinals
Chandler Harnish Indianapolis Colts
Michael Egnew Miami Dolphins
Jeff Fuller Miami Dolphins
Trent Richardson Cleveland Browns
Ryan Lindley Arizona Cardinals
T.J. Graham Buffalo Bills
Stephen Hill New York Jets
Coby Fleener Indianapolis Colts
Ryan Tannehill Miami Dolphins
A.J. Jenkins San Francisco 49ers
Ryan Broyles Detroit Lions
DeVier Posey Houston Texans
Marvin Jones Cincinnati Bengals
Kendall Wright Tennessee Titans
Alshon Jeffery Chicago Bears
Josh Gordon Cleveland Browns
Isaiah Pead St. Louis Rams
Luke Kuechly Carolina Panthers
Chris Rainey Pittsburgh Steelers
Doug Martin Tampa Bay Buccaneers
Vick Ballard Indianapolis Colts
Dontari Poe Kansas City Chiefs
Devon Still Cincinnati Bengals
Rueben Randle New York Giants
Mark Barron Tampa Bay Buccaneers
Janoris Jenkins St. Louis Rams
Russell Wilson Seattle Seahawks
Robert Griffin III Washington Redskins
Jarius Wright Minnesota Vikings
LaMichael James San Francisco 49ers
Robert Turbin Seattle Seahawks
Dre Kirkpatrick Cincinnati Bengals
Jermaine Kearse Seattle Seahawks
Justin Blackmon Jacksonville Jaguars
INSERT CARDS
MINI BASE CARD PARALLELS
1 Andrew Luck Indianapolis Colts
2 Joe Adams Carolina Panthers
3 T.Y. Hilton Indianapolis Colts
4 Melvin Ingram San Diego Chargers
5 David DeCastro Pittsburgh Steelers
6 Case Keenum Houston Texans
7 Zach Brown Tennessee Titans
8 Mohamed Sanu Cincinnati Bengals
9 Nick Perry Green Bay Packers
10 David Wilson New York Giants
11 Nick Foles Philadelphia Eagles
12 Brandon Bolden New England Patriots
13 LaVon Brazill Indianapolis Colts
14 Nick Toon New Orleans Saints
15 Quinton Coples New York Jets
16 Brock Osweiler Denver Broncos
17 Stephon Gilmore Buffalo Bills
18 Chris Polk Philadelphia Eagles
19 Jarius Wright Minnesota Vikings
20 Morris Claiborne Dallas Cowboys
21 Lamar Miller Miami Dolphins
22 Ronnie Hillman Denver Broncos
23 Courtney Upshaw Baltimore Ravens
24 Dan Herron Cincinnati Bengals
25 Brian Quick St. Louis Rams
26 LaMichael James San Francisco 49ers
27 Robert Turbin Seattle Seahawks
28 Dwight Bentley Detroit Lions
29 Mychal Kendricks Detroit Lions
30 Brandon Weeden Cleveland Browns
31 Cyrus Gray Kansas City Chiefs
32 Chandler Jones New England Patriots
33 Dwayne Allen Indianapolis Colts
34 Alfred Morris Washington Redskins
35 Travis Benjamin Cleveland Browns
36 Kendall Reyes San Diego Chargers
37 Marvin McNutt Philadelphia Eagles
38 Juron Criner Oakland Raiders
39 Jerel Worthy Green Bay Packers
40 Michael Floyd Arizona Cardinals
41 Chandler Harnish Indianapolis Colts
42 Michael Egnew Miami Dolphins
43 Harrison Smith Minnesota Vikings
44 Whitney Mercilus Houston Texans
45 Jared Crick Houston Texans
46 Dre Kirkpatrick Cincinnati Bengals
47 Jeff Fuller Miami Dolphins
48 Shea McClellin Chicago Bears
49 Brandon Taylor San Diego Chargers
50 Trent Richardson Cleveland Browns
51 Ryan Lindley Arizona Cardinals
52 Matt Kalil Minnesota Vikings
53 Jermaine Kearse Seattle Seahawks
54 T.J. Graham Buffalo Bills
55 Stephen Hill New York Jets
56 Bobby Wagner Seattle Seahawks
57 Dwight Jones Houston Texans
58 Vinny Curry Philadelphia Eagles
59 Coby Fleener Indianapolis Colts
60 Ryan Tannehill Miami Dolphins
61 Michael Brockers St. Louis Rams
62 A.J. Jenkins San Francisco 49ers
63 Kirk Cousins Washington Redskins
64 Ryan Broyles Detroit Lions
65 DeVier Posey Houston Texans
66 Marvin Jones Cincinnati Bengals
67 Andre Branch Jacksonville Jaguars
68 Lavonte David Tampa Bay Buccaneers
69 Rishard Matthews Miami Dolphins
70 Justin Blackmon Jacksonville Jaguars
71 Alshon Jeffery Chicago Bears
72 Josh Gordon Cleveland Browns
73 Isaiah Pead St. Louis Rams
74 Bruce Irvin Seattle Seahawks
75 Luke Kuechly Carolina Panthers
76 Kellen Moore Detroit Lions
77 Fletcher Cox Philadelphia Eagles
78 Chris Rainey Pittsburgh Steelers
79 Bernard Pierce Baltimore Ravens
80 Doug Martin Tampa Bay Buccaneers
81 Dont'a Hightower New England Patriots
82 Vick Ballard Indianapolis Colts
83 Dontari Poe Kansas City Chiefs
84 Trumaine Johnson St. Louis Rams
85 Kendall Wright Tennessee Titans
86 Orson Charles Cincinnati Bengals
87 Devon Still Cincinnati Bengals
88 Derek Wolfe Denver Broncos
89 Rueben Randle New York Giants
90 Mark Barron Tampa Bay Buccaneers
91 Janoris Jenkins St. Louis Rams
92 Greg Childs Minnesota Vikings
93 Keshawn Martin Houston Texans
94 Devon Wylie Kansas City Chiefs
95 Tavon Wilson New England Patriots
96 Jeff Demps New England Patriots
97 Bobby Rainey Baltimore Ravens
98 Chris Givens St. Louis Rams
99 Russell Wilson Seattle Seahawks
100 Robert Griffin III Washington Redskins