Tua Tagovailoa Already Has Football Cards
It's okay if you didn't know who Tua Tagovailoa was 24 hours ago. Not everyone can list off back-up freshman quarterbacks like they were Harry Potter characters or items on the McDonald's menu.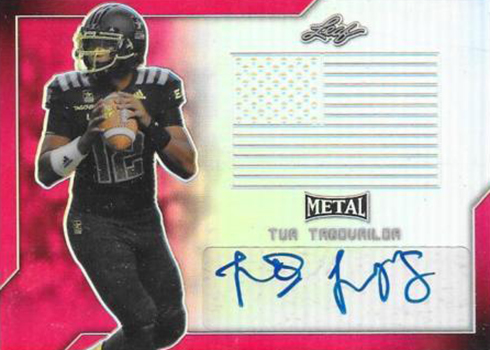 But now you're never going to forget Tua Tagovailoa, especially if you chant, "Roll Tide!" at every chance (equally so if you're a heartbroken Bulldogs fan).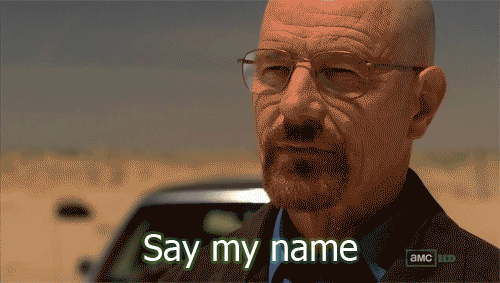 The National Championship isn't supposed to play out this way. Comebacks and intense drama? Absolutely. But a backup freshman quarterback coming in for the second half and leading the heroics?
One of the best #NationalChampionship games played all time! #RollTide pic.twitter.com/ij8mAMZJOD

— Rotosurance (@Rotosurance) January 9, 2018
Instant classic for a true freshman.
The improbabilities don't end there. Tua Tagovailoa football cards already exist courtesy of 2017 Leaf Metal US Army All-American Football. While it's too early to declare him the next Tom Brady, it shows a unique situation for the hobby.
Despite college football being a billion-dollar industry in the United States, the players themselves are amateurs. Eligibility comes with plenty of rules where, basically, you can't make money from the sport while you're in school. That's a big reason why we don't get football cards of current college players.
2017 Leaf Metal US Army All-American Football comes from when players are still in high school. That usually means a long game as far as prospecting goes that pays off for collectors years later.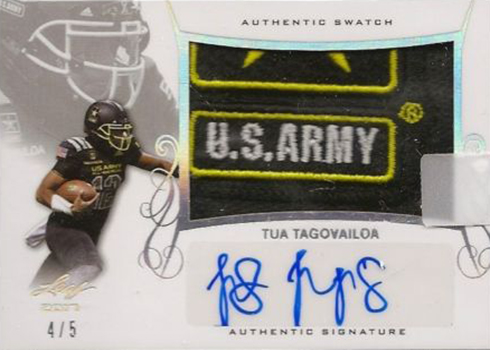 Tua Tagovailoa shows that it can also shed added light on cards while someone is still in school. We don't normally think to see if a player still has cards while they're in college. If they do, they're almost always some sort of stadium giveaway or school issue that never escapes oddball status.
But as cards evolve and licensing becomes more refined, those card checks could become more frequent. Leaf US Army isn't the only set in town. Upper Deck has been doing USA Football sets for several years as well. The organization is different, but the idea of long prospecting with high school players is the same.
It's still way too early to say what will happen with the quarterback next year, let alone where Tagovailoa will be playing in five or ten years, if at all. And that's exactly why some collectors prospect.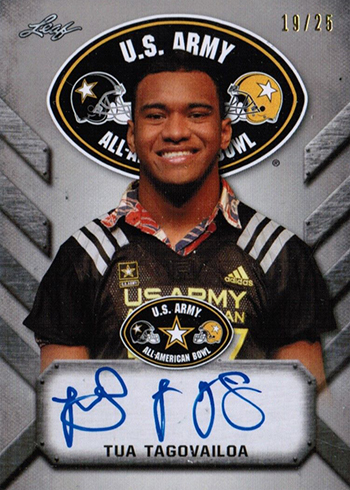 If you're looking for a full list of the Tua Tagovailoa cards that are out already, you can find a detailed checklist from the Beckett Football Card Database here. If you're an Alabama fan looking to add some cards to your collection, here's what's currently listed on eBay.
Comments? Questions? Contact Ryan Cracknell on Twitter @tradercracks or by email.