True Rarity: The Story of a Signed 1955 Topps Harry Agganis Card
A 1955 Topps card signed by the late Harry Agganis – who died at age 26 just months after the release of the '55 set – is coming to auction in Robert Edward Auctions' 2021 Spring Auction April 2-18.
Although no one knows how many of the cards Agganis could have signed from the time 1955 Topps was released to the time of his death, most agree it would not have been many. Agganis passed away suddenly and unexpectedly of a massive pulmonary embolism on June 27 that year. Some estimates have the number of legitimate autographed cards at five or less. It could be slightly more or less, but authentic ones have been few and far between.
"The window for him to sign before he died had to have been less than 90 days," says Brian Dwyer, president of REA. He says the card will likely open for bidding at $2,500.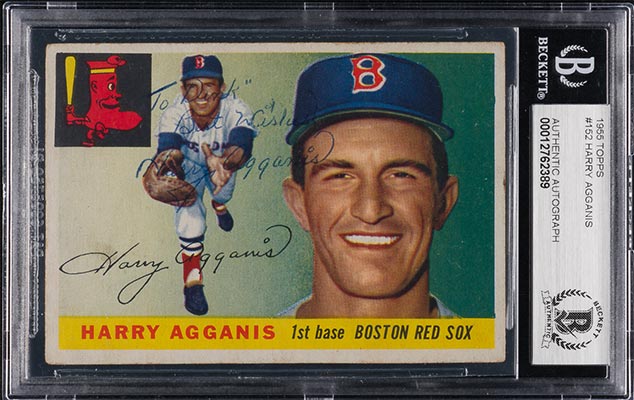 "That's a tough autograph on that card, and very sought after," says Steve Grad, longtime industry expert and the principle authenticator for Beckett Authentication Services. "I believe I authenticated minimally one, and possibly a total of 2-3, when I was at PSA/DNA. There are probably five that I'm aware of. It's hard to say what is still sitting in someone's shoebox in the attic."
Agganis, a college quarterback, was the first football All-American in Boston University history, and appeared headed for a career in the NFL. The Cleveland Browns thought enough of Agganis to make him their first-round pick in the 1952 NFL Draft. But Agganis turned down the Browns and their $25,000 bonus to instead sign with the hometown Boston Red Sox to play baseball, choosing to be closer to his widowed mother. Boston had offered him $35,000, but it wasn't just about the money. Agganis had played baseball in high school and during summers. He called it his favorite sport.
He reached the majors in 1954, playing in 132 games while stepping to the plate nearly 500 times, hitting .251 with 11 HR and 57 RBI as a full-time first baseman. That would prove to be the highlight of Agganis' baseball career. Unless, of course, you count the release of card #152 in the 1955 Topps Baseball set.
Agganis, with the nicknameThe Golden Greek, had his work cut out for him when the 1955 season opened, finding competition for at-bats. He ultimately reclaimed his starting position and was hitting over ,300 in late May when he started complaining of chest pains and was running a high fever. On June 2, he was hospitalized for two weeks with pneumonia. Upon discharge, he returned to the Red Sox for one week before being hospitalized again, this time with a viral infection.
By all accounts, Agganis appeared to be showing some measured signs of improvement when he suddenly passed away. He was hitting .313 with 10 doubles in 25 games at the time of his death. Because Agganis had been born and raised in Lynn, Mass., just north of Boston, and had been a three-sport star at Lynn Classical High School – in addition to being an All-America quarterback at Boston University (he turned Notre Dame down) – the loss of Agganis touched many. Several mourners called him the best athlete to ever come out of the greater Boston area.
Agganis' popularity extended far outside of Boston, and yes, there were plenty of autograph seekers in the mid-1950s.
"I know from my roots in Chicago of several area collectors who were active and collecting in-person [autographs] at team hotels in the early 1950s," Grad says. "Agganis traveled to Chicago twice during the 1955 season, playing his last game against the White Sox at Comiskey Park. One of the collectors I knew back in the 1980s and early '90s would tell me stories about getting players at their hotels including [Jackie] Robinson and [Mickey] Mantle in their rookie seasons. He collected signed Topps and Bowman cards back in the 1950s, so it's likely someone like that would have gotten [Agganis'] signature in person on that card."
Yet few have ever emerged. "When this card came into the office, I was quite surprised," Grad admits. "It's not every day you see his autograph, let alone on the pinnacle of signed-card collecting. I can't remember the last time one was sold in auction."
A Stunner
Mike Knight Jr. was obsessed.
Once he started collecting autographed 1955 Topps Baseball cards almost three years ago, he wanted more. And more. The rush of adding new signatures led him to look anywhere and everywhere off the beaten path for signed '55s.
"I got down to needing about 14 cards," Knight, of Waco, says.
He had helped add to the set by sending cards to living players to sign through the mail. He was pleasantly surprised to get all of the nearly 30 cards back signed. A friend sold Knight a lot of about 40 signed '55 cards, which made a huge dent in the project. He also bought online and even participated in the tried and true part of collecting: trading.
One day about six months ago, he picked up the phone and began calling as many shops as he could find around the country. A few of the shops did have a signed '55 Topps card or two, but nothing Knight needed.
"I spent hours and days calling shops from several states," Knight says.
He eventually called a shop in Kansas he found online. By now, Knight had the script down. "Do you have any signed 1955 Topps cards?" he asked.
"One" came the reply.
"Who is it?"
"Harry Agganis."
Knight was stunned. Harry Agganis?
Anyone familiar with the challenge of collecting a signed 1955 Topps set knows the biggest challenge has always been, and will always be, Agganis. He just died too young to have signed many cards.
The shop owner had a good idea of what he had. After images were sent to Knight, brief negotiations followed and a deal was struck.
Knight was suddenly one very big card closer to a complete signed set.
The autograph on the card already had been authenticated by Beckett Authentication Services with a Letter of Authenticity. Knight couldn't believe his luck. Cold-calling shops had paid off.
"I was shocked to say the least as I always thought this would be the one card I wouldn't have as part of the set," Knight says. "I knew the others [I needed] could be found and I had seen all but the Agganis."
Somewhat surprising was the fact Knight never found any of the other handful of cards he needed for the signed set. Just the card that seemed almost unattainable – Agganis.
Recently, Knight made the decision to begin selling the set, including Agganis. "I just decided to go in a different direction," he says. "Even though it was a great accomplishment for as close to completing the set as I got . . . I think I just got a little bored."
Knight has shifted his interest to collecting signed Rookie Cards of football Hall of Famers.
As for the card in auction, Dwyer of REA says he expects it to generate "serious interest," but added there is no established market value for something so rare. "As with anything as rare as this, it's extremely tough to estimate pricing when there is no data in the marketplace," he says. "But it wouldn't shock us to see this break into five figures.
"This is a card that we've long heard collectors describe as a hurdle to completing the 1955 Topps set in signed form," he added, "and until now we've not seen a legitimate signed example."