Triple Play focuses on fun, kids … will it work?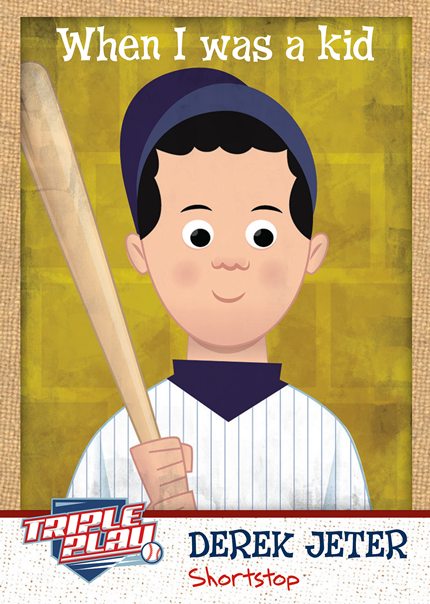 By Chris Olds | Beckett Baseball Editor | Commentary
It's no secret that the hobby is often torn between two things — collecting and cash.
It's no secret that, these days, pleasing everyone is an impossibility that the card companies simply cannot achieve.
It's no secret that, at least in the eyes of many armchair quarterbacks, kids are a key to a revitalization that might rewind its presence and extend the hobby's existence another generation or two.
But the folks at Panini America aren't sweating that first point, perhaps the second, either, with its next baseball release. The third is the aim in the upcoming 2012 Triple Play, a kid-focused release that arrives on July 23 with all kinds of surprises — and with a kid-friendly price, too, at just 99 cents a pack.
One inclusion in that one, besides cards with wearable eyeblack stickers, are the "When I was a Kid" inserts — a  collection of artistic renderings of players as younger stars with a story about their past on the back. It's an interesting touch that focuses even more on the focus of this product. (This set was teased during the weekend by Panini.)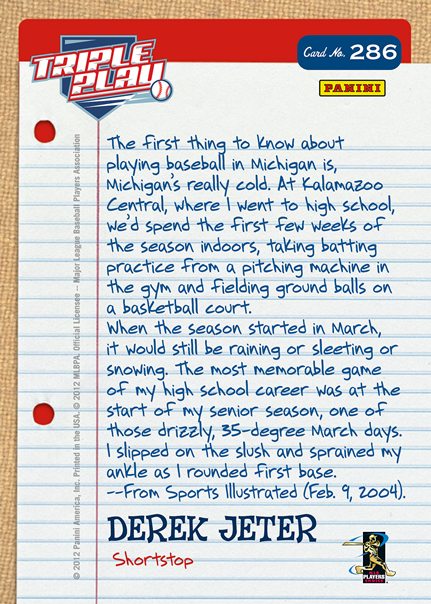 So, I want to know … does a product like this appeal to you? It certainly has its place in the hobby, but we all know that it isn't likely to be one of those products where money-makers look, where investors sink their short-term funds.
It doesn't need to be.
Will it please everyone? No. Will it appease some collectors who have said countless times that they want a certain type of product? No. But I have a feeling that it might surprise us in a few smaller ways, provide a touch of simplicity and "how it used to be" before many move on to The Next Big Thing after its arrival.
That is, if collectors sit down and take a look at it.
As for the kids angle, it certainly should cover one part of that aspect as it also includes other types of cards not seen here. Yet, at the same time, kids can be just as finicky about their cardboard as the kids of 25 years ago are today. Some will like it, some will have different tastes.
But you know what's funny about this one? It might draw my attention in, too, for a few reasons.
Eh, maybe that's just the collector in me — or even the kid in me — talking.
I'll know more, just like you guys, on July 23.
Until then, tell us what you think with our polls below.
Chris Olds is the editor of Beckett Baseball magazine. Have a comment, question or idea? Send an email to him at colds@beckett.com. Follow him on Twitter by clicking here.
—
Loading ...
—
Loading ...
—