Triple Autographs Coming to 2017 Cryptozoic Gotham Season 2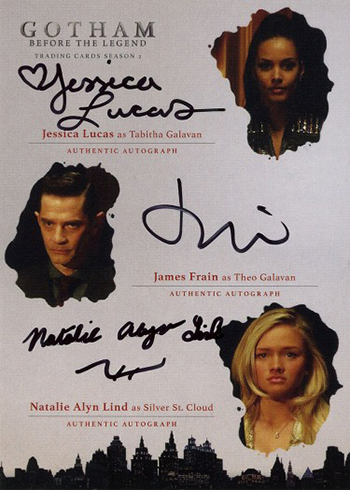 By Ryan Cracknell | Hobby Editor
Things are coming together quickly for 2017 Cryptozoic Gotham Season 2. Out of the gate, nearly 20 autograph signers were confirmed with more to come. The product also included the show's first double autograph.
Well, the ink isn't stopping there with a triple autograph now a part of the checklist and we've got an exclusive first look at the card.
The Gotham Season 2 Triple Autograph starts with Jessica Lucas and James Frain, who play siblings Tabitha and Theo Galavan. The two also have a Dual Autograph together. Here, though they're joined by Natalie Alyn Lind. She plays a young Silver St. Cloud. This also keeps it in the Galavan family as Silver is Theo's niece.
No official release date has been announced for the Gotham Season 2 trading cards other than sometime in 2017. That said, with many of the autographs already in place, it's likely that it'll be earlier rather than later.
Stay tuned for more announcements on the set as they're announced.