Trey Mancini Rookie Cards and Other Top Early Cards
It's still way too early to predict how Trey Mancini's career is going to play out. But so far, it's safe to say that the Orioles first baseman is off to a hot start. And Trey Mancini Rookie Cards, along with his other early cards, are beginning to draw more collector attention.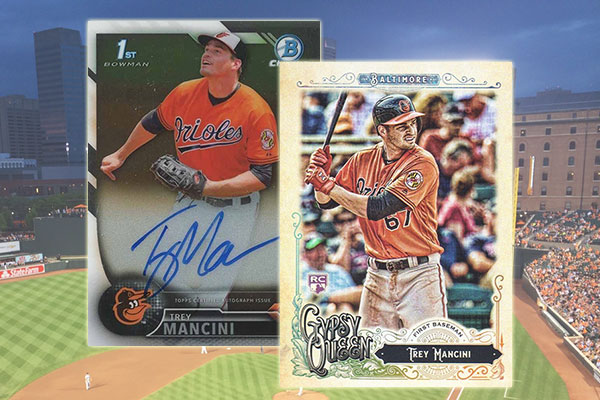 Making his MLB debut in late September, it was far too late for Mancini to have base cards in 2016 products. He did have several Prospect inserts and pre-rookie cards, though, including a Bowman Chrome autograph that will likely remain his most coveted card.
But that September call-up status means Trey Mancini Rookie Cards are in 2017 baseball card products. That said, entering the season he wasn't quite as high profile as Andrew Benintendi, Yoan Moncada, Dansby Swanson and a handful of other young players. So there wasn't quite the same early crush of cards and inserts for Mancini.
Don't be surprised if that changes in future sets, though. With every home run, the 2013 eighth round pick makes, the attention grows.
Below is a breakdown of current Trey Mancini Rookie cards followed by highlights of his top prospect cards, some of which will be just as popular as his RC-tagged cards.
Trey Mancini Rookie Cards
The following is a list of Trey Mancini Rookie Cards released so far. More will be added throughout the season as new sets are released. Only cards with the RC tag are included, not inserts.
2017 Panini Diamond Kings Trey Mancini RC #155
The 2017 Panini Diamond Kings Trey Mancini Rookie Card has an art feel to it, something synonymous with the brand since it debuted as a Donruss subset in the early 1980s. Although the look and canvas-style stock give the card a distinct look, it's not an overly expensive card.
Parallels: Framed Green, Framed Grey, Artist's Proof Gold (/99), Framed Red (/99), Framed Brown (/49), Artist's Proof Blue (/25), Framed Blue (/5), Framed Black Masterpiece (1/1), Masterpiece (1/1)
Buy on: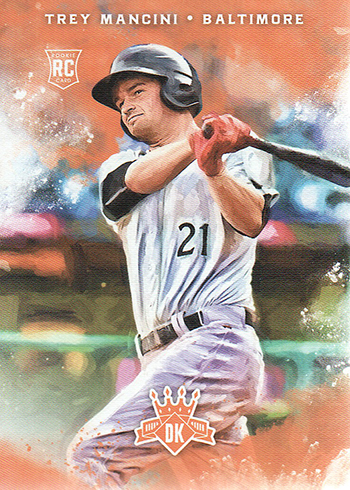 ---
2017 Topps Gypsy Queen Trey Mancini RC #260
Topps overhauled the configuration of 2017 Topps Gypsy Queen Baseball. That said, there's still an old-time feel that comes with the base cards like this one. The quirks in the parallels like the Missing Blackplates and Missing Nameplates provide something a little extra to watch out for.
Parallels: Green, Missing Blackplate, Missing Nameplate, Purple (/250), Black and White (/50), Green Back (50 copies), Red (/10), Black (1/1)
Buy on: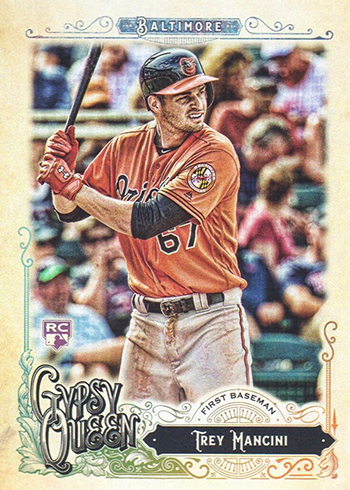 ---
2017 Topps Heritage Trey Mancini RC/Donnie Hart RC #396
2017 Topps Heritage is a throwback to 1968. That means that rookies have to learn to share. Mancini is paired with Donnie Hart. Not a short print, it's not pricey. Parallels are sneaky in the product with most coming with subtle differences on the back.
Parallels: Blue (50 copies), Bright Yellow Back (25 copies), Gray Back (10 copies), Reverse Stock (5 copies)
Buy on: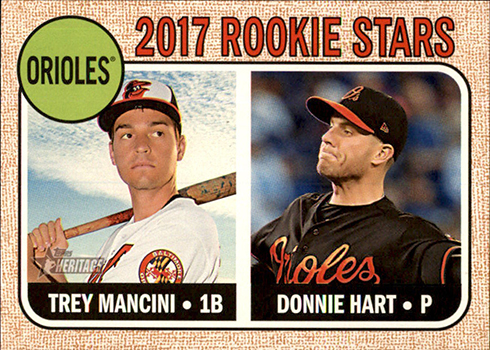 Key Trey Manini Prospect and Pre-Rookie Cards
2016 Bowman Chrome Prospect Autographs Trey Mancini #CPA-TM
When Mancini got off to a hot start, his 2016 Bowman Chrome Prospect Autograph was the first to soar. But that's the case for virtually every player today. It's an insert in the traditional sense, but first Bowman Chrome autographs are the most popular cards for modern players. Usually, it's not even close. This card was included in packs of 2016 Bowman Baseball.
Buy on: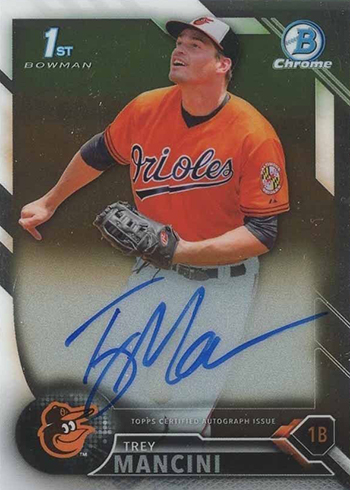 ---
2016 Bowman Chrome Prospects Trey Mancini #BCP38
Also in 2016 Bowman Baseball Mancini has a basic Bowman Chrome Prospects insert. It's among his earliest MLB cards and has lots of Refractor parallels to go with it and add a chase. Mancini also has a regular Bowman (paper) card. However, with both so cheap, a lot of collectors opt for the slightly more premium looking Chrome version.
Buy on: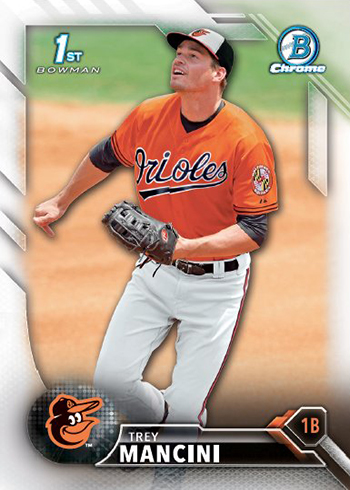 ---
2016 Bowman Inception Prospect Autographs Trey Mancini #PA-TM
Like the 2016 Bowman Chrome Prospect Autograph Trey Mancini, this card comes with an on-card signature. Its design is also much bolder. The thick stock lends a premium feel as well. That said, it's much cheaper than the Chrome autograph due to that brand's long-time acceptance among prospectors. Inception has its fans, too, but there isn't the same long-time tradition.
Buy on: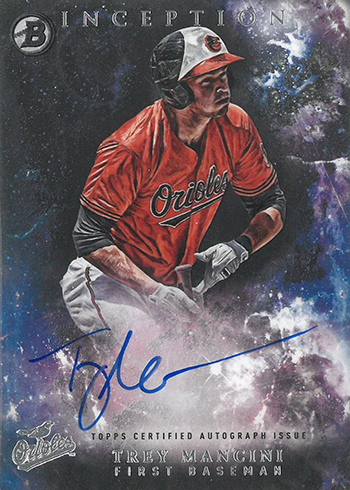 ---
2016 Panini Elite Extra Edition Autographs #138
Elite Extra Edition is another place to find a more affordable Trey Mancini autograph. Panini switched up the overall look of the brand in 2016, making it noticeably brighter. That said, there are still lots of colorful parallels of varying quantities to chase.
Buy on: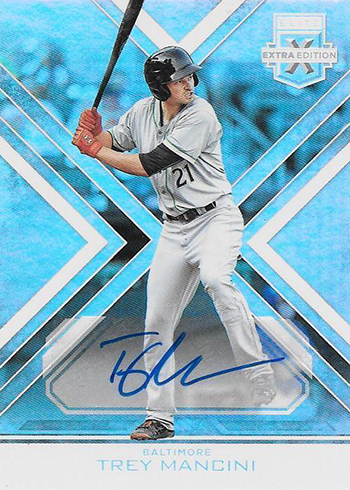 ---
2016 Topps Now Trey Mancini
Trey Mancini appeared on three different 2016 Topps Now cards, the online-exclusive, print-on-demand line. His first card (#481) celebrates his home run in his first MLB game and has 499 copies. A second card (#499) released four days later for another home run has 457 copies. Mancini was also part of the 2016 Topps Now Baltimore Orioles Postseason team set, which has just 160 copies — many of which will likely be kept in tact.
Buy on: