Travis Pastrana to appear in Press Pass Ignite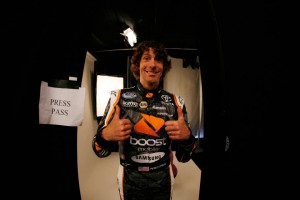 By Susan Lulgjuraj | Contributing Editor
Travis Pastrana is working with Press Pass again. The extreme sports athlete is making his way into the mainstream by competing in several Nationwide and K&N races this year.
Press Pass announced the partnership on Thursday on its Facebook page, showing pictures of Pastrana with his famous thumbs up pose.
Pastrana will have autographs and memorabilia cards first appear in Press Pass Ignite, which is scheduled to come out in May. Take a look at more information from Ignite here.
This isn't the first time Press Pass and Pastrana have worked together. Pastrana appeared on Press Pass Rage in 2000. The flashy, famous driver is popular with X Games crowds, having won several gold medals in motocross, rally racing and super cross.
Last year, Pastrana partnered with Michael Waltrip to create Pastrana-Waltrip Racing.
In 2011, he made his NASCAR debut in Toyota All-Star Showdown – a showcase for top drivers on NASCAR's lower levels – where he finished sixth.
He intended to race in the Nationwide series in 2011, but suffered an injury in the X Games that pushed his debut back.
Pastrana makes his Nationwide debut on April 27 of this year.
Susan Lulgjuraj is a contributing editor for Beckett Media. You can email Susan here. Follow her on Twitter here.