11 Tough, and Sometimes Bold, Ichiro Suzuki Rookie Card Parallels
Much like a lot of his toughest RCs, there are several Ichiro Suzuki Rookie Card parallels that don't show up often today.
When Ichiro was a rookie with the Seattle Mariners in 2001, baseball card parallels were in a different place. Sure, they existed, but you didn't find sets with a dozen or more versions. Most sets had one or two parallels to go with the base card. It's almost as though we started with the pot of gold and grew into the rainbows we find today.
Another reason why many early Ichiro parallels are seldom seen today is time. 2001 was a long time ago. Many who were collecting Ichiro cards early have since moved on or have cards sitting in their permanent collections.
Here's a look at some of the tough — many of which are downright scarce — Ichiro parallels from his first year in the majors.
11 Tough Ichiro Suzuki Rookie Card Parallels
2001 Bowman Chrome Gold Refractors Ichiro Suzuki #351 /99
Redemption card for a regular card? Yep. All 2001 Bowman Chrome Ichiro Suzuki cards came in the form of a (long since expired) exchange card. That includes the Gold Refractor, which is one of only two parallels he has in the set. It's serial-numbered to 99 copies.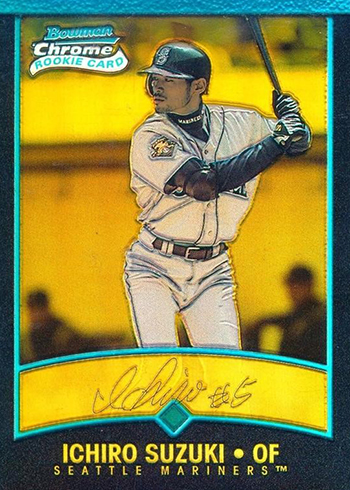 But things are a little more complicated for this card. While there are 99 total copies, they're split between two different versions. Odd serial numbers have English on the back.
Even serial numbers are in Japanese.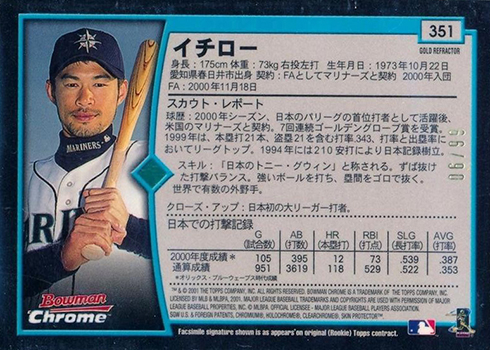 That means there are 50 English 2001 Bowman Chrome Gold Refractor Ichiro Suzuki cards and 49 Japanese.
2001 Bowman Chrome X-Fractors Ichiro Suzuki #351
It might not have a serial number and it's not as rare as the Gold Refractor, but Ichiro's 2001 Bowman Chrome X-Fractor is still a tough card now. And with the tiled squares, it has plenty of pop, especially under bright light.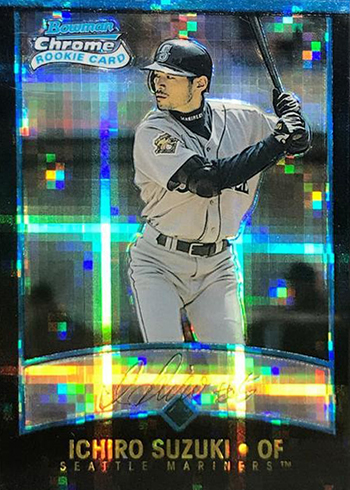 Like the Gold Refractor, it has both English and Japanese versions. It, too, came as a redemption.
2001 Donruss Elite Aspirations Ichiro #195 /49
2001 Donruss Elite Status Ichiro #195 /51
The 2001 Donruss Elite Status and Aspirations Ichiro parallels are both connected. If you put their print runs together, you get 100 copies. That's the baseline. The numbering for Status cards are matches the player's jersey number. Aspirations parallels are 100 minus the player's jersey number.
The 2001 Donruss Elite Aspirations Ichiro parallel is die-cut with a pink background.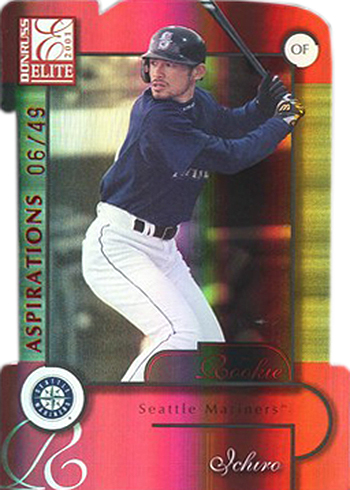 The Status version is also die-cut, albeit with a different shape. These have a gold background.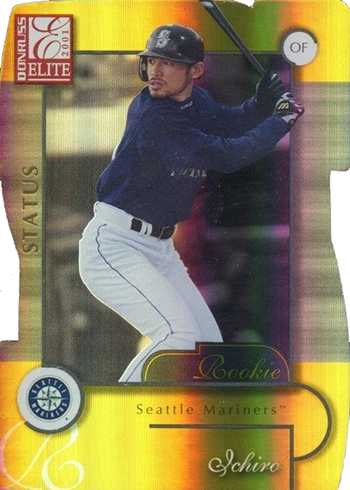 Aspirations parallels in 2001 Donruss Elite Baseball are 1:62 packs. Status parallels are tougher, combining to land 1:163 packs.
2001 Donruss Class of 2001 First Class Ichrio #251 /50
The 2001 Donruss Class of 2001 First Class Ichiro has about as much pop as an eggshell color bedroom wall. It has holographic foil highlights on the front instead of a more traditional foil. And how about that "First Class" note at the bottom? But for the completist, it has just 50 copies making it an especially tough Ichiro Suzuki Rookie Card parallel.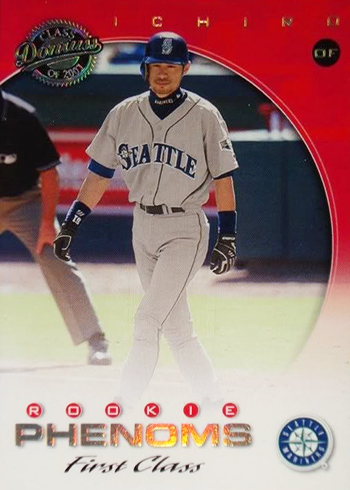 2001 Donruss Career Stat Line Ichiro #195 /106
Print runs for individual 2001 Donruss Career Stat Line parallels vary. That's because they're based on career numbers for a player. For Ichiro, the number is 106. For Ichiro, it's his career home run total in Japan — minus his final season in 2000. So the serial number and the stat line on the back of the card don't actually match.
Still, with just 106 copies, this isn't an easy card.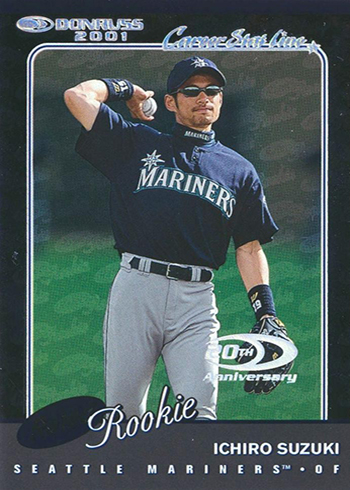 Ichiro also has a Season Stat Line parallel in 2001 Donruss Baseball. This card has 153 copies, which matches his 2000 hits total with the Orix Blue Wave.
2001 Fleer Legacy Ultimate Ichiro #101 /250
Some parallels use bright colors to make them distinct. 2001 Fleer Legacy Ultimate cards went from white to a brownish gold. This one's here for the rarity and not so much the pop.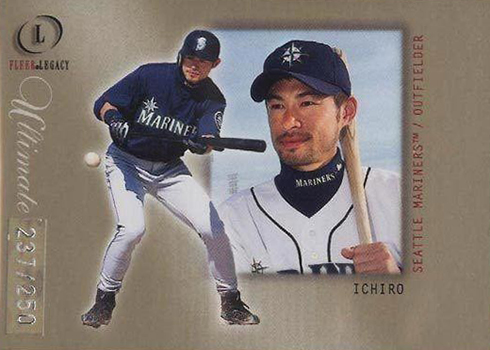 2001 Topps Employee Ichiro Suzuki #726
The 2001 Topps Employee Ichiro parallel isn't in any packs. Rather it is from a special factory set given to Topps staff to commemorate the company's 50th anniversary of being in the baseball card business.
The difference from the regular 2001 Topps Ichiro Rookie Card is an embossed stamp by his knees.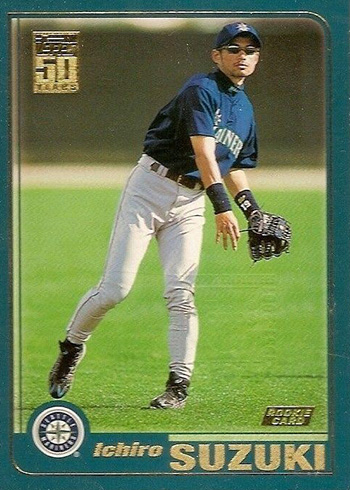 No official numbers have been released on how many of the 2001 Topps Employee sets were made but it has long been believed that the number was somewhere around 150.
If you come across a sealed 2001 Topps Employee set today, be cautious as the cards may have become bricked – stuck together due to time and the gloss used on the cards. When separated, bricked cards can leave noticeable surface damage due to one card ripping off of another. It's similar to when you pull tape off a piece of paper. It's not a guarantee all sets have bricked, not that there are likely to be many left, but it is something to consider should the opportunity arise.
2001 Topps Gold Ichiro Suzuki #726 /2001
While scarcity and popularity are a common correlation, it's possible for a more readily available card to be popular as well. The 2001 Topps Gold Ichiro is one such cards. With 2001 copies, it's one of the most heavily printed Ichiro Rookie Card parallels. Two thousand and one isn't a huge number in the grand scheme of things, but it's definitely higher than the Bowman Chrome Gold Refractor, Donruss Elite Status and lots more.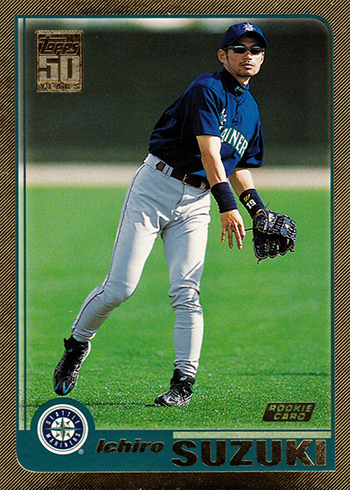 But the Topps Gold parallels have a strong following still today. And in 2001, that's when Topps debuted the numbering for the parallels to match the year they were released.
2001 Topps Chrome Traded Retrofractor Ichiro Suzuki #T266
When it comes to early parallels for most any modern superstar, Refractors are always a safe place to go. Even when they're called Retrofractors instead.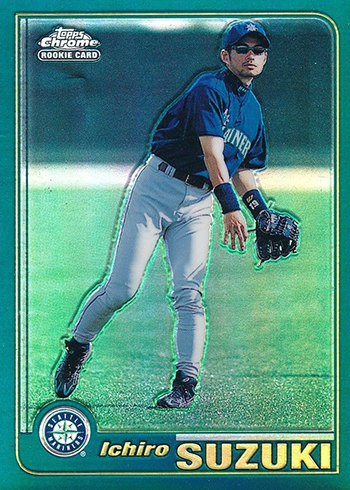 So what make a Retrofractor different from a regular Refractor? The difference is on the back.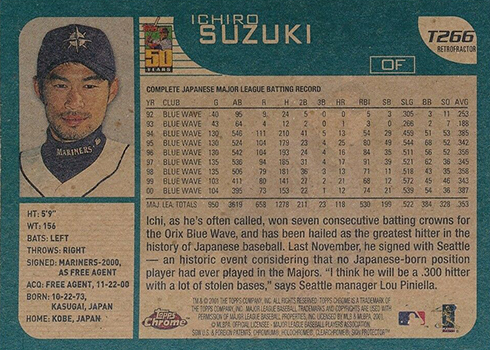 It's basically an early mix of Topps Heritage and Topps Chrome, using the vintage-style card stock.
This isn't the only 2001 Topps Chrome Traded Ichiro Retrofractor. Card #T99 is another popular card in the strong set. It features the Japanese star alongside fellow 2001 rookie Albert Pujols.
2001 Upper Deck Gold Glove Limited #135 /100
Upper Deck's Gold Glove line didn't last long, but its focus on the leather on a broader scale is kind of refreshing in retrospect. The Limited parallel doesn't really do much different versus the base version, which is pretty tough in its own right with just 500 copies. The parallel has a "Gold Glove Limited" notation at the bottom of the photo and a different serial number.
It would be interesting to know if one of those 100 copies slipped by and is sitting in a collection unknowingly.