Toronto legends highlight second day of Fall 2016 Sportcard & Memorabilia Expo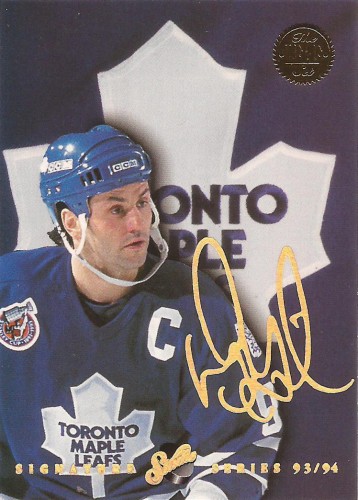 After a hectic opening on Friday where thousands of collectors made their way through the doors, the dealers at the Fall 2016 Sportcard & Memorabilia Expo are ready for more action today.
With a star-studded lineup of autograph guests, exciting redemption programs, and a mix of the latest and greatest hockey cards on the floor, the Expo is expected to be even busier today and here are some of the things both experienced and novice attendees should be looking for.

Autograph Guests
Some of Toronto's greatest athletes are coming to the Fall 2016 Sportcard & Memorabilia Expo. The lineup boasts local icons like Toronto Maple Leafs Wendel Clark, Doug Gilmour, Borje Salming, Lanny McDonald, and Tiger Williams along with former NBA star and Toronto Raptors legend Tracy McGrady.
Hockey Hall of Famer and Chicago Blackhawks legend Bobby Hull will also be at the show signing today and tomorrow, but fans can also get to ask him questions during a question & answer session.
Additionally, Hockey Card Stories author and sportscaster Ken Reid is also signing copies of his books, including the new One Night Only.
For complete details on the autograph lineup, click here.
Redemption Programs
While we went over the exciting redemption programs offered at the Fall 2016 Sportcard & Memorabilia Expo in an article yesterday, it should be noted that there was definitely some excitement in the air at the Upper Deck booth as collectors were ripping open packs of 2016-17 Upper Deck Series One in order to get a copy of the Auston Matthews Young Guns card.
The Leaf Trading Cards booth was also seeing plenty of action as with boxes of 2016-17 Leaf Ultimate being broken open in the hunt for limited autograph cards and eye-popping memorabilia cards.
Finally, the unveiling of the Blue and White Centennial collection from President's Choice Trading Cards had some tongues wagging. Among the designs revealed were Assigned Seats (signatures on a piece of a seat from Maple Leaf Gardens) and a 10-swatch game-used memorabilia card.

Beckett Media
Collectors looking for the latest issue of Beckett Hockey should hit our booth in the Universal Distribution area early as the number of copies on hand are dwindling. For $12.00 CDN/$10.00 USD, it can be yours, or you can get the newest editions of other titles as well. All books are also $10.00 off cover price in the currency you wish to pay in. Additionally, we still have a scavenger hunt going on where collectors can find Cover Promos on the floor and receive a special set of three smaller metal Beckett Covers. For more details, please visit the booth.
Over at the Grosnor Distribution Break Zone, you will find Beckett Grading Services and get Raw Card Reviews or askabout other grading options that are available. It is advisable to come early to drop off your cards as demand is expected to be high.
Steve Grad from Beckett Authentication Services is also in the house meeting with collectors to talk about this new concept.