Topps trumpets 2011 Triple Threads Football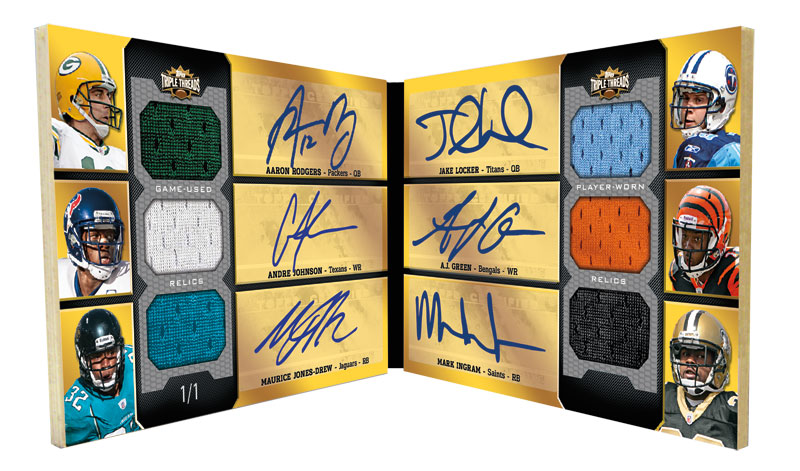 By Andrew Tolentino | Football Editor
Again causing a not-too-uncommon pre-weekend hobby frenzy, Topps unveiled details today about its 2011 Triple Threads Football brand.
Scheduled for a late-November arrival (thankfully, actually during an NFL season), the hobby exclusive set comes with a one-per-pack autograph guarantee and a handful of other choice chase factors.
Each pack (in this case, "mini box"), collectors can expect to land three numbered base cards, two numbered parallels, one Triple Relic card and one Triple Threads Unity Autograph single Relic card. Autographed Triple Relic Cards fall one per box and replace Triple Relics.
The low-quantity, high-quality box (comprised of two packs) should yield a total of four hits …
One Unity Autograph Single Relic
One Unity Single Relic Card
One Autographed Triple Relic
One Triple Relic
And for those whale hunters, each case of 2011 Triple Threads Football contains one 1/1 Autograph Triple Relic and one Triple Relic numbered to 36 or less. Coming soon are more details, visuals and by-the-numbers breakdowns. But before that, enjoy the obligatory picture show.