Topps to sell Wacky Packages original art for $1 million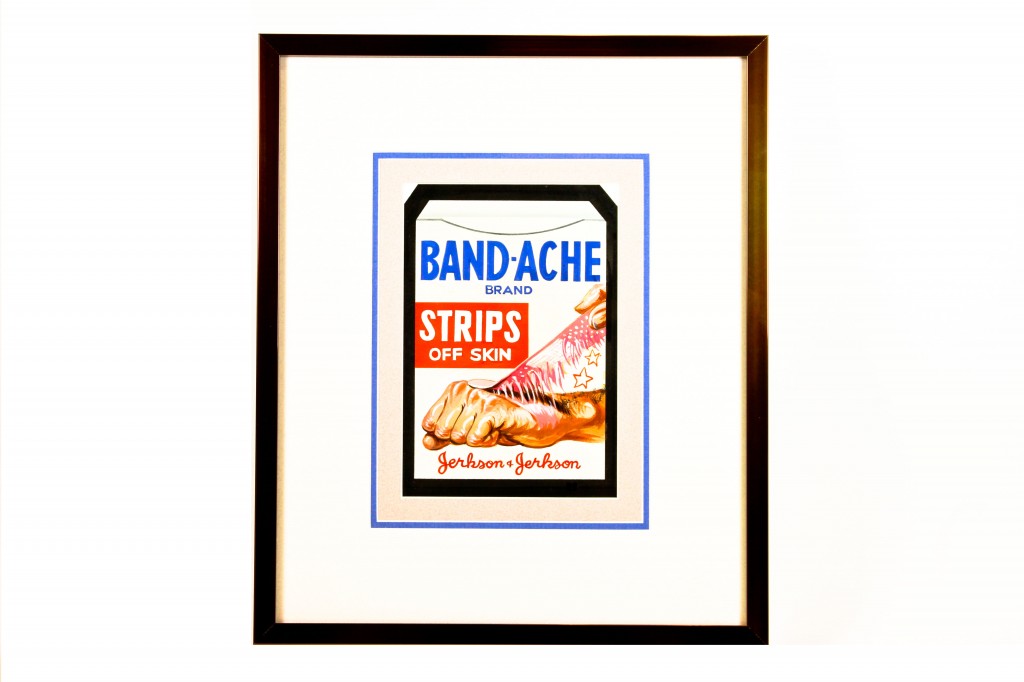 By Susan Lulgjuraj | Beckett Sports Card Monthly Editor
It seems Topps employees were digging deep into the company's vault recently.
A piece of artwork from the 1960s was discovered in one of Topps' warehouses, and the company is making it available to purchase to the public.
Topps artist Norm Saunders created a 5-by-7-inch painting for a Wacky Packages design titled "Band-Ache," parodying the Johnson & Johnson brand Band-Aid.
The fetching price for the nearly 50-year-old piece — $1 million.
Topps is putting the painting up on eBay with a Buy It Now or Best Offer option in its store 
on Thursday at 11 a.m.
"Wacky Packages defined an entire generation; the Wacky brand slogan was "Stick Em' Anyplace!" Topps' Mike Jasperson said in a release. "And kids sure did! Norm Saunders' alluring style is on par with any pop culture artist we will ever see. His portfolio of work is stunning!"
Wacky Packages was developed by Topps in 1967. Band-Ache was common in Topps' 1967 die-cut set and uncommon in the 1973 original series set and rumored to have been removed from production in 1973 making it the hardest to find, according to Topps.
The 1967 die-cut series of 44 stickers was the original Topps Wacky Packages series, predating the more widespread and well-known 1973-76 Wacky Packages series.
"As a kid growing up in 1973, I wasn't very lucky, at least when it came to Wacky Packages," said artist and collector Neil Camera. "Nope, after countless packs, I never did find a Bandaches (hence our nickname, "the grail"). But that wasn't going to stop me. I soon discovered the playground trade circuit and learned what Band-Aches would cost me: two Mutts, a Lavirus, a Paul Maul and about a dozen commons … plus a good scolding from my mom for sweetening the deal with my lunch money that week. But that's one trade I've never regretted!"
Saunders was a commercial artist who produced work for pulp magazines, paperbacks, comics and more. According to his website, Saunders' first job with Topps was retouching uniforms, caps and backgrounds of players who were traded late in the season in 1960.
He also did a number of other sets for Topps including the 1962 Mars Attacks and 1965 Ugly Stickers.
"Wacky Packages emerged from the '60s a tangible counter-culture artifact for the children of a turbulent time," said Simeon Lipman, pop culture specialist and appraiser from Antiques Roadshow. "It was cool to collect Wackys, they were funny, they were a little dangerous and they certainly not your parents' collectibles. The artwork, so brilliantly executed by the master trading card artist Norm Saunders, wrought a full range of emotions, equally titillating and disgusting, satirical and yet brutally honest. Wackys became an icon of a generation, and one of the touchstones of an artistic and creative movement. Band-Ache is perhaps the most iconic of all Wacky Packages, representing all that make Wacky's great. It's a Saunders masterpiece."
Susan Lulgjuraj is an editor at Beckett Media. You can email her here with questions, comments or ideas. Follow her on Twitter here. Follow Beckett Media on Facebook and Twitter.