Star Wars Finest, Galaxy Returning from Topps, SW Archives Signature Series to Debut
The lineup of 2018 Star Wars trading cards is starting to take shape. And collectors can expect to see the return of a couple of familiar brands as well as the introduction of a new autograph line.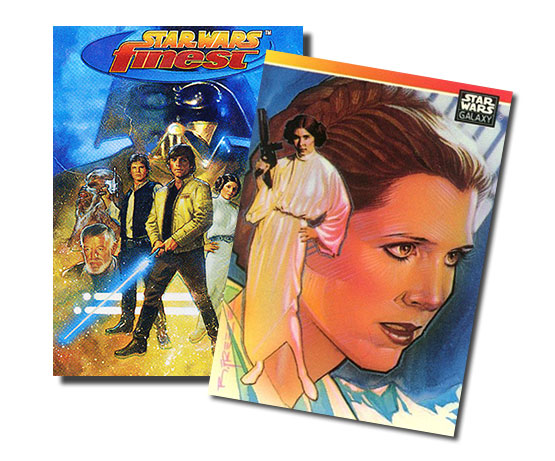 For starters, 2018 Topps Star Wars Galaxy brings back one of the most iconic brands to ever cover the film. 2018 Topps Star Wars Finest updates a series that hasn't travelled to a galaxy far, far away in a very long time.
Making its debut in the months ahead is 2018 Topps Star Wars Signature Series.
When it comes to modern Star Wars trading cards, Galaxy is one of the most popular and enduring brands. Debuting in 1993, it help resurrect the franchise as far as cards go. Over the course of seven series and almost 20 years, Star Wars Galaxy was a home to fantastic and varied art.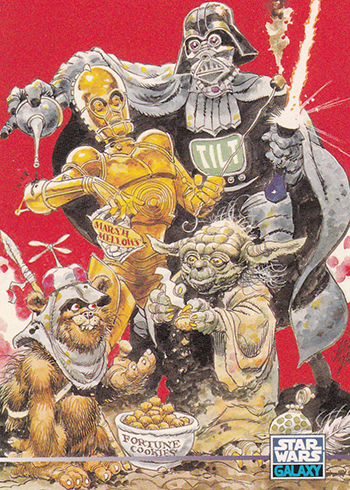 The last Star Wars Galaxy set, Series 7, came out in 2012.
Star Wars Finest debuted more than 20 years ago. It was an ambitious set that mix art and chromium card stock. It also introduced the Refractor to the world of Star Wars trading cards. Although there was likely high hopes for the line, it lasted just the one set. The Finest names has been used in insert sets over the years, but only the one standalone product until now.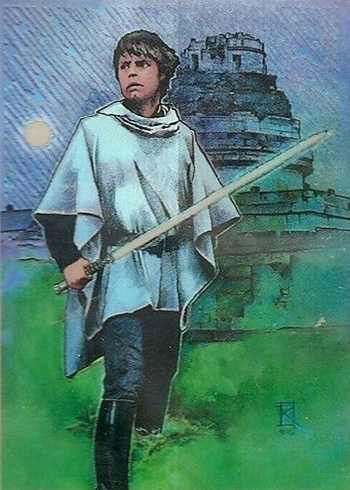 Slated for October, 2018 Topps Star Wars Finest will likely look very different from the original set. It'll still be chromium, but autographs are now part of the equation. Like Finest releases in other sports, hobby boxes will be done in a mini box format. Each master box has two mini boxes. Every mini box has one signature. No further details have been announced.
Star Wars Finest! pic.twitter.com/1AFIKRN8yw

— Topps Company (@Topps) February 20, 2018
If 2018 Topps Star Wars Archives Signature Series holds true to its baseball counterpart, it'll be an all-autograph release. But rather than being totally new cards, they'll be buybacks, original Star Wars trading cards from the past, that have since been signed. Archives Signature Series cards in the past have all come with a special foil stamp.
Topps made the initial announcements for all three sets at their dealer conference in Arizona.
Stay tuned for specifics and full details for these products in the weeks and months ahead.
Comments? Questions? Contact Ryan Cracknell on Twitter @tradercracks or by email.