Topps releases Heritage High Number checklist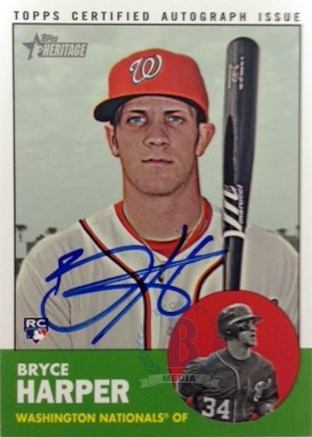 Update: Topps has announced the final two autograph additions and lowered that checklist from 22 to 21 players.
—
By Chris Olds | Beckett Baseball Editor
Topps released the final checklist for its much-anticipated 2012 Topps Heritage High Number boxed set on Wednesday, which includes some notable debut cards.
There are 22 Rookie Cards in the online-only set, according to the company, a crop led by Bryce Harper, Yu Darvish, Trevor Bauer, Yoenis Cespedes and Matt Adams. Notable veterans include Ichiro Suzuki, Andy Pettitte, NLCS MVP Marco Scutaro and several others in their new uniforms.
There will be 21 players on the autograph checklist, a crop led by the rookies Harper, Darvish, Cespedes and Bauer.
See the checklists after the jump.
The sets will cost $99.95 on the company's website and there will be red-ink autographs limited to just 10 copies among the autographs that will be seeded one per set. In addition, Topps has announced that only 1,000 sets will be made.
The release is the second online-only exclusive this year as it released 2012 Topps Mini — a shrunken version of its flagship set — in August.
Collectors can order a maximum of 20 sets per household.
BASE SET
H576 Adam Wainwright St. Louis Cardinals
H577 Tsuyoshi Wada Baltimore Orioles RC
H578 J.A. Happ Toronto Blue Jays
H579 Brian Matusz Baltimore Orioles
H580 Chris Capuano Los Angeles Dodgers
H581 Cody Ross Boston Red Sox
H582 Jarrod Saltalamacchia Boston Red Sox
H583 Ryan Hanigan Cincinnati Reds
H584 Wade Miley Arizona Diamondbacks
H585 Jonathon Niese New York Mets
H586 Mike Aviles Boston Red Sox
H587 Bryan LaHair Chicago Cubs
H588 Jake Arrieta Baltimore Orioles
H589 Hisashi Iwakuma Seattle Mariners RC
H590 Garrett Richards Angels RC
H591 John Danks Chicago White Sox
H592 Brandon Morrow Toronto Blue Jays
H593 Ernesto Frieri Angels
H594 Kenley Jansen Los Angeles Dodgers
H595 Felix Doubront Boston Red Sox
H596 Vinnie Pestano Cleveland Indians
H597 Jake Peavy Chicago White Sox
H598 Jonathan Broxton Cincinnati Reds
H599 Brian Dozier Minnesota Twins RC
H600 Yu Darvish Texas Rangers RC
H601 Philip Humber Chicago White Sox
H602 Derek Lowe Cleveland Indians
H603 Drew Smyly Detroit Tigers RC
H604 Matt Capps Minnesota Twins
H605 Jamie Moyer Colorado Rockies
H606 Ichiro New York Yankees
H607 Jerome Williams Angels
H608 Bruce Chen Kansas City Royals
H609 Wei-Yin Chen Baltimore Orioles RC
H610 Joe Saunders Arizona Diamondbacks
H611 Alfredo Aceves Boston Red Sox
H612 Tyler Pastornicky Atlanta Braves RC
H613 Angel Pagan San Francisco Giants
H614 Juan Pierre Philadelphia Phillies
H615 Pedro Alvarez Pittsburgh Pirates
H616 Sean Marshall Cincinnati Reds
H617 Jack Hannahan Cleveland Indians
H618 Brett Myers Chicago White Sox
H619 Zack Cozart Cincinnati Reds RC
H620 Fernando Rodney Tampa Bay Rays
H621 Chris Davis Baltimore Orioles
H622 Reed Johnson Atlanta Braves
H623 Gordon Beckham Chicago White Sox
H624 Andrew Cashner San Diego Padres
H625 Alex Rios Chicago White Sox
H626 Lorenzo Cain Kansas City Royals
H627 Wily Peralta Milwaukee Brewers RC
H628 Andres Torres New York Mets
H629 Andruw Jones New York Yankees
H630 Denard Span Minnesota Twins
H631 Raul Ibanez New York Yankees
H632 Ryan Sweeney Boston Red Sox
H633 Cesar Izturis Milwaukee Brewers
H634 Chris Getz Kansas City Royals
H635 Francisco Liriano Chicago White Sox
H636 Daniel Bard Boston Red Sox
H637 Daisuke Matsuzaka Boston Red Sox
H638 Matt Adams St. Louis Cardinals RC
H639 Andy Pettitte New York Yankees
H640 Norichika Aoki Milwaukee Brewers RC
H641 Jordany Valdespin New York Mets RC
H642 Andrelton Simmons Atlanta Braves RC
H643 Johnny Damon Cleveland Indians
H644 Colby Rasmus Toronto Blue Jays
H645 Bartolo Colon Oakland Athletics
H646 Kirk Nieuwenhuis New York Mets RC
H647 A.J. Burnett Pittsburgh Pirates
H648 Edinson Volquez San Diego Padres
H649 Jake Westbrook St. Louis Cardinals
H650 Bryce Harper Washington Nationals RC
H651 Will Middlebrooks Boston Red Sox RC
H652 Yoenis Cespedes Oakland Athletics RC
H653 Grant Balfour Oakland Athletics
H654 Edwin Jackson Washington Nationals
H655 Henry Rodriguez Washington Nationals
H656 Brandon Inge Oakland Athletics
H657 Trevor Bauer Arizona Diamondbacks RC
H658 Chris Iannetta Angels
H659 Garrett Jones Pittsburgh Pirates
H660 Matt Hague Pittsburgh Pirates RC
H661 Rafael Furcal St. Louis Cardinals
H662 Luke Scott Tampa Bay Rays
H663 Kelly Johnson Toronto Blue Jays
H664 Jonny Gomes Oakland Athletics
H665 Sean Rodriguez Tampa Bay Rays
H666 Carl Pavano Minnesota Twins
H667 Joe Nathan Texas Rangers
H668 Juan Uribe Los Angeles Dodgers
H669 Bobby Abreu Los Angeles Dodgers
H670 Marco Scutaro San Francisco Giants
H671 Gavin Floyd Chicago White Sox
H672 Ted Lilly Los Angeles Dodgers
H673 Drew Hutchison Toronto Blue Jays RC
H674 Leonys Martin Texas Rangers RC
H675 Adam LaRoche Washington Nationals
REAL ONE AUTOGRAPHS
ROA-AP Andy Pettitte New York Yankees
ROA-BH Bryce Harper Washington Nationals
ROA-CG Chris Getz Kansas City Royals
ROA-CR Cody Ross Boston Red Sox
ROA-DB Daniel Bard Boston Red Sox
ROA-DH Drew Hutchison Toronto Blue Jays
ROA-DZ Brian Dozier Minnesota Twins
ROA-EV Edinson Volquez San Diego Padres
ROA-FR Fernando Rodney  Rays
ROA-GJ Garrett Jones Pittsburgh Pirates
ROA-JV Jordany Valdespin New York Mets
ROA-KN Kirk Nieuwenhuis New York Mets
ROA-MHA Matt Hague Pittsburgh Pirates
ROA-TB Trevor Bauer Arizona Diamondbacks
ROA-TP Tyler Pastornicky Atlanta Braves
ROA-WM Will Middlebrooks Boston Red Sox
ROA-YC Yoenis Cespedes Oakland Athletics
ROA-YD Yu Darvish Texas Rangers
ROA-ZC Zack Cozart Cincinnati Reds
ROA-GB Gordon Beckham Chicago White Sox
ROA-WP Wily Peralta Milwaukee Brewers
Chris Olds is the editor of Beckett Basketball magazine. Have a comment, question or idea? Send an email to him at colds@beckett.com. Follow him on Twitter by clicking here.