Topps releases Big League Minis variation details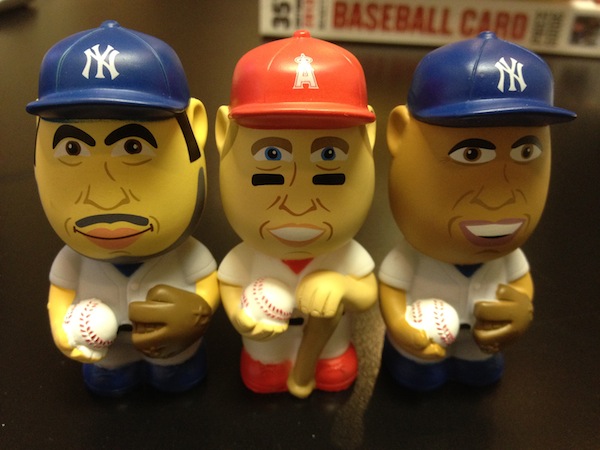 By Chris Olds | Beckett Baseball Editor
Topps announced a list of variation figures found in its recently released Big League Minis, a line of packaged vinyl figures, on Friday.
There are 28 different players featured in the $5-per-pack offering, and they all have rarer chase versions with an alternate color uniform or small feature. While some players simply have a different colored cap or jersey, some have other features. Miguel Cabrera, for example, wears his Triple Crown.
See the list to figure out whether your big-leaguers are variations … after the jump.
Albert Pujols (red jersey)
Yu Darvish (red hat)
Bryce Harper (home uniform)
Pablo Sandoval (panda)
David Ortiz (red jersey)
Derek Jeter (navy jersey)
Ryan Braun (blue Jersey)
Prince Fielder (road uniform)
David Wright (blue jersey)
Dustin Pedroia  (red jersey)
Buster Posey (black jersey)
Roy Halladay (red jersey)
Ichiro (navy jersey)
Brian Wilson (black jersey)
Jose Reyes (blue Jersey)
Evan Longoria (road uniform)
Mariano Rivera (navy jersey)
Ryan Howard (red jersey)
Adrian Gonzalez (blue jersey)
Stephen Strasburg (road uniform)
Matt Kemp (road uniform)
Miguel Carbrera (triple crown)
Joey Votto (red jersey)
Andrew McCutchen (yellow jersey)
Justin Verlander (road uniform)
Mike Trout (red jersey)
Joe Mauer (blue jersey)
Robinson Cano (navy jersey)