2014 Topps Allen & Ginter National Sports Collectors Convention Promo Details
Two of baseball's hottest rookies will headline Topps' wrapper redemption programs at this year's National Sports Collectors Convention in Cleveland, Ohio.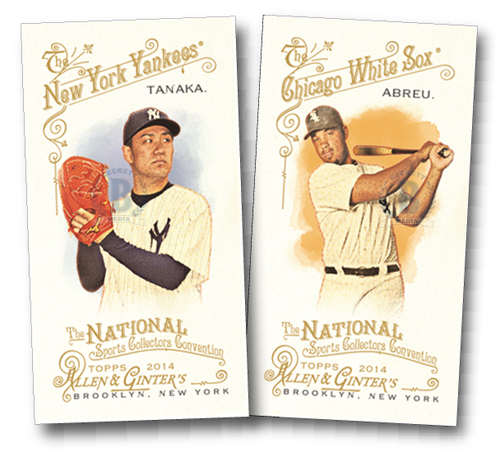 Collectors who visit the company's booth during the show at the I-X Center from July 30-Aug. 3 and open a box of 2014 Allen & Ginter will receive one of two mini promo cards made just for the show — one of New York Yankees ace Masahiro Tanaka or one of Chicago White Sox slugger Jose Abreu. This is the only way to receive these cards.
A second wrapper redemption program will take place for collectors opening any three packs of any Topps product that is not Opening Day or 2014 Topps Minis, which will be making its debut at the show ($50 per box). For those who opt to open three packs, they will receive a mini card from one of these eight past and present NFL or MLB players: Johnny Manziel, Jadeveon Clowney, Jim Brown, Jordan Cameron, Derek Jeter, Mike Trout, Bob Feller or Albert Belle.
The cards will be available while supplies last.
The company will have its online crew selling memorabilia and apparel that carries a Cleveland focus at the show and it still is finalizing its plans for some special breaks and presentations during the show.
One Topps event already on Topps' schedule is a meet-and-greet session with collectors on July 31 at 6:30 p.m. The event, which collectors can sign up to attend at the company's booth, will include contests and prizes during the session. There also will be regularly occurring giveaways and activities at the company's booth during the duration of the show.
This year's edition of Allen & Ginter is scheduled to arrive in hobby shops and other stores beginning on July 9.