Topps Project100 Checklist, Artist Gallery and Details
Topps Project100 is another year-long set that combines baseball cards and art. While there are certainly some similarities to Project 2020 and Project70, Topps is refining the approach this time around. Fewer cards and a slower pace are among the most noticeable changes. But there's also a shift to making everything more premium rather than randomly inserting chase elements.
What Is Topps Project100?
At its core, Topps Project100 keeps with the idea of using the medium of baseball cards for fine art. A mix of artists will bring their talents and styles to the set, creating new cards of past and retired players.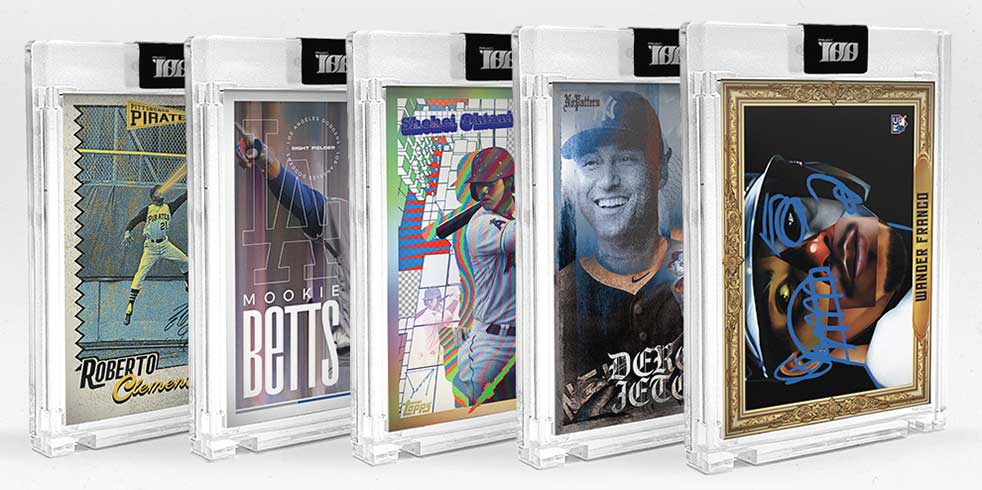 This time around, the set will have just 100 cards. That's down significantly from 400 in Project 2020 and the more than 900 in Project70.
Instead of daily drops, there will be five cards per week starting on Tuesday, May 24 available on their website. This is dramatically different from multiple cards per day many collectors grew used to — and sometimes weary of — over the past couple of years.
Further slowing things down, Topps is releasing cards in four seasons, each with 25 cards. That means five weeks each for spring, summer, fall and winter. Each season will also use different artists with 20 for the entire project, each doing just five cards. Compare that to the 50 original artists on Project70 doing as many as 20 cards each.
Each card is also its own thing with artists creating them from scratch and not using classic cards or designs as inspiration.
In another significant twist, print runs are limited for Topps Project100. Base versions of each card are limited to 3,999. This is instead of the print-to order. It's not yet known if it's possible for a card to have fewer copies if they don't sell out.
Individual cards are $20, $150 for Deluxe Editions and $500 for signed Artist Proof Editions. Weekly bundles of five base cards are a slightly discounted $95.
Card Styles
One of the draws of Project70 was the potential to get random foil chase cards. In Topps Project100, all cards have foil. It's part of the tweaked approach to the style of the cards. According to Topps, a variety of foil types will be used in the set and in different ways. Some will have rainbow foil, others with a Cracked Ice approach similar to Sapphire and Atomic Refractors. On some cards, it could show throughout the background while some it will be limited to the borders. No matter the type or use, every card has foil this time as Topps aims to create the most premium set of art-based baseball cards to date.
Thick stock remains with all cards being done at 130 pt and they come in one-touch holders.
Each card has three different editions. Standard Editions are the base cards and limited to 3,999 copies. Weekly bundles with all five cards are also an option.
Next up is Deluxe Edition. Each has a parallel numbered to 100. A base card is also part of the package. Finally, there are a small number of Artist Proof Editions. The come with three cards: the base, Deluxe parallel and a signed Artist Proof. Each card has just 20 Artist Proof Editions with five of those going to the artist. This means only 15 will be available direct from Topps.
The packaging for each Topps Project100 card includes a label so it's easy to tell what's inside now without even opening it.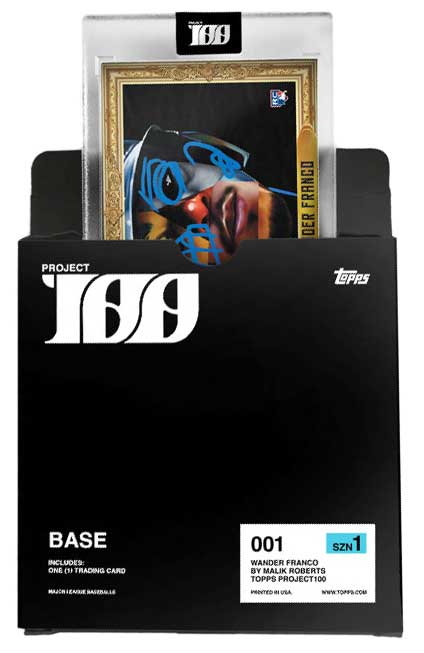 Where Topps Project 100 Goes Beyond Cards
Topps is expanding beyond just cards for this project.
For starters, each season will have a printed catalog with a gallery of the cards, artist interview and more. 1st Edition catalogs have 100 copies each with standard versions coming out afterwards with different art on the cover.
Fine art prints are also available for each season. Measuring 11″ x 14″, these have all of the season's cards. These come in both a season-based standard edition and artist-signed editions, which have just 10 copies.
Topps Project100 at a glance:
Set size: 100 cards (when complete)
Release date: May 24, 2022
Checklist
Topps Project 100 Checklist
Base cards have a max of 3,999 copies.
Parallels:
Deluxe Edition – /100
Artist Proof – /20
Season 1
Artists:
Click on the links to shop for specific cards on eBay.
1 Wander Franco by Malik Roberts
2 Derek Jeter by NoPattern
3 Shohei Ohtani by J. Demsky
4 Mookie Betts by Andre Power
5 Roberto Clemente by John Geiger
6 Ronald Acuna Jr. by Malik Roberts
7 Julio Rodriguez by NoPattern
8 Ichiro by J. Demsky
9 Mike Trout by Andre Power
10 Fernando Tatis Jr. by John Geiger
11 Ken Griffey Jr. by Malik Roberts
12 Shohei Ohtani by NoPattern
13 Bobby Witt Jr. by J. Demsky
14 Bryce Harper by Andre Power
15 Marcus Stroman by John Geiger
16 Aaron Judge by Malik Roberts
17 Frank Thomas by NoPattern
18 Vladimir Guerrero Jr. by J. Demsky
19 Wander Franco by John Geiger
20 Frank Robinson by Andre Power
21 Jackie Robinson by Malik Roberts
22 Juan Soto by J. Demsky
23 Fernando Tatis Jr. by Andre Power
24 Oneil Cruz by John Geiger
25 Mike Trout by NoPattern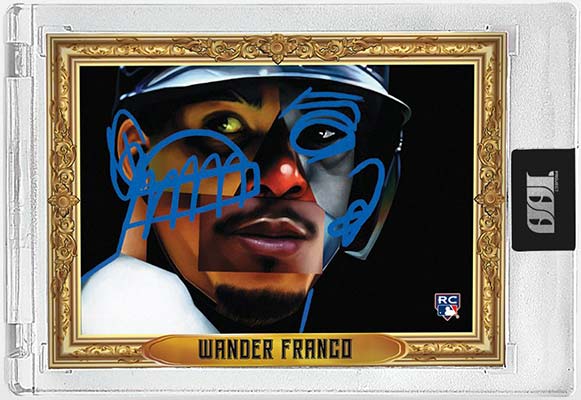 Artist Gallery
Here's the Topps Project100 checklist broken down by artist. This list is arranged alphabetically by name.
J. Demsky
Season: 1
3 Shohei Ohtani
8 Ichiro
13 Bobby Witt Jr.
18 Vladimir Guerrero Jr.
22 Juan Soto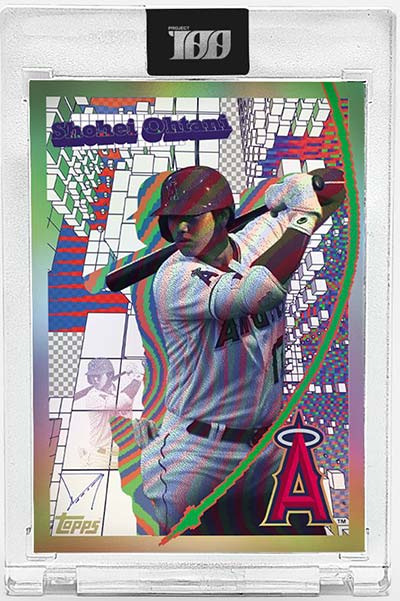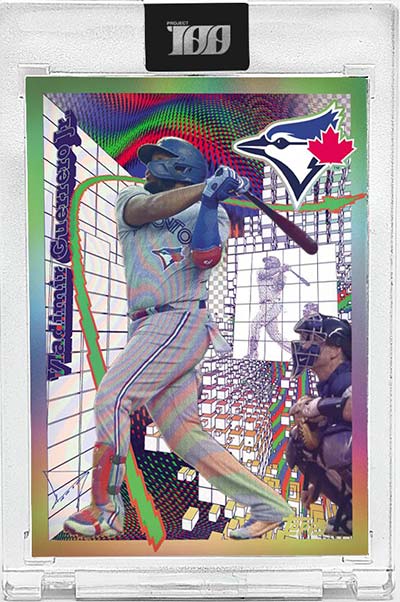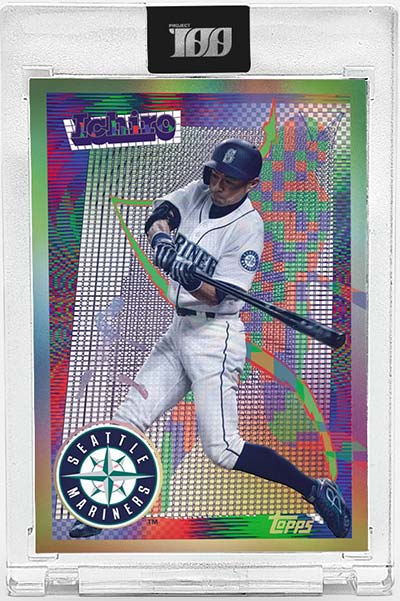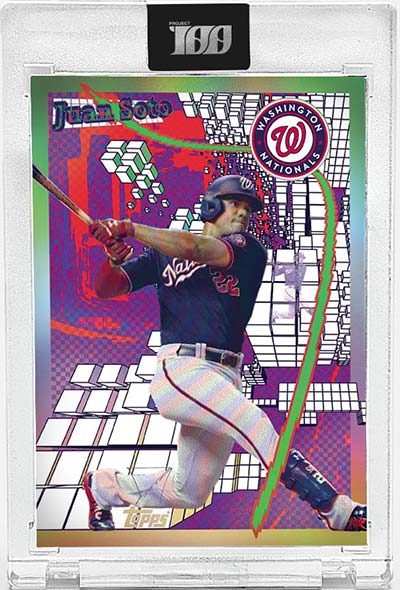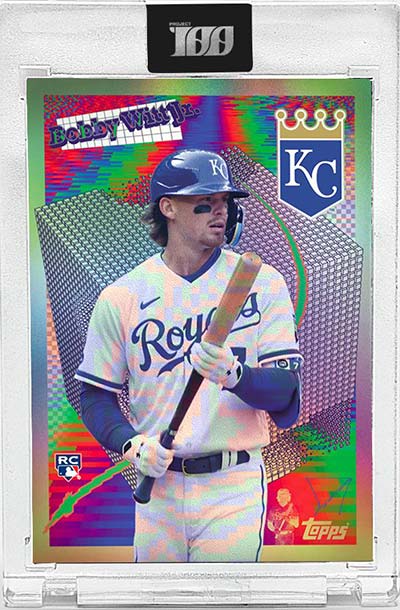 John Geiger
Season: 1
5 Roberto Clemente
10 Fernando Tatis Jr.
15 Marcus Stroman
19 Wander Franco
24 Oneil Cruz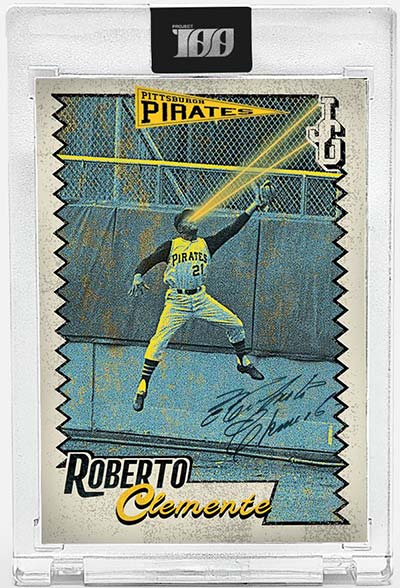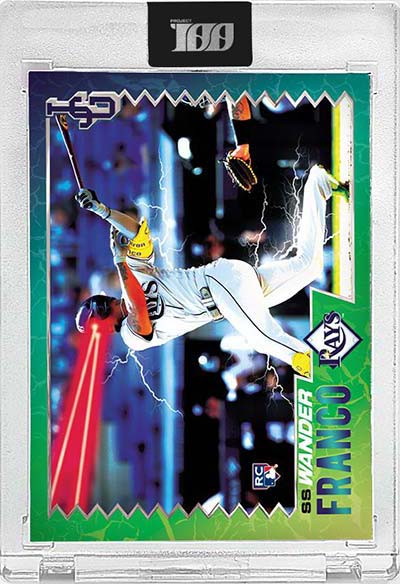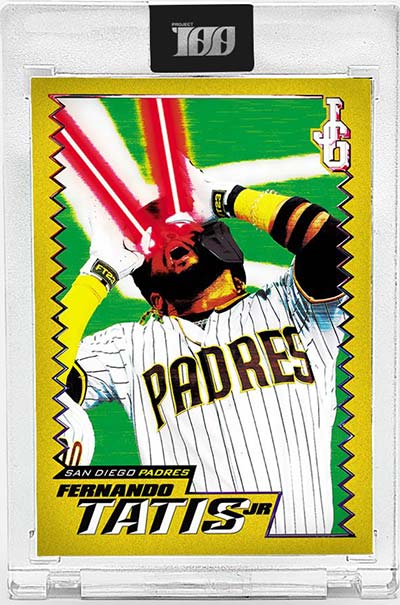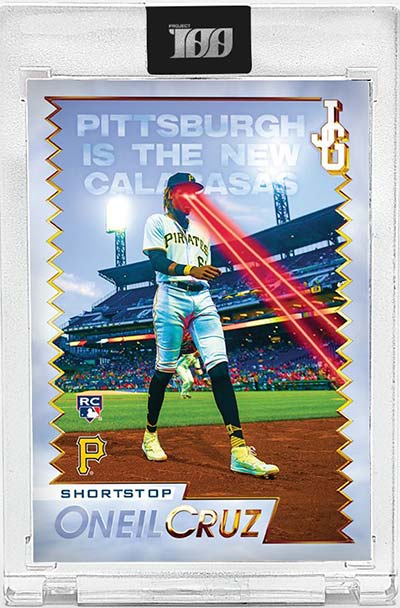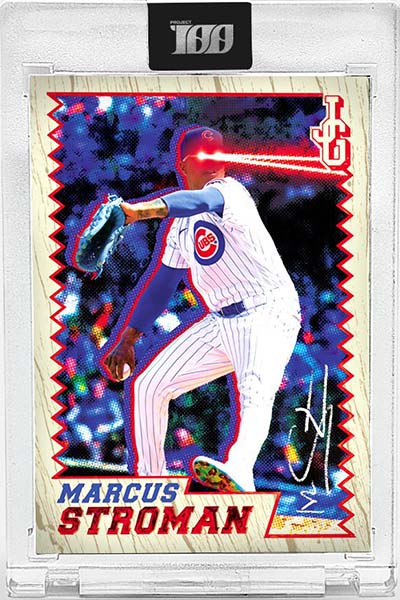 NoPattern
Season: 1
2 Derek Jeter
7 Julio Rodriguez
12 Shohei Ohtani
17 Frank Thomas
25 Mike Trout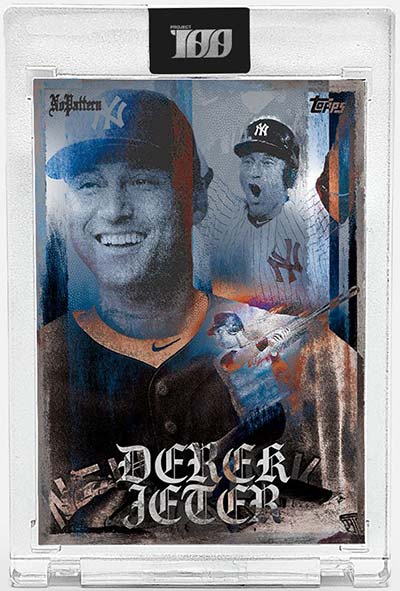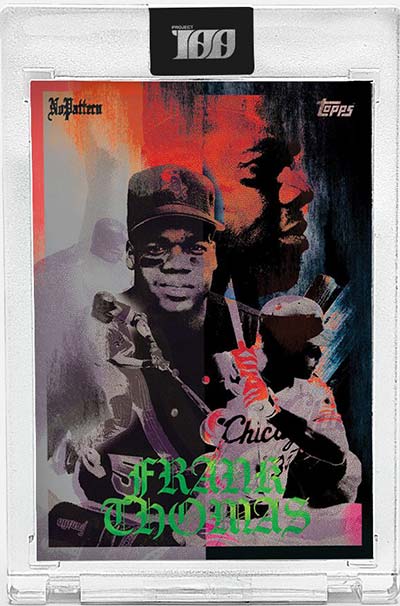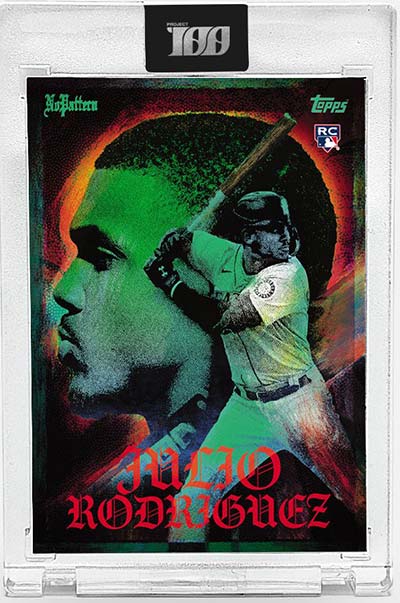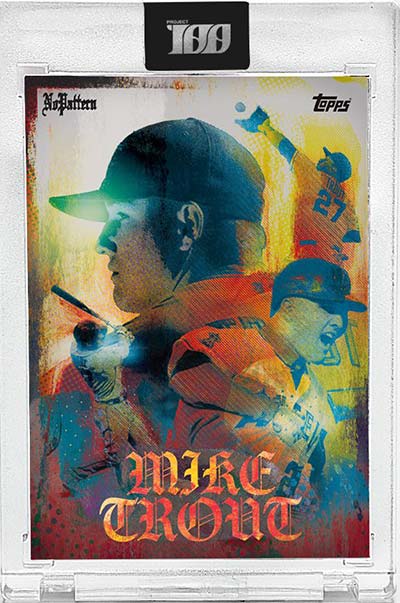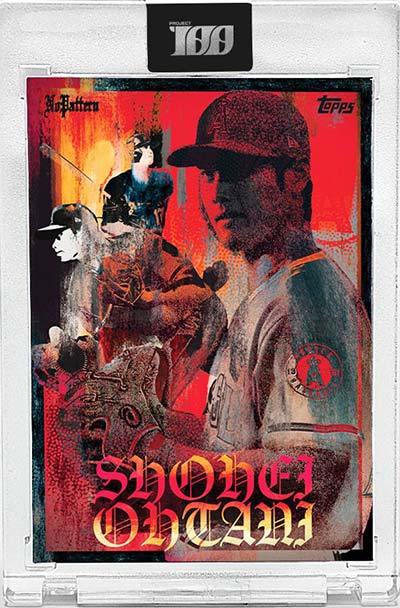 Andre Power
Season: 1
4 Mookie Betts
9 Mike Trout
14 Bryce Harper
20 Frank Robinson
23 Fernando Tatis Jr.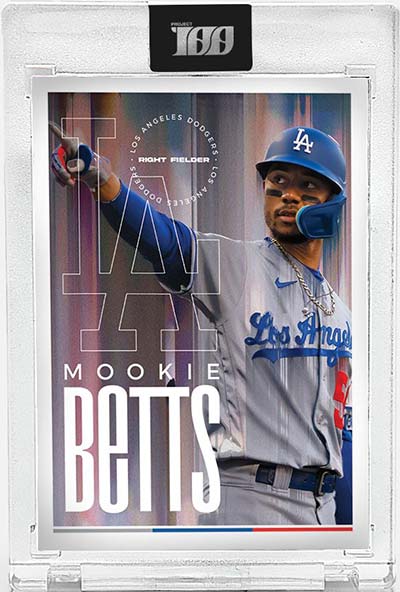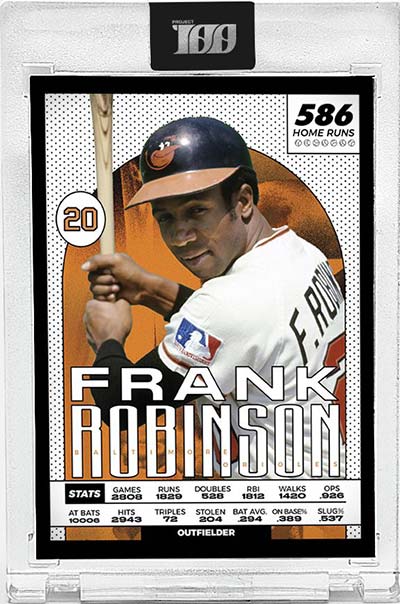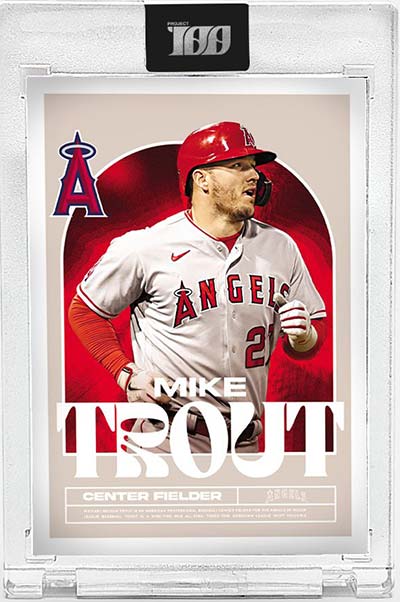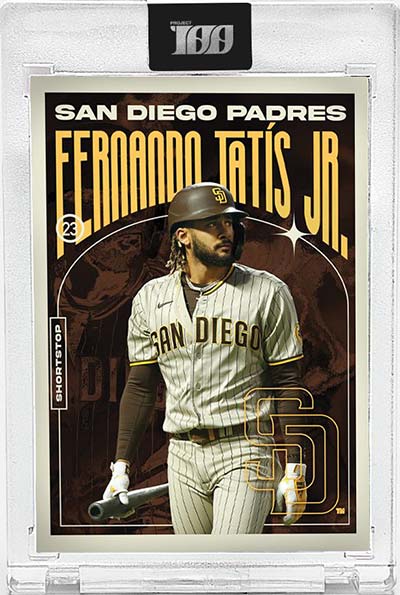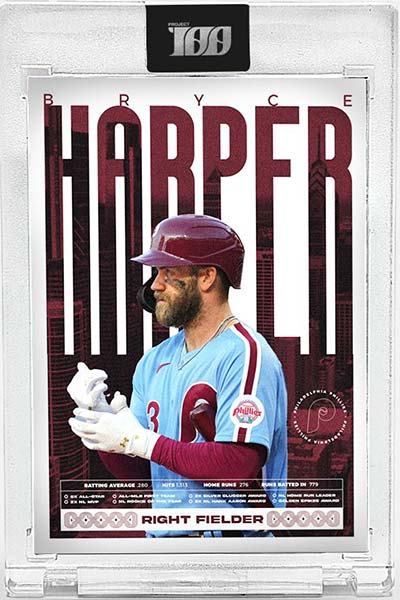 Malik Roberts
Season: 1
1 Wander Franco
6 Ronald Acuna Jr.
11 Ken Griffey Jr.
16 Aaron Judge
21 Jackie Robinson