Topps details its Bryce Harper Rookie Card plans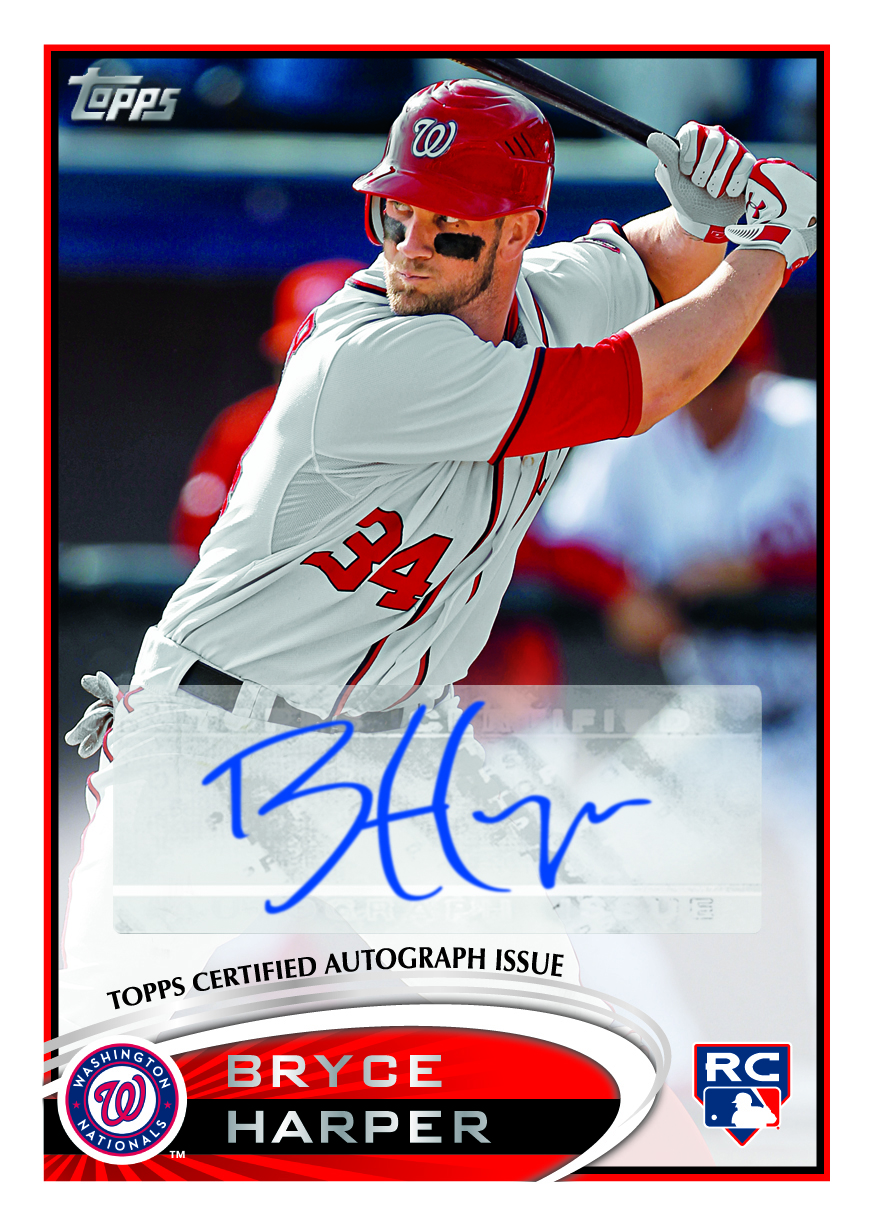 By Chris Olds | Beckett Baseball Editor
Bryce Harper arrived in the major leagues on Saturday — now it's time for his Rookie Cards.
Topps didn't wait long into the 19-year-old's big-league career to tease his first RC — arriving in 2012 Topps Series 2 on June 6 — but waited until today to offer any additional details about that card and future offerings it might have featuring the player who is the most highly touted prospect — and most-expensive on cardboard — prospect in MLB history.
"People at Topps are excited," said Topps Vice President Mark Sapir. "We are most excited for collectors. He is a special talent and we will do our best to celebrate his MLB debut and Rookie Cards.
"We will do our best to quickly get Harper in product," Sapir said. "We want collectors to have a chance to pull his card as quickly as frequently as possible.  Due to timing, we are somewhat limited in all we can do. [Our] first few products will be a bit short due to printing windows, but there will be a few planned redemptions. In total, I think our plan is awesome and will truly unlock Harper to the collectors!"
First things, first … Harper will have autographed cards appearing in all forthcoming Topps products this year. (Need a Harper checklist or OPG? Click here.)
Specific details for the rest of the products will include:
In 2012 Bowman arriving May 9, Harper will be the No. 2 Bowman Lucky Redemption, which will be limited to just 100 and be good for an autographed card with the rookie design.
In Topps Series 2, Harper will be a short-printed base card — card No. 661 — found in both hobby and retail packs. He also will have an autographed version of the card, which is seen here.
In Topps Archives, Harper will be a redemption in both hobby and retail packs for a Fan Favorites autograph card. He also will appear on a short-printed base card.
In Tier One, there will be 25 redemptions for an On the Rise autographed card.
In Allen & Ginter, Harper will have a standard Rookie Card and a mini parallel — neither short-printed — as well as autographs. He'll also have a red-ink auto limited to just 10 copies found in Rip Cards.
In Topps factory sets, the Harper card will be included in every set — with a photo that is different from the short-printed version.
And as for high-end products such as the not-yet-unveiled Topps Five Star?
"We for sure will do some really sweet stuff with him on our high-end releases like Triple Threads and Five Star," Sapir said.
Chris Olds is the editor of Beckett Baseball magazine. Have a comment, question or idea? Send an email to him at colds@beckett.com. Follow him on Twitter by clicking here.