Topps Now Loyalty Program Has Its Perks, Including 9 Autographs for 25 Platinum Members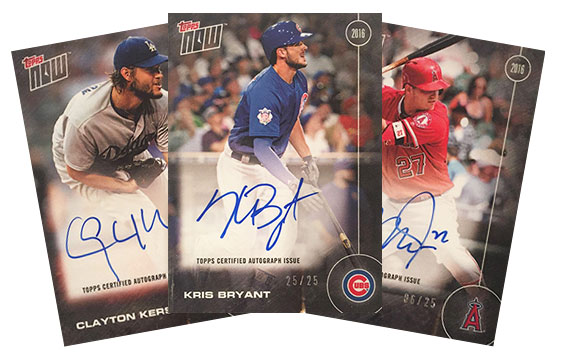 By Ryan Cracknell | Hobby Editor
For those who regularly took part in the 2016 Topps Now Baseball program, they were used to mailboxes filled with cards. Twenty-five of the biggest buyers are getting a massive bonus in the mail in the form of a set of nine exclusive Topps Now Platinum Autographs.
It also appears to be the launch of the Topps Now Loyalty Program, offering discounts for buying cards, participating on social media and other actions.
2016 Topps Now Platinum Autographs
The surprise 2016 Topps Now Platinum Autographs are numbered to 25 copies each. Recipients received a full set of nine cards along with a Platinum Loyalty membership card.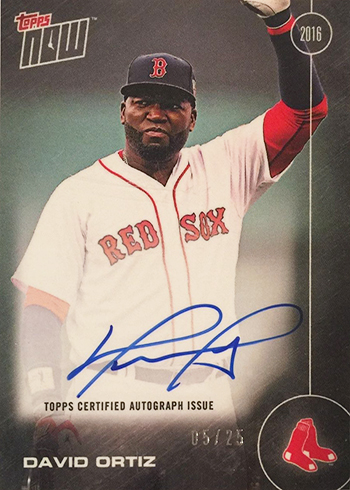 As far as players go, the 2016 Topps Now Platinum Autographs checklist is strong, to say the least:
• Andrew Benintendi, Boston Red Sox
• Alex Bregman, Houston Astros
• Kris Bryant, Chicago Cubs
• Clayton Kershaw, Los Angeles Dodgers
• Francisco Lindor, Cleveland Indians
• David Ortiz, Boston Red Sox
• Trevor Story, Colorado Rockies
• Noah Syndergaard, New York Mets
• Mike Trout, Los Angeles Angels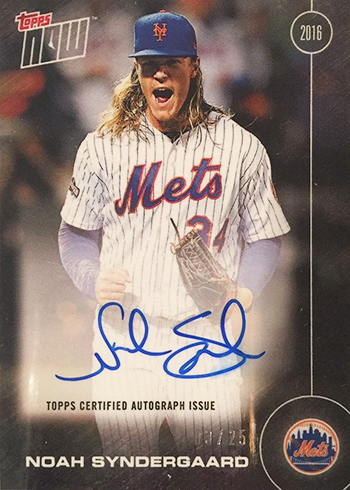 All are signed on-card and use the 2016 Topps Now Baseball design. They are not connected to any specific event.
The first set to hit eBay came with a $25,000 asking price.
This isn't the first time Topps surprised collectors with Topps Now autographs. Brandon Crawford was the first Topps Now autograph signer for #100 with ten cards sent out randomly. A few weeks later, some Ichiro autographs were sent out in a similar fashion. Now, autographs are usually sold, much like the regular cards.
2017 Topps Now Platinum Autographs
Topps continued to give out new autographs throughout the season. Topps Platinum members were the only ones to receive a signed version of the 2017 Topps Now Paul deJong #195A.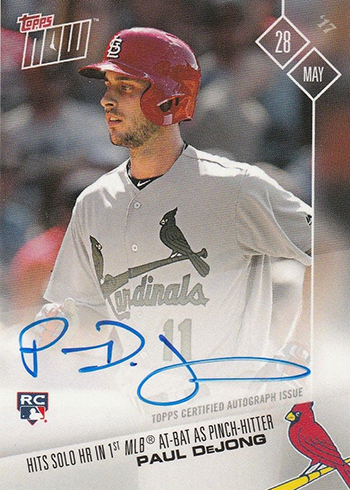 At the All-Star Game, members were invited to a gathering where they received a package with the following autographs that weren't offered to the public:
• Cody Bellinger, Los Angeles Dodgers
• Ian Happ, Chicago Cubs
• Adam Jones, Team USA
• Eric Thames, Milwaukee Brewers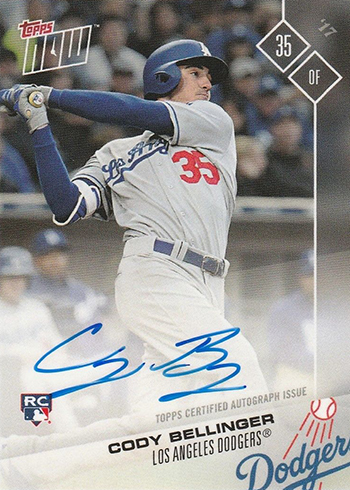 Attendees also got a special stamped version of the 2017 Topps Now All-Star team sets.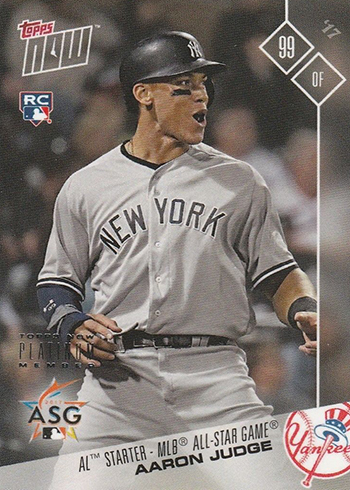 Topps Now Loyalty Program
The letter that came with the cards points to a new loyalty program that's in the works but hasn't fully launched. It looks to be fairly straightforward with collectors earning points for buying new cards, suggesting Topps Now to friends and more. Not only does the program offer discounts on Topps Now cards, but exclusive cards as well.
The Topps Now Loyalty program has four tiers.
Rookies are new and casual collectors. They receive 1 point for every dollar spent with several opportunities to earn more. Discounts are the only perk here.
After that is the All-Star tier. Points are doubled here with two per dollar spent. All-Star members placed in this tier based on their 2016 purchases also have the choice of a $5 discount for the Topps website or a Topps Now Card of the Month.
Hall of Fame members get four points for every dollar spent. They also receive every Topps Now Card of the Month.
The elite Platinum tier has some exclusive opportunities to special events like Topps VIP status at the 2017 National Sports Collectors Convention, early access to autographs and relics, and another set of autographs for the 2017 season.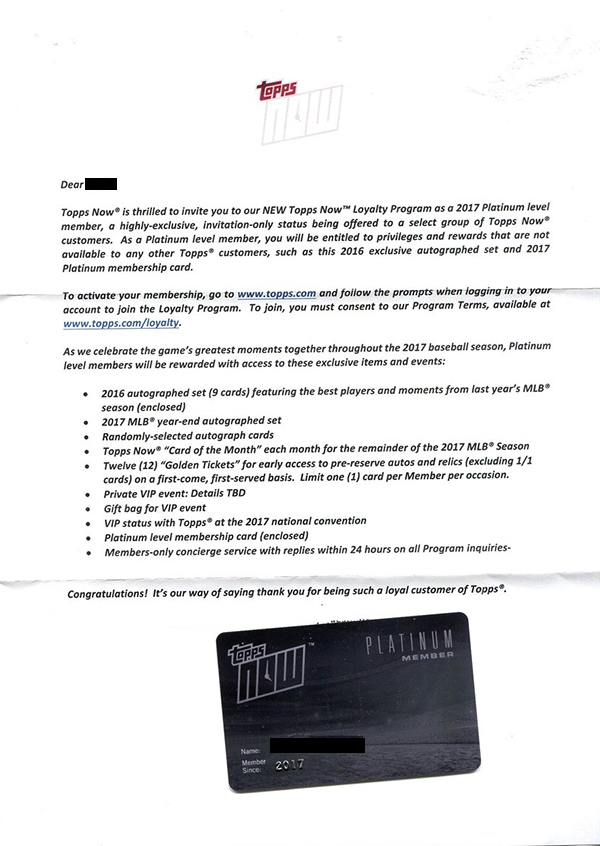 With the points earned from the Topps Now Loyalty program, collectors can use them to get discounts. For 500 points, collectors receive a $5 discount. One thousand points is $10, 2,000 is $20 and 4,000 is $40. Topps has a Loyalty Program FAQ posted on their website. There's also a much more legal reading Terms and Conditions page.
According to Topps, the Topps Now Loyalty Program is only getting started. It is currently undergoing a soft launch and more details will be available shortly where things will fully roll out and collectors will start accumulating points.
Comments? Questions? Contact Ryan Cracknell on Twitter @tradercracks.