Lil Nas X Autographs, "Rookie Card" Kick Off Topps Now Entertainment
Topps Now Entertainment is bringing print-on-demand trading cards to a wider pop culture net. And it's starting off with Lil Nas X getting a "Rookie Card" of sorts along with limited edition autograph cards.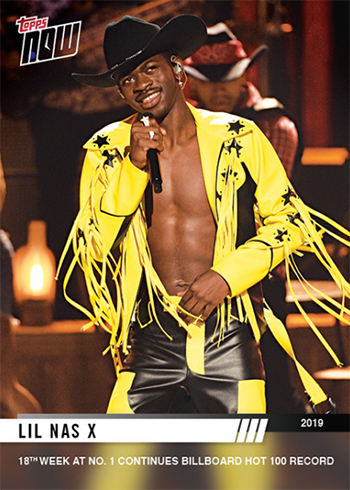 The card commemorates the singers record-breaking run on the charts "Old Town Road." Specifically, the song's 18th week atop the Billboard Hot 100.
Available exclusively
through the Topps website
, the regular Lil Nas X card has a sales window of one week. It has an open-ended print run that will be based on the number ordered. Single cards are $9.99. But like other Topps Now sets like baseball, discounts are available for bulk orders of five, ten and 20 copies. Twenty-card lots are $79.99, making it $4 per card. If you're looking for a cheaper option but don't want to buy several copies,
cards are also available on eBay during the sales window
. These are from dealers who are buy in bulk and offer a discount that way for single cards.
In addition to main card, collectors and fans can buy autographs. These start at $119.99 for a copy numbered to 99. Several parallels are also available with smaller print runs and higher price tags.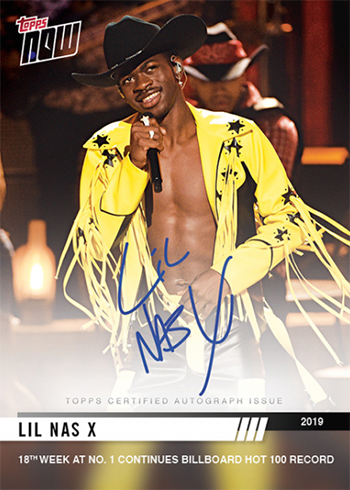 Topps Now Entertainment Checklist
Expect the checklist to expand in the months ahead. Print runs will be added when available. Click on the link to see what's available on eBay.
ENT1 Lil Nas X – 18th Week at No. 1 Continues Billboard Hot 100 Record (August 9, 2019)
Autographs
ENT1A Lil Nas X – /99, Black /75, Blue /49, Purple /25, Red /10, Orange /5, Gold 1/1