Topps, Majestic land Joe Dimaggio licensing deals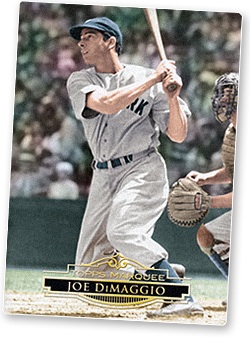 By Chris Olds | Baseball Editor
"Joe, Joe DiMaggio … we want you on our side."
That's the chorus of a tribute song for the New York Yankees star released in 1941, but it might be Topps' theme as well as the estate for "The Yankee Clipper" has agreed to license DiMaggio's likeness for use on baseball cards.
As part of a licensing and commercial push as part of the 70th anniversary of the 56-game hitting streak, Joe DiMaggio LLC has announced that two companies have been selected as licensees thus far: Majestic Athletic/VF Corp. for jerseys and T-shirts and Topps for trading cards.
The commemoration of the streak will include a substantial online presence with a Facebook page, Twitter account and more along with the merchandising deals. These deals are the only presently signed.
"Joe DiMaggio LLC has entered into a license agreement with Topps," said Michelle Alfandari, a managing partner, in confirming the deal. "We do not have a license deal with Upper Deck."
Upper Deck previously had an exclusive deal with the DiMaggio estate, which became an exclusive in late 2008.
While Topps has not yet publicly confirmed the deal — likely awaiting an announcement in conjunction with whatever products it has planned for a DiMaggio debut — it's worth noting that, as reported here in March, DiMaggio did sneak onto a preliminary checklist for 2011 Topps Triple Threads, which arrives in late-July.
The Topps card seen above, which was released by DiMaggio's camp, comes from a not-yet-unveiled 2011 product called Topps Marquee.
Chris Olds is the editor of Beckett Baseball. Have a comment, question or idea? Send an e-mail to him at colds@beckett.com. Follow him on Twitter by clicking here.